Las Vegas may never sleep but Daniel Richardson found just the place to relax - in glorious Roman style.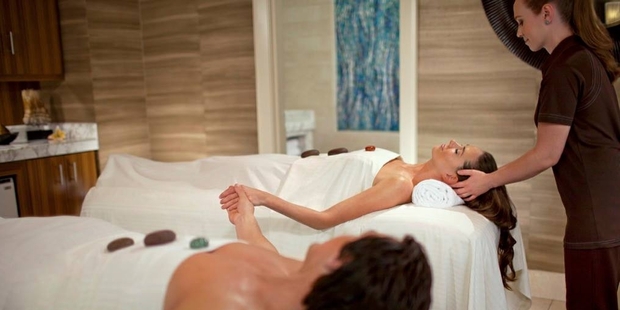 Touring Las Vegas is a non-stop experience. The place never slows down: there are always people on the streets, in shops, restaurants, bars and, of course, on casino floors. But inside Caesars Palace hotel and casino is the tranquillity and relaxation of the Qua Baths & Spa.
Qua is Italian for "here", and the 4650sq m spa was inspired by ancient Roman methods of relaxation.
The place seems to offer everything across its 51 rooms including couple's studios, facial rooms, a men-only zone with a barber, a herbal steam room and hydrotherapy tubs.
Our travelling group were all booked in for different treatments and we arrived at the impressive-looking complex not knowing what we would be called in for.
Our group of nervous males grabbed our flip-flops, changed out of our clothes and sat down in a laconium room (a dry sweating room or sauna) as a treatment expert came in and called our names, one by one, to lead us away to our fate.
The laconium room is where the cleansing process begins; the heated ceramic benches are a warm backdrop as the room stimulates your senses.
I was called last, which only added to the tension and anxiety I was experiencing - bear in mind, I'm a 24-year-old bloke who doesn't exactly hold concession cards for these sorts of places back home.
Thankfully, I couldn't have met a more friendly beautician. Despite her best instructions to lie back and relax, doing just that certainly took a while. When I finally responded and let her begin to work her magic, I found myself becoming unbelievably comfortable.
The various scrubs, balms and lotions that she used became a blur of names to me, and I could've been given the worst type of news at that moment and it wouldn't have mattered. I was in a state of complete relaxation - and a world away from the rat race that is the Las Vegas Strip.
As well enjoying the 50-minute facial, the rest of the spa was a sight to behold. There are traditional Roman baths (with three heated pools of varying temperatures), a Tepidarium pool (enriched with mineral water) and an Arctic Ice room designed to restore tired muscles.
The spa was opened in late 2006 and, like any hot-spot in Vegas, it has enjoyed its fair share of celebrity patrons including Bette Midler, Justin Timberlake and Eva Longoria.
When you've finished your treatment, you can make your way through the beautiful bathrooms where multiple shower heads wash you down before you head back to the craziness of the Strip.
CHECKLIST
Getting there: Air New Zealand has daily connections to Las Vegas.
Where to stay: The MGM Grand is one of the standout buildings on the Las Vegas Strip, and the recently refurbished rooms offer a more than comfortable stay. Guests walk straight out of the door and on to the Strip.
Details: You can find your way to the Qua Baths & Spa inside Caesars Palace on the Las Vegas Strip. It is within walking distance of the major hotels and casinos.
Further information: See Visitlasvegas.co.nz and DiscoverAmerica.com for more on Las Vegas.
Daniel Richardson travelled to Las Vegas courtesy of Air NZ and Visit California.