On foot around Hong Kong, Winston Aldworth finds a vibrant city where history flies by.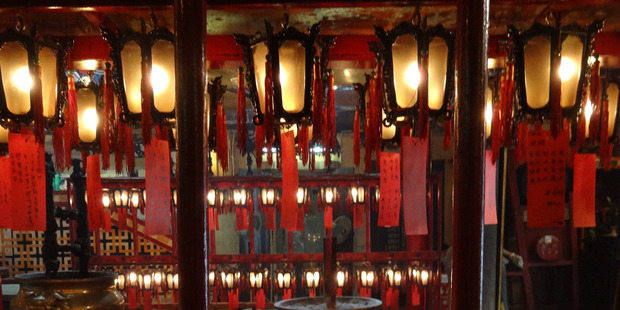 Just when you were thinking you lived in a real city, your plane lands in Hong Kong at night.
Hong Kong can make even the most seasoned traveller feel like a wide-eyed country mouse. Bulked towers of blazing light cram together thrusting into the mist; having taken over every square inch of flat land, the city is now hungry for the sky. Cargo ships are scattered across the surface of the harbour like so many toys spilled across a floor.
The place looks like the backdrop of a Hollywood blockbuster in which giant, building-shaped robots battle humungous sea creatures.
Buzzing into the city by taxi on the way from the airport, a bunch of identikit buildings catch my eye. Even among the abundant newness of everything else, they look really new. Each of them would be about the size of whatever monstrosity is Auckland biggest office block. And there are about 25 of them, all brightly lit up, declaring their newness to the night sky. They can't all be apartments; perhaps it's a new commercial district.
"What's in those buildings?" I ask the cab driver. He glances in the rear-view mirror with a look that makes it clear he thinks I'm a bit daft.
"People," he says.
Welcome to the big town, country mouse.
In the big town, it's good to take a big walk. Hong Kong's public transport system is exceptional, with underground rail, buses and ferries whizzing you about for a few bucks' worth of travel card. By foot, you can experience the chaos and clutter of the city and get a sense of the mad scale of things, as giant towers poke their heads over slightly less-giant towers.
It's hot. My guide, Joe, makes a point of walking us through malls and tube stations as much as possible.
"The air conditioning in this one is really good," he promises as we step out of the humid tropical blast and into massive temples of consumerism and cool air.
Shopping is big business and, Joe tells me, regarded by some as "serious sport".
Not Joe. He thrives on the city's oddities and whizzes me over to the Bank of China Tower in the Admiralty district.
"Bad feng shui," he tells me, pointing out the sharp edges of the building, which from some angles resembles a meat cleaver.
Joe marks out a point from the sharpest edge and points in the direction that edge thrusts.
"When this building was built in 1990, many people thought it was like a knife, cutting into that building
"What's that building?"
"That was where the British Governor lived."
How brilliant! Of course, the architect denied it, but this building - which opened just seven years before the Chinese took back control of Hong Kong from the British - sent bad vibes to the last Briton in charge of the territory. When plans of both buildings are laid out, the line of this psychic knife thrusts straight into what was Governor Chris Patten's bedroom.
If you believe in that sort of thing.
Tung Chee-Hwa, Hong Kong's first chief executive in the post-Brit era, believed in it. He refused to live in Government House, blaming bad feng shui.
Joe laughs it off as a bit of knockabout history.
This is a fast-moving city with an often fast attitude to history. When the Treaty of Waitangi was being signed in New Zealand, there were just over 7000 people living in Hong Kong. When the Japanese were run out of here in August 1945, there were 500,000 Hong Kongers. Today: 7.1 million.
The thing is, there may be more Hong Kongers, but there's not a lot more Hong Kong to put them on. So they 'reclaim' land from the sea (an odd term, as if the land was ours, and not the sea's, to start with), but mostly they go up. Around 40 per cent of people in Hong Kong live above the 14th floor. It's the third-most densely populated place in the world, with about 6700 people per sq/km across the city.
With such crowds and bustle, there's no time for dawdling and looking back.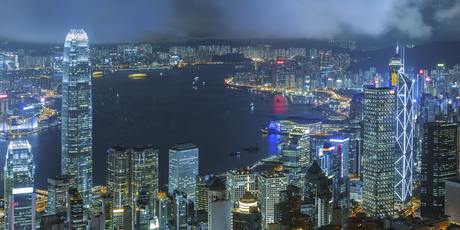 As we go past the Peninsula Hotel, Joe tells me the iconic building - today a bastion of luxury for modern Hong Kong - was once the headquarters of the occupying Japanese army.
"So," I say. "It had some bad history ..."
"Huh?" replies Joe, giving me the same look I got from the cab driver on the way from the airport.
"Bad history? History history. Not good or bad."
It sounds like a dismissive attitude, but honestly, Joe and all other Hong Kongers are just getting on with getting on. This is a city and a population relentlessly moving forward.
Of course, when they do look back, they often look a long way back. We drop into the Man Mo Temple on Hollywood Road, in the Sheung Wan district.
Man is the god of literature and Mo is the god of war. When Imperial China ruled these parts, ambitious students would pray to both before sitting exams in the hope of becoming civic administrators. It's just around the corner from the financial district and I'm pretty sure it was the only one-storey building I saw in Hong Kong. All around the temple, giant apartment blocks lurch into the heavens. The mirrored walls of the financial quarter are just around the corner.
It's peaceful inside. Massive coils of incense hang from the ceiling - apparently the spirits like them. I found them beautiful, too.
At the world's cheapest Michelin-starred restaurant, don't expect silver service. Joe ticks off our orders on the menu card; his pen scrolls down the card making marks alongside the plates we'll have. He pauses, the pen hovering over a Chinese character, and quickly glances across the table at me. The pen moves on; he doesn't order that dish. That's right: no duck's tongue for the white guy, thanks.
Tim Ho Wan's is an institution; their legend built on the back of possibly the world's finest barbecue pork in a baked bun. That and the stunningly low cost. The buns are crumbly and lightly sweet, but the rich and salty sauce of the pork is what goes straight to your happy gland. I could do a serious Homer Simpson on these things and nail several dozen. And all for about a tenner.
If you want to eat there, be prepared to queue or dine at odd times, when the office workers are back at their desks or have gone home.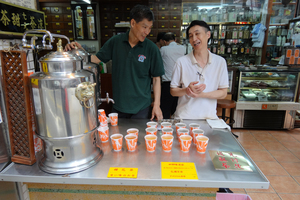 The four Tim Ho Wan restaurants (in Central, North Point, Olympian City and - the original restaurant where we dined - in Sham Shui Po) are merely exceptional faces in the crowd of Hong Kong tucker.
Tim Ho Wan doesn't even have the budget-Michelin market to themselves, with Ho Hung Kee, in Causeway Bay, and Pang's Kitchen (on the brilliantly named Yik Yam Street, in Happy Valley) also in the game. My aim, when I get back to Hong Kong will be to get around all three places in a day.
Locals reckon there's one restaurant for every 600 people, with a busy market for high-end dining. But the quick and casual places are the best.
This city has elevated yum cha - drinking tea while eating dim sum - to the status of high art and tourist drawcard. It's also utterly domestic - we ate our meals surrounded by locals dashing in for a quick feed. The practicality, pace and price of the yum cha surely renders many kitchens redundant.
Food is a constant theme. For a couple of bucks, we grab cool herbal tea from a joint where two laughing blokes pour the cups and chat with the customers while mask-wearing women behind them weigh and measure the ingredients with the earnestness of laboratory workers.
"Have you been to this place before, Joe?"
"Hmm? I think so," he ponders.
"I think it's new."
It's all new, mate.
CHECKLIST
Getting there: Cathay Pacific offers up to three non-stop flights each day between Auckland and Hong Kong.
Accommodation: The Marco Polo Hotel overlooks Victoria Harbour and is located on Canton Road in the commercial hub of Tsim Sha Tsui.
Handy tip: Hong Kong's museums, which are all pretty cheap anyway, are free on Wednesdays.
Further information: See discoverhongkong.com or phone 09 3072580.
Winston Aldworth travelled as a guest of the Hong Kong Tourism Board and Cathay Pacific.