Winston Aldworth discovers life in the lap of luxury, where all he must do is relax.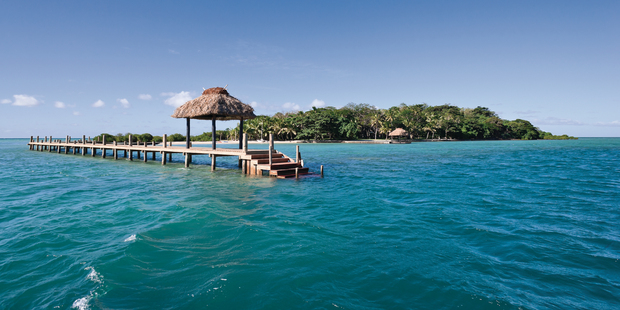 "Welcome home," says Dawn Simpson, as we step on to the little jetty of Fiji's Dolphin Island.
Except this isn't much like my home at all. Through the warm Pacific night, dozens of lanterns light a path beneath palm trees leading to our bure and - happily - a bottle of champagne. Smiling staff wait to serve us, the only guests on the island. It's a magical start to a wonderful 48 hours of Fijian luxury.
Home? That's a place of paying the mortgage and feeding the kids (and no, we didn't bring the kids to Dolphin Island). But, as Dawn suggests, we'll make ourselves at home.
She's the manager of the place, a 5.5ha private island off the northern tip of Viti Levu. It's a couple of hours' drive from Nadi airport, or you can push the Fantasy Island motif out a little further and fly there in a seaplane.
Turns out that sleep in paradise comes interrupted by the occasional dull thud of falling coconuts. This home couldn't be further away from home.
I'm up early the next morning, in time to see the bloke raking the sand down at the private beach. Because that's the trouble with sand on non-luxury islands: it's often a bit too un-raked, don't you find?
There's a market for luxury adventure, but Dolphin Island's magic lies in relaxation. The most daredevilish thing I do is read Keith Richards' autobiography while sitting under a coconut tree. We heat up on sun loungers, cool off with snorkels in the Fijian waters and find some sort of body-temperature middle ground in the infinity pool. Whenever we return to the beach, the sands have been raked into place again.
This kind of weekend break doesn't come cheap. For two guests to occupy the whole island you'll be spending well north of $3000 a night. All up, there's room for eight guests in four bures, which would bring the price down at the unfortunate cost of cramping your style. Dolphin Island is owned by Alex van Heeren, who also has Huka Lodge and Grande Provence Estate, in South Africa, to his name.
But Dawn is adamant that it's our home for the weekend.
"It's your home, so you choose whatever you want for lunch," she says.
They'll source anything. For us, that means platefuls of fresh seafood. Dawn and the staff are good at picking up on little signals, and the way I breathe in an entire crayfish at lunch means a fresh crayfish appears at each subsequent meal. Later, there's kokoda, the delicious Fijian raw fish salad, curries and a platter from the lovo, earth oven.
The bures are beautiful; all stone floors, native timbers and private spaces. Local woods and materials are used in all the furniture. There are two bures on either side of the main building. We take our meals on the deck of the main building, beside the infinity pool; inside are well-stocked bookshelves, spirits cabinets and wine racks. The essential things.
There are flowers everywhere. The heady sweet perfume of frangipani is in the air and colourful bougainvillea dot the island. It takes about 15 minutes to walk around the island and around the back, high on a clifftop, we find a secluded, massive bed sitting beneath a canopy with views out east over the ocean. It's difficult to imagine a more romantic setting to watch a sunrise.
Far below this glorious bed, rocks have been tumbled together to form fish traps in a small lagoon. The Pacific lays on its full blues repertoire. We sleep.
All over the island, there are shaded areas with plump cushions and furniture for blobbing out on. Through the palm fronds, the light dapples into shade. Happily, none of these perching areas seems to be more than one minute from a fridge, a chilly bin or Dawn's smiling assistant Silva, who brings the bubbly. I'm getting the idea that real luxury travellers do a lot of sitting comfortably.
A cracking sunset is coming. We wander towards the water's edge, picking out the best spot to take it all in and debate the issue of the moment: G&T or bubbly for the sundowner? G&T wins.
"Now," I mutter, "who should I talk to about dri ..." and there's Silva, carrying a tray with glasses, gin and tonic. Well played, sir.
As the light fades, bats from a neighbouring island set off for the evening, flicking through the air and dancing into their giant formation over the waters before us. With the sun gone, Louise asks, "Do you feel a little chilly?" just as a blanket is smoothed into her lap. You get the idea.
As the lanterns are again set up beneath the trees, a boatful of locals arrives from the mainland dressed in traditional garb. They set up a massive fire on the beach and dance and sing, while we sit - not a little self-consciously - in throne-like wicker chairs taking in the show and tasting the kava. I'm playing the role once reserved for visiting dignitaries in colonial days. I expect those pith-helmeted fellows managed it with more ease and better grace than me, but I gave the dance a good crack and did the right thing by the kava.
Next morning, there's no sign of the beach fire on the evenly combed sand. If I hadn't seen the bloke with the rake on the first morning, I'd wonder if I'd had too much kava and imagined the whole thing.
We come down to earth with a crash. I leap into a hammock alongside Louise - the pop of snapping rope and the heavy thud of bodies on sand precedes a sheepish apology to Dawn.
We paddle kayaks to a neighbouring island to take a stroll and get a new perspective on Dolphin Island. The holiday homes on this other island are plush and mostly empty. We nosy around for an hour or so before it occurs to me that, actually, there's a luxury island just over there and, for what remains of the weekend, its luxury is ours. The paddle home is swift. We're just in time for gin in the infinity pool and more sundowners on more plumped cushions.
When our charade ends, the lanterns are out again. With an early flight to catch, we leave Dolphin Island at 4am. It's time to go home - to our real home, the jobs, the mortgage, the kids. We missed them, but I could get used to being at this home.
IF YOU GO
Dolphin Island is located on the northern tip of Viti Levu, in Fiji, and can be reached from Nadi airport by road, helicopter or seaplane. Prices (exclusive of taxes) start at $1145 per person, with eight guests staying.
Winston Aldworth stayed as a guest of Dolphin Island and travelled courtesy of Fiji Airways.