Chris Pritchard finds the world's best examples of Hindu and Buddhist art in Indonesia.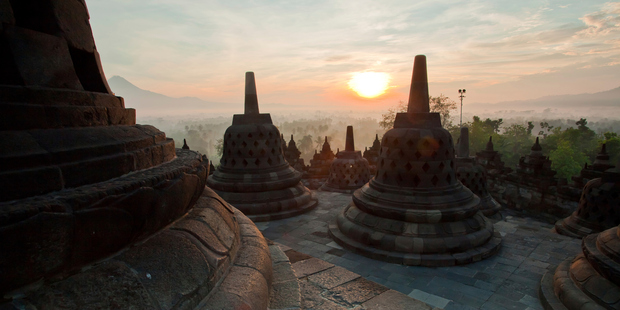 Hidden beneath a thick jungle canopy in Southeast Asia lie enormous ruins, even more impressive than others already on display. That, at any rate, is what some archaeologists believe.
Others say this is wishful thinking - rather than subscribing to what a guide calls "buried treasure fantasies", we should savour the awesome complexes that have already been restored.
I'm in the world's most populous Muslim nation, Indonesia. On the outskirts of the teeming Javanese city of Yogyakarta, not one but two spectacular sets of ancient ruins attract tourists in growing numbers.
What's more, neither set of ruins is Islamic: one is Buddhist, the other Hindu. But then this is Indonesia, which has a long and proud tradition of religious tolerance.
Best-known of the pair is Borobudur, popping up like a volcano from jungle surrounds and arguably as wondrous as Asia's other famed relics: Cambodia's Angkor Wat, Sri Lanka's ancient cities and a sprawl of centuries-old edifices near Myanmar's Bagan.
It's early morning when I wander through this vast 1100-year-old stone structure, exploring lotus-shaped stupas within larger stupas, stopping to admire intricate bas-reliefs on stone walls and gazing out into mist-shrouded jungle.
An hour's drive from this Buddhist marvel is one more of Indonesia's historic gems, the Hindu temple complex Prambanan. Built about a century before Borobudur, it is a much-visited destination for domestic tourists but remains unknown to most foreigners because it is overshadowed by the Buddhist structure.
According to local tourism officials, many visitors are unaware of Prambanan's existence. However, increasing numbers of Australians are hearing about it and visiting.
For Australians, this pair of World Heritage-listed complexes are the most easily accessed of Asia's grand temple groupings. It's an easy side-trip from Bali.
Two mornings disappear effortlessly in nearby Yogyakarta, one of Indonesia's major cities - it has numerous good hotels and restaurants, modern shopping centres and traditional markets.
Bustling Jalan Malioboro, Yogyakarta's main thoroughfare, is a long and noisy street crammed with traffic, people, malls and hundreds of small, cheek-by-jowl shops selling some of Southeast Asia's least expensive fashions.
Examples of Dutch colonial architecture survive. Andongs (horse-drawn carts) thread their way along streets but these days are used mainly by foreign tourists who are expected to haggle aggressively. Domestic tourists generally opt for modern taxis or wander along Jalan Malioboro on foot.
The street's edges are cluttered with stalls mostly selling the same stock, and bargaining is the norm.
Hunger-inducing aromas drift from restaurants - particularly those selling spicy Nasi Padang cuisine, originally from Sumatra but which now has a national following.
Playing a key role in Dutch-ruled Indonesia's campaign for independence, Yogyakarta and its environs are the heartland of Javanese culture. Batik and silverware workshops dot the city, as do art galleries. Fortunately, many are grouped together, easing pedestrian exploration.
Wayang puppets are sought-after souvenirs (with good examples sold at the city's many puppetry schools). Many tourist itineraries include optional gamelan music performances, Javanese classical dancing or Ramayana ballet, for which Yogyakarta is particularly renowned.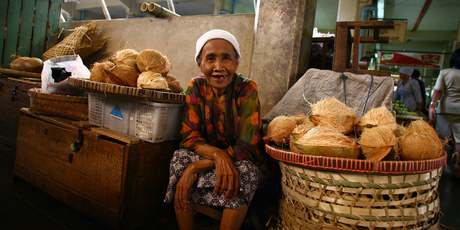 However, the main reason most visitors come is Borobudur - and, increasingly, Prambanan. Drives to these temple sites pass through central Javanese farmland and pretty rural villages.
Borobudur - built on a 200sq m base - is the biggest Buddhist sacred site on Earth and older than many of the holy places at Angkor Wat. Pyramid-like, its five levels symbolise various aspects of Buddhism, illustrated by elaborate carvings. Writers have described it as a guidebook-in-stone to Mahayana Buddhism.
The complex resembles a mandala (a circular Buddhist design that symbolises the universe). Its construction required thousands of labourers, though whether these were exceptionally devout volunteers or hapless slaves is still hotly debated.
Talented carvers and other skilled craftsmen laboured for decades to create Borobudur's intricate and ornate artwork, but it gradually fell into disuse and neglect. All but forgotten and partly collapsed, it was largely covered by volcanic ash until the 19th century when successive restoration projects began, bringing it to its current state.
Similar methods to those used at Angkor Wat ensured piles of stones were carefully numbered and cleaned before being used in reconstruction supervised by archaeologists. Foundations and drainage were improved to lessen the risk of future collapses.
Prambanan's temples, also on Yogyakarta's outskirts, are similarly impressive. In fact, some archaeologists describe the central Shiva Temple, 47m tall, as our planet's best example of Hindu art, even surpassing revered complexes in India. The Shiva site is flanked by the Brahma and Vishnu temples, and more than 250 smaller, richly decorated temples are nearby on farmland.
At Prambanan, restoration experts tell me the jungle has more temples waiting to be unearthed. Time will tell whether they're right.
CHECKLIST
Getting there: Jetstar and Qantas fly from Auckland to Jakarta, via Sydney. Various carriers operate short domestic flights to Yogyakarta.
Details: Visit Kraton, the 250-year-old Sultan's Palace. See Java's bygone architecture in Kota Gede.
Further information: See indonesia-tourism.com.
Chris Pritchard was a guest of Accor Hotels and Garuda Indonesia.