Kuala Lumpur's sky watering holes take Kate Shuttleworth to impressive new heights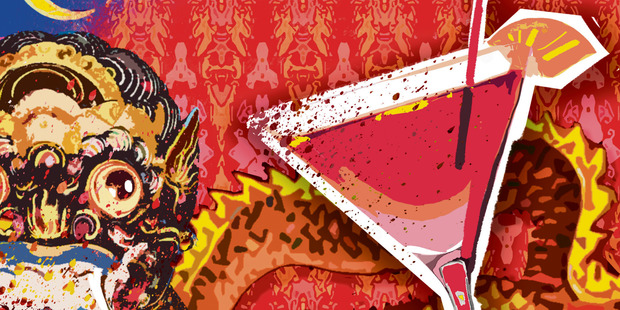 It's like an opening ceremony. Every good trip to Kuala Lumpur should start with the "wow factor" that is the Sky Bar on level 33 of Traders Hotel.
Even if you don't drink, the view is intoxicating. The bar is punctuated with a swimming pool right down the middle.
The manager tells me people are constantly being fished out of the water as the night goes on. Along each side of the pool are red cushions, cream walls and high tables and stools at the end. It has a floor-to-ceiling glass wall.
From Sky Bar you get the best full-frontal view of Petronas Towers.
Sitting in the bar with the towers behind you makes an excellent photo.
I sip on a glass of Taittinger Brut Prestige Rose.
At the end of the trip I try a different bar to punctuate my Kuala Lumpur experience.
It's been a big day, we've been carted around to a grandiose government event with fireworks and the prime minister appearing before crowds of thousands to say how wonderful Malaysian tourism is as part of his pre-election tour.
After being lambasted by nationalism like we've never seen we need a drink.
Once back in central KL we decide to follow a tip of going to Marini's on 57.
It's difficult to find, but worth it once you're there.
It's one of Kuala Lumpur's newest sky bars and is on level 57 of Menara 3 Petronas.
Located right next to the Petronas Towers, the bar offers a dramatic, if not angular view of the towers, as though you could reach out and touch them. It's futuristic with a glass roof and walls.
My colleague and I walk in and the place is pumping - bright lights, music and lots of people. Lots of young professionals from across the world. We order drinks while we sit in a booth until the people it's been reserved for arrive.
Our drinks, delicious gin sours, take about 40 minutes to arrive. Once they do we savour them and they go straight to the head after a hectic day. We don't stay long, but lap up the scene.
We bump into a group of journalists from Europe we met earlier at the government event and share stories over a drink while the towers, lit up, provide the backdrop.