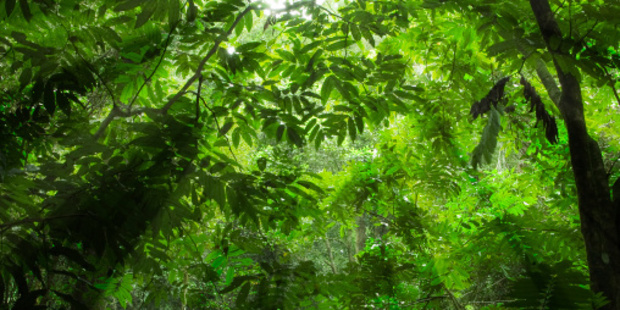 "Pro! Pro!" The honking, nasal call is quickly absorbed by the uncomfortably moisture-heavy forest canopy. We scan the dense tangle of tree trunks and twisted vines, waiting for a response.
Nothing.
Naturalist Justin Juhun has spent months out here, slowly attempting to gain the trust of a group of proboscis monkeys.
As resident naturalist for the luxury eco-friendly Gaya Island Resort - built on a protected island of the same name, a short boat ride from Kota Kinabalu, the capital of Borneo's Sabah region - Juhun hopes he can one day bring visitors here to observe the lithe-limbed primates' behaviour.
But today is not that day.
The monkeys, who are endemic to southeast Asian island Borneo, and who locals historically referred to as Dutchmen thanks to their distended bellies and long, ruddy paddle-board noses, appear to be shy or sleeping.
Fortunately Juhun doesn't expect to see results overnight.
"This is a big job and I've been working alone,'' he says with an element of frustration.
Of Johun's past 40 years, he's lived just four of them outside the jungle; he's swung through the trees with orang-utans, and spent six months guiding scientists through the pristine primary rainforest of the Maliau Basin.
"Some of the species I remember as a child, I've never seen again,'' he says with sadness.
Juhun's joined in his vision by Scott Mayback, a marine biologist who hopes to grow Gaya Island's house reef, home to clown fish, blue-spotted stingrays and parrot fish. The remaining hotel staff are locals, including Nonny, a spa masseuse who's terrified of the sea, and young waiter Adzeen, who grew up on a water village in the Philippines.
They belong to a melting pot of cultures in Borneo: there are 52 tribes and 82 dialects spoken on the island, which is divided between Malaysia and Indonesia.
Its flora and fauna is no less varied, and despite David Attenborough's shocking observations about the colossal loss of habitat to palm oil plantations, people are still drawn here by the lure of species found nowhere else on the planet.
The region's woeful story of deforestation and near extinction of species has been told many times, and is far from reaching a happy ending. But the opening of luxury eco resorts, such as one-year-old Gaya Island, is bringing attention and money to the world's third-largest island, with a greater commitment to investing resources in conservation.
The Kinabatangan River is one of the best places to view wildlife. We stay at the simple two-star Borneo Nature Lodge, where guests can pedal bikes to help power generators.
During trips along the river, we see baby-faced pygmy elephants playing in the water, and watch a 100kg alpha-male orang-utan, his cheeks swollen to the size of two giant saucers, building a nest in a tree.
"Males can build up to five or six nests in a day,'' our guide tells us, "for sleeping or just for comfort.''
Although there are 10,000 wild orang-utans living in Sabah, for a guaranteed sighting tourists head to the Sepilok Rehabilitation Centre near Sandakan. Home to 45 rescued animals, who will eventually be released back into the wild, the site is most popular at the 10am and 3pm feeding times.
But it's after leaving Sepilok to explore the neighbouring Rainforest Discovery Centre that I have my closest encounter with an orang-utan in the wild. We're watching red-leaf monkeys from an observation tower, when a female's pendulous arms swing into view.
There is nothing between us but fear and caution, so we keep a respectable distance.
Ravenously hungry, she rifles through the bins, tipping her head back to drain dregs from a water bottle, and licking the crumbs from a discarded crisp packet. Occasionally she eyeballs us as if to say, 'What's your problem?'
As animals slowly adapt to a world dominated by humans, their habits will inevitably change. Both Juhun and Mayback have challenges ahead of them.
Whether it be for money, love or even entertainment, people have different motivations for protecting wildlife.
I recall a story Juhun told me about a lodge where he once worked, where he almost died trying to pacify a rutting stag. He succeeded and the creature returned to normal once its hormones had calmed down.
But when he visited the lodge the following season, the stag had been shot dead.
"They couldn't be bothered to find a solution,'' recalled Juhun.
"I suppose there's only so much one person can do."
TRAVEL FACTS - BORNEO
• For information on Gaya Island Resort.
• Malaysia Airlines flies to Kota Kinabalu via Kuala Lumpur.
• For more information on Sabah.
- AAP