Horst Heinz Grimm explores a watery underground cathedral in Istanbul.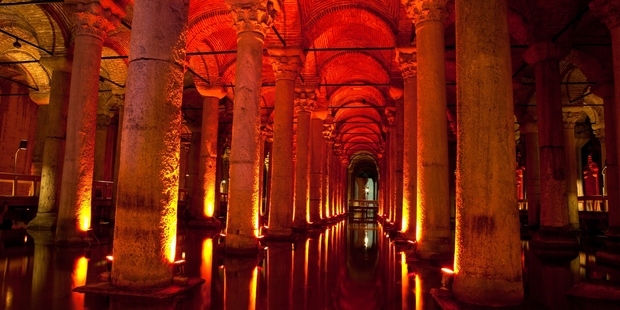 A rather unimposing entrance, not far from the world-famous Hagia Sophia, leads down into Istanbul's netherworld.
You go down steps into the cool, damp darkness, and then you're standing in a huge cathedral of pillars.
The locals call this nearly 1500-year-old site the Yerebatan Sarayi - the "Sunken Palace"; Roman Emperor Justinian I built it as a water reservoir between 532 and 542AD.
Attila Tasci, a Turkish historian, advises visiting shortly after it opens at 9am, or late in the afternoon when the tourists aren't streaming into what is also called the Basilica Cistern.
"It is in fact well worth seeing," he says, listing the physical dimensions: 12 rows of 28 marble columns, each nearly 8m tall, support the domed brick ceiling.
The walls are 4m thick.
"A special attraction are the two ancient Medusa heads carved out of stone," adds Tasci.
Medusa, a monster with feminine facial traits, is a figure from Greek mythology. The figures serve as the pedestal for two of the supporting pillars.
Wooden steps lead visitors through part of the site, measuring 140m long and 65m wide. Special lamps throw a pleasant light on the walks and on the architecture, while in the background classical music softly plays.
The floor of the cistern is covered by about 40cm of clear water, into which tourists pitch coins, an activity that seems not to concern the fish swimming about.
"The cistern can hold 80,000cu m," says Tasci. "As early as Byzantine times, water flowed via aqueducts from a forest region 20km away into what was once dozens of underground reservoirs beneath the old city which did not have their own springs."
In the 1960s a film for the first time brought the Sunken Palace to a wider public: in From Russia With Love, secret agent James Bond was rowed in a boat through the cistern to get to a secret entrance of the Soviet consulate.
Back then, the water was deeper and the layer of mud on the floor thicker. Only after a thorough cleaning and renovation in the 1980s was the cistern opened to the public.
During the warm summer months on the Bosphorus, tourists like to seek out the Sunken Palace. It is moist here, but pleasantly cool. For a ticket price of 10 Turkish lira ($6.50), it's a bargain.
- AAP