Paul Rush finds more than one perfect pint on a self-guided literary tour of Dublin.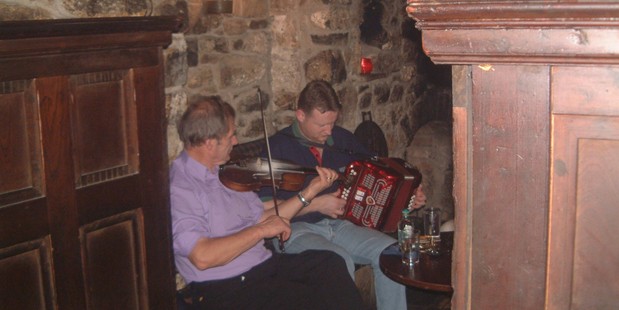 We chose a quaint little B&B behind Dublin's Garden of Remembrance, north of the Liffey River, for our anniversary holiday treat.
It seemed very homely and in a convenient and unforgettable location - near the Garden and all. The O'Connell Street shopping malls were within easy reach for my wife, and I could do the famous literary walking tour that takes in the Writer's Museum and Trinity College. It would take no time at all.
I'm on my way early, eager for a literary learning experience. This is Dublin after all, the home of James Joyce, Oscar Wilde and William Butler Yeats. Within minutes I've covered several blocks. My personal thoughts and feelings are positively lyrical on this pleasantly mild summer's day in the capital.
Then, long before I get within sight of the museum, I find myself outside an Irish pub. It's definitely authentic, because the decor reeks of tradition. There's also a whiff of that yeasty aroma that characterises the glorious black stout they call Guinness - the life blood of Ireland. I simply have to go in.
The first pint slides down like iced melt water, smooth as silk, rich as cream, and thick as a chocolate smoothie. It tastes like no other drink on earth - it must be the perfect pint.
A weather-beaten, ashen-faced old codger with curly unkempt hair shuffles over to my table. He is wrapped up in a polo neck jersey and tweed jacket, as if Dublin's a very cold place. His posterior meets the chair a little too abruptly and black stout spills onto his sleeve. This is the first Irishman I've seen who is a bit Guinness-ed around the edges, but I notice his Irish eyes are still smiling.
"Where yer from, Paddy?" he says and I tell him, "Well, yer one of them hobbits come to visit the leprechauns then?"
"Do you know what I'm going to tell yer?" he says, to which I can only offer a blank look in reply. "I should be home with me wife Maggie. She's an angel to be sure. Always up in the air and harping about something."
"Mickey, I'll have another pint," my new friend calls out to the barman. "Make mine a Guinness," I say, almost without conscious thought, then realise I'm doubling my intake, which could be a little foolhardy on a serious literary walking tour of a strange city.
From this point on the conversation segues into a monologue about the "Craic", the good old times and the social and medicinal value of the potent, full-bodied drink that is indubitably the world's best stout. "Yer must visit the Guinness Storehouse Paddy; I promise you'll get a free pint and all for yer trouble."
Now the first rule in Ireland is never, ever, believe a promise made in a pub. However, my walking tour of Dublin has now lost a little forward momentum and the self-guided part is becoming delusionary, so I've got nothing to lose. A taxi deposits me outside the Guinness Storehouse where the aromas of barley, hops and yeast, draw me into the mother lode of the beautiful beverage.
For a modest stack of euros, I learn that Guinness embodies a spirituality of balance, purity and simplicity. I also learn there are finer things in life than just working, achieving fame and making millions.
Like surveying Dublin's fair city from the Gravity Bar above the Storehouse and sagely sipping a perfect pint of Guinness, which has taken exactly 180 seconds to pour. It is bitingly cold, slightly bitter and utterly delicious. I know this exquisite ambrosia is served in 700 Dublin pubs, but I have come to the source.
I browse through a pamphlet outlining the beneficial effects of Guinness, which strangely seems to enhance the taste. To be sure, as they say in the Emerald Isle, you drink Guinness for medicinal purposes. Doctors regularly prescribe it for people recovering from operations. Maternity homes give it to mothers of newborn babies.
You'll never hear of such a thing as a screaming baby in Ireland. It must have been good for Arthur Guinness, the brewery's founder. He fathered 21 children on Guinness.
Having assimilated my free pint, I head along High Street to begin my protracted cultural tour - it is 1.30pm already. Two imposing edifices rise up before me to the sort of height that induces backward falls. St Patrick's and Christ Church cathedrals are Church of Ireland as Henry VIII, unable to convince Rome that he should divorce his first wife, simply outlawed Catholicism. Curiously Dublin, as capital of this staunchly Catholic country, is without a Catholic Cathedral.
Temple Bar is the hip and happening social centre of Dublin, with no pretence of religious affiliation whatsoever. Over a much needed late lunch, I convince myself that I am not straying from a cultural path. I'm enjoying the convivial atmosphere, the lilt of Irish laughter and U2's music. All three appearing to be merging into a miasmic maze. Is this what they call the Craic?
The thing is though; I feel the need for another thirst-quencher. Just to make sure I haven't forgotten the true Guinness taste, like I have the location of our B&B. Never mind, I'm learning valuable lessons of life from the wicked Irish sense of humour. I pass a window sticker in the pub, which reads "Live every day as if it was your last and one day you'll be right".
A hop, skip and jump along Nassau Street brings me to Trinity College for a slightly glazed peep at the famous cathedral-like library hall. Further on is the green oasis of Merrion Square, where the reclining bronze figure of playwright Oscar Wilde is the focus of adulation by many and derision by some.
A stroll down Grafton Street pedestrian mall, feeding the money boxes of buskers and human statues on the way, leads me to the River Liffey and the O'Connell Bridge. As I pass the Blood Donor Clinic, a sign catches my eye. It offers a perfect pint of Guinness in exchange for a pint of my plasma. The sign makes no reference to blood/alcohol levels.
I instantly sense a terrible thirst coming on. The Irish are devils at taking the Mickey, but it seems that this motivation to drink comes straight from the heart. Why, there is even a social convention that Dubliners follow when they are feeling thirsty. They could say to their partner, "Oh, Maggie I've got a thirst you could photograph, I'm going to the pub". But all that's needed is, "I'm going to give blood," and the meaning is crystal clear.
I may have lost my memory, but my mind is still functioning well. I know I've lost a pint but I've gained one in its place, so nothing's changed. I decide to press on rather than return to the Cathedral and take the pledge.
I want to be at my best for a rendezvous with sweet Molly Malone in College Green. It's true I've been after singing about her cockles and mussels for many years, so I'm more than a little nervous about first setting my eyes on herself. Molly is a life-size sculptured bronze bust with an eye-catching emphasis on the bust.
After four perfect pints (the Blood Clinic was really just a swap) I can still recognise the young colleen and discern the difference between pale, pliable flesh and unyielding bronze. Dublin's own Dolly Parton is surprisingly unfeminine, which comes as a surprise. She wears a voluminous dress and displays rock hard arm muscles, like the true fishmonger that she is.
Once the statue's plunging bronze cleavage was unveiled, the irreverent Dubliners christened her with several nicknames; the "Tart with the Cart", "Dish with the Fish", and the "Trollop with the Scallop". That's so unkind I think. But some folk say that she had no business selling fish in such a low cut dress - no business at all.
In the broad avenue of O'Connell Street, I meet up with Ireland's beloved son, novelist James Joyce. His stream of consciousness novel focuses on 16th June 1904, as a typical Dublin day in the life of Mr Bloom and his promiscuous wife Molly. Every year Dubliners celebrate Bloomsday, and pay tribute to the author, who stands leaning on his walking cane in bronze splendour. Even the James Joyce statue qualifies for a nickname - the "Dick on a Stick".
I crane my neck to view the Monument of Light, a 120 metre high stainless steel, tapering spire erected in 2004. Because its O'Connell Street site is near the river, the iconoclastic locals felt compelled to dub it the Stiletto in the Ghetto.
At a Visitor Centre, I learn that the Dublin Literary Pub Crawl kicks off at 7pm each night. It gives one an intimate look at the city's booze-fuelled literary heritage. This combines high art and low life experience in one tour, enabling you to stimulate the literary brain cells while simultaneously drowning them.
An equally absorbing Musical Pub Crawl enables you to walk the streets while singing incoherently that Dublin belongs to you, but with the challenging imperative of having to find your way home afterwards.
This is my immediate problem, although the word "flower" keeps recurring in my brain. I feel I've had a hundred thousand welcomes to Dublin, in one day. God knows how one could spend a teetotal day in Dublin, or how it is possible to separate oneself from a tavern at closing time. There are just so many fine Dubliners devoting their lives to stout, thinking great thoughts and sharing their camaraderie with visitors.
I make a mental note of suggesting to my wife that we take one of the Dublin night tours. A stiff pint or three of the old Guinness would enhance the evening. I think I'm up for it. But first I just have to find our B&B.
THE PERFECT PINT
A Guinness anywhere in the world is a very fine drink but the very best can only be found in Ireland.
The correct pouring is vital. The glass should be tilted at 45-degrees while the black liquid is poured from the tap against the back of the glass. The glass should be left to settle when three parts full, so the heavier black liquid drops below the light creamy top. After two minutes the glass is filled without any froth and left to settle again.
One way to judge the quality of your perfect pint is to examine the side of the glass when you have drunk half of the contents. If you see thick rings of white foam around the inside edge, then you know that it's close to perfection.
FACT FILE
Local Transport
Dublin Bus runs hop on - hop off sightseeing tours from 59 Upper O'Connell Street.
Dublin Tourism's Information Offices sell 'The Dublin Pass' which provides discounted entry to a number of attractions.
Websites
visitdublin.com
guinness-storehouse.com
- nzherald.co.nz