Paul Rush follows one family's visit to the ancestral homelands of Hawaiki, the birthplace of Polynesia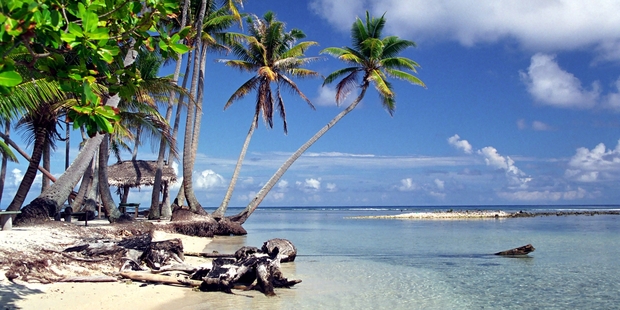 I'm standing on hallowed ground in a state of reverence and wonder, oblivious to the small knot of travellers around me and the intense heat of the tropical sun. I can't fully comprehend that I'm really here in a mythical place that I thought was forever lost in the mists of time.
I've always understood that the spirits of Maori people make their way to Cape Reinga and descend into the ocean via the lone pohutukawa tree. They then move through the underworld on a long journey to their spiritual home of Hawaiki.
For me, it is a revelation that this vast marae of closely fitted volcanic rocks and standing stone monoliths on the Tahitian island of Raiatea is the Hawaiki of ancient legend.In ancient times the island was known as sacred Havai'i and was the centre of royalty, religion, culture, history and heraldry.
Maria, our guide, is explaining we are on Taputapuatea Marae - "tapu" meaning sacred and "atea" faraway. The first Polynesians came from Asia and sailed to Fiji, Tonga, Samoa and Tahiti around 1200BC. The first Polynesian migration to Hawaii, Easter Island and New Zealand followed some time after 400AD.
Raiatea was the cradle of religion and the dispersal centre for migratory journeys that followed the track of Matariki - the Pleiades constellation.
The voyagers were skilled at observing seabirds and flotsam on the currents. When they thought they were near islands, pigs were placed in the water. Once the pigs smelled land they paddled towards it.
Maria explains that only high priests and paramount chiefs were permitted on the holiest part of the marae. The priests chose young men of strength and vitality to sacrifice under the upright stones to appease the god of war and fertility, Oro, who demanded the most worthy blood.
For one New Zealand Pakeha man and his Maori family in our group this is clearly a pilgrimage. They are standing together before a huge headstone chanting a karakia. I met the family on board our P&O Cruises ship and we all joined the shore excursion to Raiatea Island.
Our absorbing island tour concludes in the busy port town of Uturoa, where most of Raiatea's 10,000 inhabitants live. We are dropped off at the French equivalent of a suburban mini-mart where I casually pick up the local newspaper and do a double take.
The Kiwi man I'd seen offering a solemn karakia is featured on the front page, so I buy the paper thinking he might like to keep it as a souvenir.
With my schoolboy French I'm able to read that Justin Smith is a Northland charter fishing operator who joined two Raiatea fishing gurus earlier in the day to wet a line and swap yarns.
Back aboard the cruise ship, Justin is delighted to learn his exploits have been published. I ask about his visit to the marae and he tells me he read a book called Vaka Moana, Voyage of our Ancestors before leaving New Zealand.
He hoped his son, Aorangi Smith-Iri, stepdaughter, Samantha Gedye, and wife, Ngawai Smith, would all gain something spiritual and tangible by making this symbolic return to their ancestors' homeland - the sacred island of Raiatea.
"I'm really proud that I married a Maori woman and I'm very conscious of my role as a European in educating my children about their joint heritage," he says. "I know that Hawaiki has been spoken of for many generations and I believe the voyagers sailed from Raiatea to Rarotonga and then on to Aotearoa. We collected pebbles off the beach at Rarotonga on the way here and laid them on the sacred stones at Taputapuatea along with a New Zealand coin.
"While I was kneeling before the sacred altar stone I thought of all the people I loved and experienced a great clarity in my mind. I felt that the spirits of Aorangi and Samantha's ancestors were proud of me for bringing the children back to their roots."
CHECKLIST
Details: Raiatea is the second-largest island in French Polynesia. It is 220km northwest of the largest, Tahiti (40 minutes by air or 4 hours 30 minutes by boat). Polynesian Maohi, the ancestors of today's Tahitians, Raiatea was known as Sacred Havai'i.
Further information: See tahiti-tourisme.co.nz and pocruises.co.nz.
Paul Rush travelled with assistance from P&O Cruises.