A week-long cruise shows John Roughan why Fiordland's wilderness has never been tamed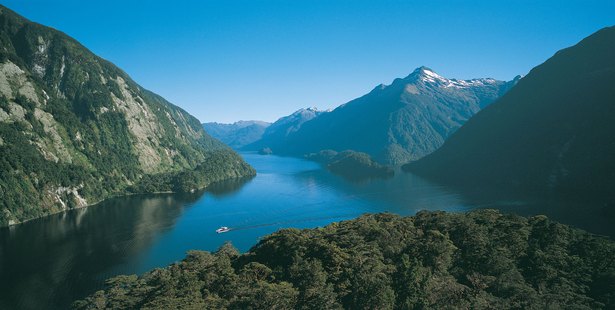 A map of New Zealand that I remember as a kid had a blank circle southwest of Lake Manapouri. Inside it was the word "unexplored".
The map has changed but Fiordland has not. It remains rarely visited and scarcely known to most of us except as a buttress against bad weather, a high misty void where no roads go.
To see it up close you had to be an intrepid tramper, I imagined, until I heard there was a cruise. Not the kind of cruise that calls at Milford Sound for a day but a week-long odyssey through fiords further south.
The ship, a 30m scow operated by Queenstown-based company Real Journeys, does five- or seven-day cruises during winter. To my good fortune they were extending the season this year and wanted somebody to sample a voyage.
Unsurprisingly, since a week is a long time in a tourist's itinerary, all the fellow passengers at Manapouri wharf were Kiwis. There was a lot of grey hair among us, some of it mine.
We were given name tags and immediately started to use them. It was to be a sociable six days.
On a fine, fresh April morning the ferry crossed Lake Manapouri to its West Arm. Most of us had dressed for the arctic; the crew were in short sleeves. A bus from West Arm to Doubtful Sound delivered us to Deep Cove where we met our little ship, Milford Wanderer.
Technically she is a sailing scow with sails furled on the booms of her twin masts. But her captain, Peter Bloxham, quickly admitted they are raised only for photographs. We were to be driven entirely by her engine.
The wheelhouse is set well back and viewing decks extend all the way to the bow. A long saloon on the main deck has been recently refurnished with dark wood panelling and deep red tartan carpet that extends below, where all the passengers have to share two-berth cabins.
Most of the passengers are couples, fortunately, as the narrow beds look too close for strangers.
We checked out the shared showers and washrooms and returned to the saloon where a salad lunch was already appearing from an open galley at the stern.
Peter invited us to go anywhere on the boat, including the wheelhouse where he would be posted. The sun was still shining and the temperature mild as we were given a quick lifejacket drill. Then the ropes were cast off and we were under way.
Doubtful Sound's high, almost vertical, bush-covered cliffs make it seem narrower than it is. "Sound" is a misnomer, said Jason Carter, a young crewman and self-taught nature guide. Sounds are sunken rivers with gently sloping banks - these are genuine fiords, cut sheer and deep by ice-age glaciers.
On each side are hanging valleys left by tributary streams. Normally, said Jason, there would be waterfalls pouring from them but it had been a dry summer even here, where it rains on an average 200 days a year.
"Dolphins," he called, and we rushed to the bow rail. One appeared, then another and another, bigger than any I had seen before. Soon there were six or eight of them barrelling along below us, just under the surface, effortlessly riding the bow wave. Doubtful Sound has a resident pod of bottlenose dolphins. This year there were 61, Jason said. Their numbers are well recorded: in the wheelhouse he fills in a Department of Conservation log for all marine mammal sightings.
We were still at the bow rail when the calm water of the fiord gave way to rollers coming in from the ocean. The deck bucked and lurched as the scow confronted the Tasman, but once we rounded the heads and headed down the coast the sea was disappointingly flat.
First mate Royden Vick said the reason they came down here in winter is that conditions were usually calmer than in summer. Most of Fiordland's weather came from the northwest, he explained, not the south. Summer air from the Australian continent can turn nasty down this way.
In a storm we might not have seen the occasional albatross that glided past, skimming the water with its wingtips, or the mollymawks and shearwaters and the tiny heads of little blue penguins bobbing in the sea.
Peter and Royden put the Wanderer into Breaksea Sound for the night, and when dinner was served we discovered a gem among the young crew. Krissy Johnson's cooking over the next six days turned out to be everything your mother made but better.
Nobody, they say, comes off this boat less than 5kg heavier.
We hoped they had factored that into the weights we had to declare for the helicopter that would lift us out at the end of the journey.
By that first evening we were already getting to know each other. Some of the Aucklanders and Wellingtonians on board had been friends since university, others were neighbours in Freemans Bay or friends of friends. This was not their first trip together.
With 32 of us and six crew, the boat was at capacity but not crowded. We didn't fill all the seats in the saloon and next morning nobody seemed to wait long for a shower.
All passengers said they'd slept well despite hearing snores through the cabin walls.
It was another sunny day with a light wind. The Wanderer left her anchorage and pointed due south. Through a connecting fiord we entered a wide bay that was well known to Captain Cook.
Dusky Sound is mostly high, steep and tree-covered like previous fiords but its mouth is studded with little islands of moraine left by retreating glaciers. The islands, like the rest of the landscape, are covered in untouched native bush right to the water's edge.
At the island where Cook first dropped anchor, our ship did the same and its boat was lowered to take us ashore for a walk in some of the fine virgin forest we had been passing for 24 hours.
Up close, there is much more than ancient beech and rata: there is rimu, totara and countless plants I cannot name - and birds. Little South Island robins hopped on branches fearlessly close to us.
Cook found this anchorage too exposed and sent the ship's boats north and south in the bay to look for a better one. We followed suit the next day and nosed into a sublime lagoon where the Wanderer's kayaks were put in the water.
For a wondrous hour we could scull around its shore. The water was so clear it was like watching fish in an aquarium, and we could see the sheer rock faces above and how the trees clung to them. The rock has a coat of organic matter 30cm thick, accumulated over an unimaginably long time.
After three days of sunshine the evening marine forecast promised some real Fiordland weather the next day. In the morning, Peter put us back out to sea to make Chalky Inlet before the weather turned.
We made it easily and, since the day was still fine, pressed on to Preservation Inlet for a walk to the lighthouse at Puysegur Point, the southwest tip of New Zealand.
We were safely back on board and inside the fiords when the weather arrived.
Waterproof leggings had been on our clothing list and I soon regretted ignoring the advice. Fiordland rain comes in sheets that drench you head to toe.
Squalls for the next three days didn't deter the crew from putting us ashore several times to see what remains of attempts to live in this distant corner of the country.
Sealers had camps in Preservation Inlet, whalers established the country's first shore station there, gold miners and timber millers founded two small towns. All that remains are scraps of iron lying in resurgent forest.
Squalls were still coming through on the last morning when the helicopters came for us. Undeterred, they lifted us over the ridges for a lurching, struggling, stunning last view of a landscape now explored but never tamed.
CHECKLIST
Getting there: Real Journeys offer coach connections to Manapouri from Queenstown and Te Anau. Otherwise, self-drive to Manapouri.