Dionne Christian explores a refuge for endangered wildlife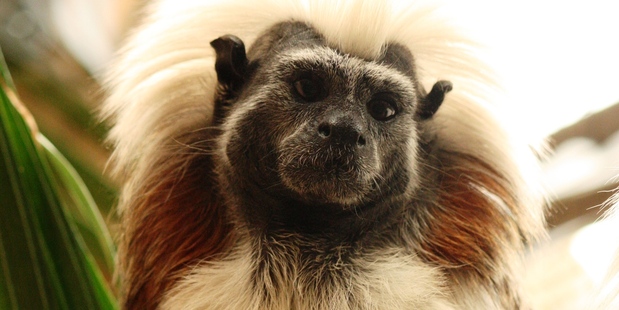 It's 2.15pm at Butterfly Creek in Mangere and a gaggle of excited children have gathered round one of the newest purpose-built enclosures to see its inhabitants enjoy afternoon tea of grapes and meal worms. It's tricky to decide who's more curious: the kids or the cotton-top tamarins Chaska, Miracle, Merida and Ay.
One of the smallest monkeys in the world, cotton-top tamarins must also be one of the world's most adorable, celebrated this week with World Cotton Top Tamarin Day. With their long tufts and crests of white hair atop expressive little faces, these pocket-sized monkeys (they weigh between 350 and 450g ) are awake during the day as they swing, climb and leap from tree to tree while keeping a watchful eye on happenings outside their enclosure.
That means if something catches their attention - and they don't seem to miss much - they'll hop down to the glass front and peer out. For creatures so small, they seem utterly fearless, observant and keen to engage with the world around them.
But when Butterfly Creek's animal manager Kelly Lamb enters their enclosure, they have eyes only for her - or, more specifically, the bowl of food she is carrying.
They take their food directly from Kelly, much to the delight of onlookers, but are quick to scamper back to the tree tops and resume their arboreal antics.
Kelly explains how territorial tamarins can be, which is why they are kept in two separate but neighbouring enclosures and each pair is unable to see the other.
"What they lack in size, they make up for in attitude," she says.
The Butterfly Creek four have quickly become crowd favourites since they arrived earlier this year from Franklin Zoo, which closed after the tragic death of that zoo's dedicated owner and curator Helen Schofield.
Known as the home to the crocodiles - there are two adult crocs, Scar and Goldie, and six babies - Butterfly Creek has carefully expanded the types of primarily tropical creatures it houses. It is also home to Buttermilk farmyard where the kids can get up close to animals like rabbits, guinea pigs, goats, sheep, cows, alpaca, pigs and donkeys as well as various breeds of chicken, geese, ducks and swans. It's very interactive and always a hit with the children, especially the younger ones.
As well as offering animal encounters, Butterfly Creek aims to play a more active role in raising awareness of species habitat, conservation and the threats the wild cousins of its residents face. The cotton-top tamarins are among the world's top 20 most endangered species. While they were once found in a number of Central American countries, they're now restricted to north-western Columbian rainforests. Habitat destruction, the black-market pet trade and their use for medical training purposes (now thankfully banned) has played a role in drastically reducing their population.
Butterfly Creek has applied to join the Zoo and Aquarium Association, so it may be able to take part in a captive breeding programme for cotton-top tamarins. It already hosts the captive rear and release programme for our giant wetapunga.
But we're getting ahead of ourselves. The Butterfly Creek journey starts with a walk through New Zealand's largest marine coral and fresh-water tropical aquaria before visitors pass through the sturdy double doors into the hot and humid butterfly house. There are more than 750 free-flying tropical butterflies here as well as nesting and hatching houses which afford a good look at the life-cycle of a butterfly.
Other tropical species include long-necked, red-eared and reeves turtles, eastern water dragons and inland bearded dragons. Walk past these enclosures to find the tamarins at the far end of the butterfly house, surveying their domain. Exiting the butterfly house, you find yourselves in the crocodile and alligator area. Some people have told me they find these reptiles less scary to look at than the bugs in the neighbouring Greenfingers Bug About. But I'd rather have a cockroach or a spider over a croc or an alligator any day!
In Bug About, you can watch weta, black field crickets, Gisborne and American cockroaches, honey bees, migratory locusts, king baboon tarantula and pink-toed tarantula doing their thing.
If I ever won Lotto, after giving a chunk away to charities, I'd build a house with a butterfly and reptile enclosure just like this. Oh well, I can dream.


Need to know
Butterfly Creek, at 12 Tom Pierce Drive, Auckland Airport opens every day except Christmas and Boxing Days with summer and winter hours. It has a great cafe and playground plus the Red Admiral Express train makes a regular circuit of its wetland habitat. Find out more about the weta programme in the Greenfingers Bugs About section of the website. See butterflycreek.co.nz for full details.