Winston Aldworth visits a temple in Kathmandu where mourning is a very public affair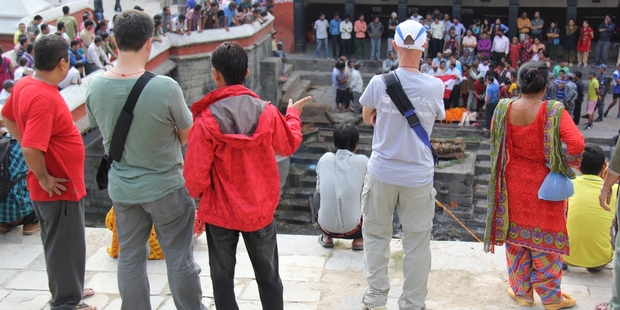 On a dry, dusty day in Kathmandu, we're watching a human body burn.
Alive, he was someone important. Dead, he gets to be cremated at a spot alongside the Bagmati River, upstream from lower-class cadavers. Go far enough downstream and the ashes, no matter your station in life, mingle.
We're at the beautiful Hindu temple of Pashupatinath. Wild-eyed gurus in bright orange robes sit among small temples dotted around the grounds. One temple features some pretty imaginative and highly detailed illustrations from the Kama Sutra.
But we're here for the business of cremation, not procreation.
Only Hindus get cremated here and only Hindus are supposed to be allowed into the main part of the temple grounds, Guheshwori Temple. In fact, although they say the main temple is not open to non-Hindus, our guide, who is recognisably Sherpa and thus to the people of Kathmandu recognisably a Buddhist, wanders past the guards - yes, armed soldiers - happily enough. European visitors are brusquely turned away.
But anyone who's paid $12.50 entry fee (free, naturally, for Hindus) can watch a cremation.
We arrive just as the family of a prominent politician are readying to cremate him. A flag of the Nepali Congress Party is draped over his body and armed soldiers are among the mourners. The public sits on the opposite side of the river, milling about on steps. We join a group of about 50. Some are young couples enjoying an afternoon out. Four naked boys splash about playing in the filthy, holy water of the Bagmati River beneath the plinth on which the body will burn. Monkeys roam the place.
The mood is more severe on the other side of the river. The politician's sons have shaved their heads and will spend 13 days after the funeral living a monastic life.
Some men carry the politician's body into place, turning it three times ("Once for birth, once for life and once for death, sir," a kid tells me, touting for paid work as a guide).
The eldest son steps forward from the group of several dozen mourners. He walks three times around the body, pours a liquid over it, then touches a flame to his dad. The first area lit is traditionally around the mouth.
Then the son - quite reasonably - loses it. He'd done well to keep it together thus far. He hangs his bald head and sobs. His mates carry him to some nearby steps where they sit him down and console him.
Straw, dampened in the river so it won't burn too fast, is placed over the body as a young man - "an organiser", I'm told - shuffles about, tending the flame, managing the cremation.
There are plans to build a gas-fired crematorium, which would be better for the environment, and a campaign to clean the holy water of the Bagmati River.
Things are quick around here; you can be cremated on the same day you die. It costs about $50-$100 to be cremated in the area we are watching. Further upstream is an area reserved for cremating royalty.
Downstream it's cheaper, and busier. The fires on their 10 plinths burn quicker and the remains are hastily swept into the river. Other groups of mourners queue for their turn, at their feet are the bodies of their loved ones wrapped in cloth. Inevitably, there's a bloke in the water, digging around in the areas where charcoaled wood and clumps of ash have splashed. "He's looking for coins or jewellery," my guide tells me.
Life goes on.
CHECKLIST
Getting there: Cathay Pacific flies daily between Auckland and Hong Kong. Its partner airline, Dragonair, connects to Kathmandu.
Details: World Expeditions runs trekking and tour groups throughout Nepal.
Winston Aldworth travelled as a guest of Cathay Pacific and World Expeditions.