In Antwerp, Liz Light explores the icon's world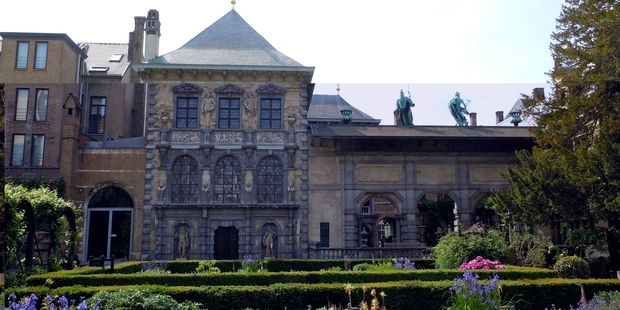 Helene Fourment was, by today's standards, a plus-size woman. Peter Paul Rubens relished her chubby body and used her as a model for many of his later paintings, giving rise to the term Rubenesque to describe women as lusciously endowed as Helene.
Rubens' voluptuous women phase was in the last 10 years of his life. After his first wife died when he was 53, he married 16-year-old Helene and had five more children.
A 17th-century artist, Rubens was not only famous for painting women, but for his many flattering portraits and magnificent religious paintings. He was a devout Catholic and, two centuries before photography, there was money to be made painting kind likenesses of wealthy people.
I meet a likeness of Rubens near the cathedral in the medieval centre of Antwerp. The greening bronze statue depicts him in his mid-years with wrinkles, an amused smile and a good-life paunch. A cape is debonairly slung over one shoulder, he wears silky pantaloons and a tight buttoned-up jacket, both with lace and bows.
I arrive in Antwerp on River Empress, a Uniworld river cruise boat, and take a heritage walking tour. The next stop is Rubens House.
Rubens was a brilliant artist, handsome, well-educated and charming; ingredients that made him a popular painter. By the time he was 34 he was wealthy. He marked his place in Antwerp's society by marrying Isabella Brant, a woman from a rich family, and building Rubens House.
The house, which he designed, is palatial but practical. It's U-shaped with a large interior courtyard. His private home is to the left, a large workshop and studio to the right and a gallery for his art collection.
Low ceilings and small beds show people were shorter 400 years ago. Merlot-coloured leather wallpaper, gilded windows, stained glass and marble statues show his luxurious taste. His collection of ornate gifts from kings, queens, churches and rich patrons indicate his immense popularity.
Being a popular 17th-century painter required organisation. His large studio has wide windows facing the southern light and an ornate fireplace to keep his numerous apprentices warm. Rubens would breeze in, instruct them, do outlines of paintings and the final touches before signing them with his PPR. He has 2500 paintings still accounted for, the most valuable selling for US$76 million ($96 million).
Anthony Van Dyck was Rubens' star pupil. He began lessons with him when he was 13, later becoming his workshop supervisor.
Like Rubens, Van Dyck was charming, good-looking and had a penchant for fine silks, jewellery and feathered hats. Rubens sent him to England on a commission for Charles I where he became the British court painter and was knighted. His style dominated English painting for a century.
While standing in the empty workshop I imagine the smell of turpentine and can see apprentices busy at easels.
Presumably, lovely Helene didn't pose here, in all her glory, for the workshop boys to see. Those voluptuous paintings must, surely, have been based on Rubens' private drawings.