Fiction becomes fact in Istanbul - a worldwide bestseller is turned into one of the world's strangest literary museums.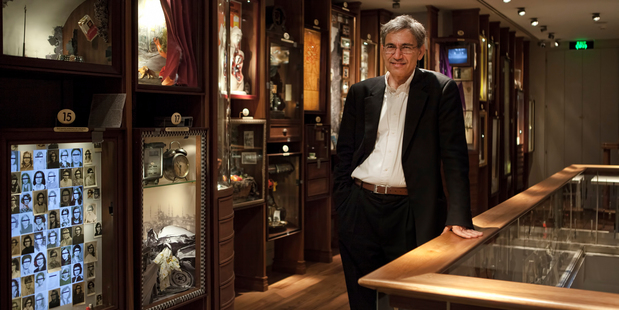 There's a game I play when at a loose end in a new city, although this was Istanbul, and cities don't come much older than that.
Go to the nearest metro station. Get on the next train or tram that arrives. Think of a number - say four - and get off at the fourth stop. Then choose the most interesting-looking street to explore.
That was up a Hillary of a hill. Within 20m I was in the 1950s: a street wide enough for one and a half Matchbox cars to pass each other, unless someone had parked.
Everyone had. Old men sat on upturned crates drinking tea and talking politics outside hardware shops cafes barbers fruit shops. They should have been in a black-and-white box-Brownie photo. They, and their clothes, and the tea, were sepia. A few yards on, the street was blocked by a huge dump truck, inching back and forth, trying to turn out of a side-street. Young men offered advice. The old men retreated deeper into their conversations. It was a sign: I turned into the lane.
Now I had left the 1950s and stumbled into the 1920s. The three- and four-storeyed houses would have fallen down had their neighbours not held them up. Here were artisans: a man crafting chairs, another beating zinc with a hammer to make pots, a third indolently offering bric-a-brac. One house was unusually kempt among the disintegration of yesteryear, darkly and dustily pink, green shutters barred and bolted. There was a sign: "This was the Keskin family home from 1972-1999."
THE HOUSE in the neighbourhood of Çukurcuma is one of the world's strangest literary museums. It's not Shakespeare's birthplace, Dylan Thomas' pub or Abelard's cell. It is a dream that became a real estate deal that became a renovators' nightmare that became a novel, a worldwide bestseller since publication in 2008. The writer is Orhan Pamuk, awarded the Nobel Prize for Literature in 2006. The book, the house, the fiction that has become a fact and made fact out of a fiction is The Museum of Innocence.
The story begins more than 20 years ago, in 1982, when Pamuk dined with the last prince of the Ottoman dynasty. The prince had been exiled after Turkey became a republic in 1922, living in Alexandria and working at a museum, first as a ticket collector and later director. Invited back to Istanbul after six decades, he needed a job. Someone suggested becoming a guide at the palace, now a museum, where he had lived as a child.
Pamuk saw the opportunities in the story of a man who outlives his era and becomes the curator of his past. In 1998 he bought a house that would become the setting for his novel and ultimately the museum of its story. Unable to afford the upmarket neighbourhood of his narrator, Kemal Basmeini, he sought out a derelict property - the one I'd chanced upon - and set about creating the home of Kemal's lover, Füsun Keskin, a petulant shopgirl and wannabe actress who lives with her seamstress mother and schoolteacher father.
Kemal, spoilt heir of a family business, begins an obsessive affair with Füsun, his distant relative, hoarding mementoes of a relationship spanning 30 years from the mid-70s. Like that lost, unhappy prince, Kemal becomes the lonely conservator of the museum of their history, a dusty trove of trinkets stored in her former family home.
For 10 years Pamuk wrote and shopped, and Istanbul is a mecca for magpies and bargain-hunters. Five years ago he published his masterwork; last year, finally overcoming financial and bureaucratic difficulties, he opened the Museum of Innocence.
Perhaps we should go inside now. But I can't. It's Monday and the museum is closed on Mondays. I will come back tomorrow.
FUSING fiction into fact - or is it the other way around? - begins at the front door. The museum allows free entry to people carrying the book. The guard stamps a ticket printed in Chapter 83.
"Bu hayatimin en mutlu ani," reads the script projected on the entrance wall. It's the opening line from the novel: "This was the happiest moment of my life." Nearby, a butterfly earring is pinned to a lace curtain, rippling in an electric fan-enhanced breeze. The composition represents a moment early in the couple's relationship: the ornament was knocked loose and, "for all we knew, hovered in midair before falling of its own accord." Replicas may be purchased in the basement gift shop; this is also a museum of gilt.
On another wall, pinned inside a display case like moths or butterflies in a 60s science exhibit, 4213 cigarette butts: Kemal kept one of Füsun's stubs from every day of their relationship, some stained with her favourite lipstick. It is a carefully contrived plastic art installation. Here are tin toys, a sewing machine, a cash register from a cafe they might have visited, photos.
On the second level the fiction of Pamuk's novel blurs with the reality of his creation. The musuem emerges as a social history of Istanbul in the 70s and 80s, the years of coups and military rule, of liberals and schoolteachers and journalists and thinkers disappearing overnight, of a society that tore up its own history, that forgot where it had come from and had no idea where it wanted to go.
An aged black-and-white TV screen displays Pamuk family holiday videos from the era (his uncle had one of the few home-movie cameras in Turkey); in the next cabinet, a page from a daily newspaper, column upon column of photos of young women, black strips pasted over their eyes. The caption informs that "if a girl gave herself to a man when she was under 18, her father could take the man to court to force him to marry her." The same humiliation was meted to "adulteresses, rape victims and prostitutes."
Though he insists it is not a political novel, Pamuk's disdain for a self-satisfied, bourgeois society in which he grew up becomes plain in a way that may not when reading a translation of The Museum of Innocence. That seemed to be a tale about an unlikeable man and a dislikeable woman. In this context Kemal and Füsun can be seen as ciphers; this collection can be read as an indictment of times in which middle-class families and their friends lived. Were they fiddle-faddling while Istanbul fumed?
I am only 10 minutes' walk from Taksim Square. There, yesterday, I watched a new, younger, angry generation demand a debate about where their nation is heading, scorned by a Prime Minister determined to write the national narrative.
THROUGH three floors visitors pass Pamuk's original manuscript, doodlings (his first vocation was artist), scrawlings-out, annotations to his typist. At the top of the stairs they walk into an attic: an old man's flat, iron bedstead, nightstand, reading lamp, alarm clock, slippers under the bed, striped pyjamas neatly folded. A caption suggests that "between 2000-2007 Kemal Basmeini lived in this room, where Orhan Pamuk sat and listened to his story. Kemal Basmeini passed away on 12 April 2007."
It seems to be the end of the story. Or is it?
I go downstairs to the gift shop and decide not to buy the butterfly earring. At the door, a guard hands me a questionnaire about the museum. We chat until I mention I am a journalist.
Back in Auckland I search photos of the Museum of Innocence on the internet. The guard, with his pepper and salt hair and moustache, looks vaguely familiar. I read that Pamuk, like that all-but-forgotten Ottoman prince, occasionally haunts the house, dressed in his staff's walnut uniform, anonymous, observing visitors to a place where truths may be stronger than fiction.
On the web: masumiyetmuzesi.org
- nzherald.co.nz