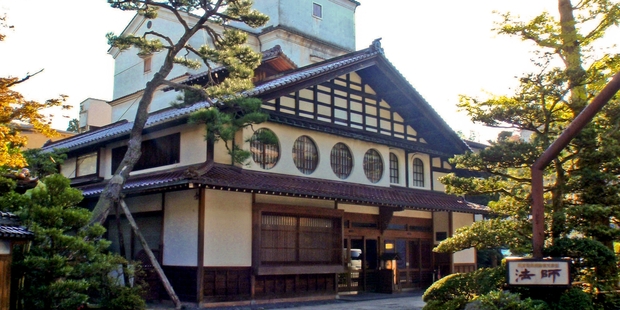 My first tea ceremony took place in the world's oldest hotel, Japan's Honshi Ryokan.
"Tea gives different answers to different questions from different people at different times," Taeko, my "nakai-san" or Japanese PA, told me.
She was in her kimono and ankle-high white "tabi" socks and smiled perpetually.
"In the cashitsu or tea room you are focused on the now. Every action is centred," she explained as my legs began to cramp up.
Ceremonially she began to pulverise "macha" tea leaves. Then she began to whisk and, eyes down, handed me my tea. I bowed, examined the bowl and handled like it was irreplaceable.
Taeko nodded in approval. "Every little movement is deliberate and prescribed - from the laying of the charcoal, the folding of the napkins to the actual drinking. The way you handle the bowl should exemplify humility."
It is difficult to fidget respectfully. I wanted to plump up the "Zabuton" cushion beneath me. I had adopted the formal "seiza" sitting position: lower legs under my thighs and bottom resting on my heels. I tried to transcend the loss of blood to my legs by studying my surroundings.
Around us were flower arrangements, hanging scrolls, paper screen sliding doors and a window looking out to koi carp ponds, mossy rocks, babbling streams, pine trees and pergolas.
"There are two types of tea. Thick and thin. Koicha and Usucha," Taeko said. "When you make a pot of tea, you create an environment which emphasises human relationships. Tea values considerate and understanding attitudes between people."
My calves had gone to sleep.
Studied properly , tea ultimately brings tranquillity - "jaku", an understanding of and attention to the present, without anticipation or confusion about the past.
Her forehead and nose brushing the floor, Taeko bowed backwards out of my presence, leaving me to empty and purify my mind in a quiet place, as Buddha teaches. I did this by standing up and, as instructed, by listening to the wood whispering about me.
It is good for the "wabi", or inner life.
Behind the reception desk of the picturesque inn in the famous spa town of Azami in the Ishikawa prefecture of north Japan, four hours by train from Tokyo, is a diploma from The Guinness Book of Records verifying that Japan's oldest inn goes back 1300 years and has been in the same family for 46 generations. The ancient inn was probably built by a monk called Gyoki.
Taicho Daishi, a famous Buddhist teacher, walked up Mount Hakusan in 717. In a dream the gods told him that at the base of the mountain in Awazu village he would discover a hot spring. The springs soon became popular, gaining a reputation for miraculous cures.
"Our origins are divine," said current owner, Segori Hoshi. "We offer a taste of the old, believing the simple and the natural are the best. We offer a traditional way of Japanese life and hospitality."
He showed me two bars, a coffee bar, the cigarette machine, the gift and souvenir shop and the conference/banquet room. He also brought my attention to my minibar and en-suite TV. And the hot mineral baths.
Nearby is the Natadera Iwayama temple, which is a year younger than the Ryokan. It has a shrine to the thousand-handed Kannon, the goddess of mercy. Another attraction is a crafts village where you can taste lots of different seaweed, paint "kitani" porcelain plates, drink gold leaf broth, plait bamboo grass and enjoy the region's largest private collection of rare chickens. Ski slopes are not far away.
But most people stay in the hotel to soak up the silence and the spa waters. I lounged about in my casual cotton kimono, being waited on hand and foot by my personal maid, who served me breakfast and a 10-course dinner on a spine-challenging low table.
The multi-course meal had lots of simmered, grilled and steamed things, miso soup, rice, vegetables, sesame tofu, pickles, a tray of dainty tidbits, rare meats and raw fish, garnished with leaves and flowers. And sake and sweets.
I sat looking out of my window adoring the beautiful in the everyday and learning from my Buddhist hosts that every minute is a once-in-a-lifetime experience.
I watched the big fat koi swim down a stream beneath my room. For 15 minutes or more I just looked at red berries. For 10 minutes more I watched the steam drifting skywards from the hot springs.
To soften the mind into the calmness I lazed in a cedar-wood bath tub, appreciated the seasons and drank more tea and threw my own private "chanoyu" or tea party.
A simple cup of tea can provide a release from life's daily dilemmas. It is good therapy.