Mary Jane Boland glimpses the American dream at an elite Californian resort.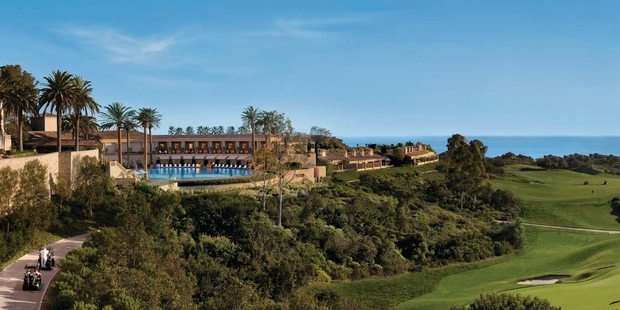 Howard has waited months to become a member at Pelican Hill Golf Club. It's a luxury that most Southern Californians can't afford. At US$11,000 ($14,000) a year, Pelican Hill requires a big wallet, but it's okay for Howard - he made his dough from cookies.
Only in America, the phrase I've heard a few times since our return to New Zealand after 15 days' release from the usual dropping kids at school, working, picking up kids, homework, housework.
My husband meets Howard on the first hole at The Resort at Pelican Hill. We're 45 minutes south of Los Angeles International Airport, and Howard tells my husband Guy about his background. He and his wife shifted from Manhattan to California in the mid-1980s but, finding economic times tough, they opted to set up a cookie dough company - rightly thinking that Americans would still want their cookies even in times of recession. Two decades later, Howard has made enough dough to afford time out at Pelican Hill.
Golf is the favourite four-letter word of those who visit and stay at Pelican Hill.
Opened four years ago, the resort has won more than a few domestic and international awards and was recently named the Best Golf Resort in the World by Conde Nast Traveler magazine.
I don't play golf - last time was at a charity golf day and I was almost laughed off the course - but for my husband, Pelican Hill is what he now calls "heaven on earth".
When the Irvine Company moved forward with its plans to develop the 203ha on which Pelican Hill sits above the Newport Beach shoreline, it closed the golf course for two years and spent millions of dollars optimising the Tom Fazio design. Visitors must use carts and also must have their own caddie, whom Guy described as his GPS on the course.
As well as breathtaking views over the Pacific, you can also spot wildlife such as hummingbirds and bobcats.
There's no sign of Howard's cookies at Pelican Hill but for a non-golfer, the food and scenery (and shopping) more than make up for my lack of athleticism. The Irvine Company still owns a ranch not far from Pelican Hill where a lot of fresh ingredients come from. Among them are fruits for the homemade gelato, which are whipped up in the resort's gelato laboratory.
At about $70 for breakfast for two, this is no McDonald's - but I'm still planning to perfect my coconut French toast with fresh berries at home. At Andrea, the resort's signature restaurant, golfers can reminisce about their rounds while eating pasta made in the resort's temperature-controlled pasta room, or watch as a chef makes the most delicious creamy mushroom risotto.
The executive chef used to work at Thomas Keller's restaurant The French Laundry, in the Napa Valley.
While this all sounds pretentious, Pelican Hill is not flashy - yes, it's flash but not flashy. Sure, it's stunningly beautiful with its architecture modelled on the Palladian style, which emphasises that the whole environment's beauty is the result of its parts. So the villas and main building complement each other, and the bungalows are a smaller version of the villas.
Attention to detail is significant, not only in terms of the look but also the experience. Small mats are placed by the side of the beds by the evening maid, so your feet don't touch the slightly rough matting when you get in and out of bed.
In the bathrooms, there are large shutters that open out on to the bedroom, meaning you can watch TV from the bathroom. "I feel like Dudley Moore in Arthur - it's like his bathroom but without the alcoholism," my husband says.
Pelican Hill's architecture has been lauded internationally, and featured in many magazines including Architectural Digest.
In an interview with the Digest, Irvine Company chairman Donald Bren says the Palladian architecture "forms a great fit with the ancient Arcadian dream that has brought many people to California, people seeking the dream of contentment and the good life in an idyllic landscape".
People like Howard - living the American dream.
CHECKLIST
Getting there: Air New Zealand flies direct to Los Angeles daily. Pelican Hill Resort is a 45-minute drive south of the airport.