Grant Bradley crosses the USA on Delta Air Lines 81.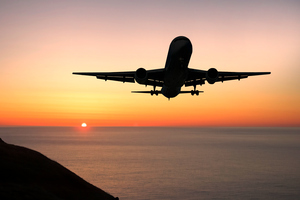 Route: Atlanta to Los Angeles.
Aircraft: An ageing Boeing 757-200, a little battered, one toilet light not working.
On time? No, luckily. Due to leave at 5.45pm but delayed for 30 minutes, which meant our group made the flight as our connecting Delta service had been delayed.
Seat: Economy-class 44a, by the window, one row from the back. Comfortable enough in leather but not much leg room. No wings on headrests.
Entertainment: My seat-back screen was frozen for the flight of nearly five hours, but for others there was limited free TV. Otherwise it's US$6 ($7.50) for a movie or US$5 for games. Wi-Fi once aircraft is at 3300m, price starts at US$7 an hour. No cash, just cards.
How full: Packed by an early-season holiday crowd and the daily business people grinding it out for corporate America. As we were among the last to board the overhead bins were full so our carry-ons needed to be put in the hold despite being covered by the ticket. Took them on anyway and squeezed them in.
The food: Besides wraps and sandwiches to buy, there are free soft drinks, coffee tea and water with Delta-brand cookies, or small bags of salted nuts or pretzels. The trolley took 1hr 45min to reach row 44 because of problems with the card machine, so the US$9.95 turkey sandwich was very welcome and not bad at all.
The airport experience: As a key hub and Delta's home base, Atlanta is the world's busiest airport; vast with five parallel runways. There are plenty of planes to spot from the terminal and, rather disconcertingly, flying right next to your aircraft. Delta has its own terminal so connections within the airline are not too arduous but connecting between airlines most likely a mission.
The price: Fares start around US$270.
Would I fly again: Not if I could avoid it. It seems most US internal flights are a hard slog, in economy at least.
Business Herald aviation reporter Grant Bradley travelled courtesy of Boeing and Air New Zealand.