Famous crime writer Donna Leon takes Linda Herrick on a murderer's tour of Venice.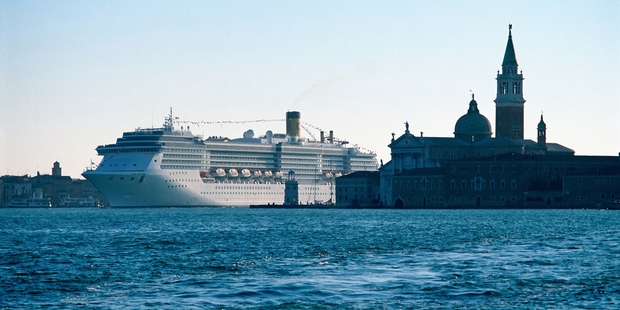 I'm on a stakeout in a square in the Cannaregio district of north Venice. It's a bone-chilling day and, as I wait for my target to appear, I observe something fishy. Two burly men are shunting an elderly woman, stretched out on a long wheelbarrow, through the square. In any other place this could ring alarm bells but not here. This is Venice, where the everyday practicalities of life are slightly surreal. The hospital occupies one side of the square and this is the utilitarian, if undignified, mode of transporting the sick and infirm because, as we know, Venice has no roads.
My target is hoving into view, a slight, grey-haired woman. I've never met her before but I know what she looks like because I have seen her photo inside the covers of 23 thrillers. "Donna Leon!" The stern look on my favourite crime writer's face melts into a smile, we shake hands and move out of the cold into the Cafe Rosa Salva. This is the bar where her hero, Commissario Guido Brunetti, often drops in for a spritzer after a hard day shuffling papers at the Questore. It's also the place damned by one reviewer on TripAdvisor as having "rude and obnoxious staff".
But there's no sign of anything but charm as Ms Leon orders our drinks in fluent Italian.
Of course she is fluent. The American has been living in Venice for 30 years, after first visiting Rome 47 years ago. "I fell in love with Italy on the first day and in many ways I have remained in love with it," she says. "After you have lived here for a while you can't live anywhere else. Everywhere you look is beautiful."
Leon got lucky when she settled in Venice and took a teaching job at the university. She was at La Fenice opera house one night with a friend (a conductor) and started fantasising about "what would happen if you killed a conductor here". She wrote Death at La Fenice, sent it to a writing competition a year later and won. She got a contract to write more books and today she can boast, modestly of course, of what she calls "the European success" and financial independence.
Leon's books not only possess perceptive descriptions of the Venetian lifestyle, ambience, food, drink and murder, they give her a sounding board to vent, mainly via the ethos of Brunetti and his eco-warrior daughter Chiara, her frustrations about what ails the city.
"Venice is a victim of mindless mass tourism," she almost hisses. "I don't know why people come here. It sounds like super-snobbery but it's not. People bus in and bus out. They go to the Rialto, they go to San Marco, then they leave. They go to Rome for one day, then Florence, then Venice. Why bother? It's consumerism, not tourism. I've got nothing against tourism. - it's good to go to places where there is a different way of doing things from what you do. It makes it real to you that people who don't think or dress or act like you is completely legitimate."
If there's one thing that gets Leon more steamed up than the bus visitors, it's the huge cruise ships coming into Venice, sometimes bringing in as many as 35,000 passengers per day.
"I am very concerned about the ecology. I am a fanatic. I am a Taliban!" she asserts fiercely (let's hope we're not being covertly filmed). "The bunker oil the cruise liners burn is 1000 times worse than what cars burn. They are chief contaminants of the air here and there are thousands of trips through Venice every year. The city administration will not do anything against it. The liners affect everything but they bring money. How a city that has between 20-30 million tourists a year could be in economic trouble eludes me.
"They won't do anything until one of them breaks loose and crashes into an embankment and brings down the Basilica, like that liner [the Costa Concordia] in Tuscany. When one of these liners has a major accident and there's major loss of fuel and damage to the Laguna, just imagine that - but they won't do anything."
We head out the door and start walking around Brunetti's territory - in fact, her own community. She points to a canal. "In the second book [Death in a Strange Country], the body is found in that canal. Many things happen around here in the books because I am lazy. I just use my imagination. It's a good neighbourhood for a murder around here. But it's a very inconvenient place to live, especially for older people or if you are handicapped because you have to walk up 60 steps to get to your apartment. But," she brightens, "that's why there are so many older people in good shape and it is great socially because you walk past people all the time."
Behind the hospital, Leon points over to the cemetery island, San Michele, another Brunetti haunt, as she explains that when she walks around Venice, she often gets recognised by her fans, mainly Germans, Swiss and Austrians. As if on queue, a woman rushes up to her, crying, "Donna Leon!" and they have an animated chat for a few minutes. Leon smiles. "Swedish, here learning Italian. That is encouraging because people are always surprised to see me."
We plod on through an alley, Calle del Fumo, which sounds like a good place for thugs to lurk. Is this an area you should avoid at night? I ask, hopefully. "No, no, no," says the woman who has introduced so much violent crime into the homes of Venice. "There is no street crime. One of the great things about Venice is that you are safe. Venetians are not going to rob you. There is not a criminal population and they couldn't do a fast getaway - where do you run?"
Leon stops beside a canal where we watch the Venetian equivalent of nautical double parking as a boat man tries to moor his craft and walk over the boat which has usurped his rightful place. "I love living in a city without cars," she enthuses. "They don't wear life jackets, they swim from the times they are babies. The danger here is not drowning, it's going into the water. It's so polluted."
She frowns and looks down into the water. "See all that weed?"
The canals and lagoon edges all around the Venetian region are noticeably choked by nasty green weed. "This is an Asian form of seaweed [called undaria pinnatifidaea] brought into the Adriatic as ballast on a ship. It wasn't here three years ago. Ten years ago there was a similar invasion and the city had little boats with rakes that scooped up the weed but there has been no effort to clean it up this time. At low tide there are vast areas of the Laguna that are blocked but cause-effect doesn't seem to register with politicians."
Perhaps she should start killing off a few politicians in her books. Then the real ones might start cleaning up their act.
CHECKLIST
Getting there: Emirates offers daily flights from New Zealand to Venice with direct connections at Dubai. Fares from Auckland and Christchurch to Venice return are from $2539.
Linda Herrick travelled to Venice with assistance from Creative NZ.