Kelly Lynch takes to the slopes in Colorado's Winter Park and finds herself on the look-out for moose of the loose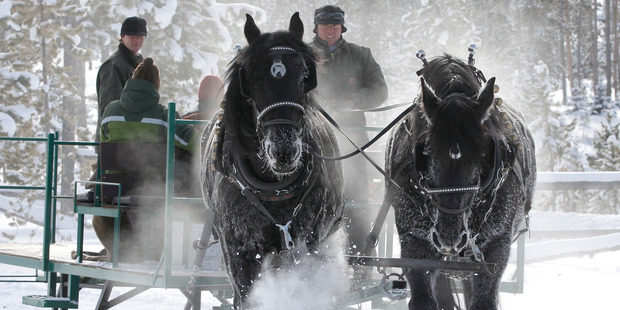 Chris instructs, "Kick your legs forward like you're kicking a football". My feet are bound in soft shoes, locked into long skinny skis with heels free to rise and fall. I kick. And it works. I move half a foot forward. "Swing your hips side to side". Arms bent at 90 degrees, I swing them high like an Olympian sprint runner. Cross-country skiing takes all my concentration and co-ordination, my muscles pumping hard. But I move forward.
The idea is to glide along compact groomed tracks that go for miles. Huffing and puffing, I finally take my eyes off my feet and gaze to the horizon just as athletic bodies gloved in bodysuits sweep over the snow-laden meadow towards us. They are being pulled by dogs in a sport called skijoring, are perfectly in sync, and an inspiration.
Chris, our Nordic ski instructor at Devil's Thumb Ranch, points to snowcapped mountain ranges glittering under an intense blue sky - the Continental Divide.
Today, on his early morning cross-country ski jaunt into the hills, he spied two moose in a glade.
Between the ranges projects a rocky outcrop that from a distance looks like a lone thumb hitching a ride. Legend has it warring Native American tribes, the Utes and the Arapahoes, named it the Devil's Thumb after finally making peace. They say they buried the devil but left his thumb exposed as a reminder of the evils of war.
Peace prevails below across the 2428ha of meadows, forest and rivers at Devil's Thumb Ranch Resort and Spa. Catering to holidaymakers, corporate groups and wedding parties, its rustic, elegant, eco-friendly accommodation is two hours' drive from Colorado's capital, Denver. It's so popular for weddings a local suggests booking your wedding there first and worrying about hitching the man later.
Designed as a home away from home, it has 52 rooms in the main lodge, at the centre of which is a rock fireplace three storeys high in the shape of a hexagon.
Away from the main lodge, restaurants, shop and 14-room spa-centre, luxury log cabins sit secluded among stands of trees. And, there are more affordable rooms at the Bunkhouse.
Ranch owner Suzanne Franche has an eye for detail that sets each room apart, giving them warmth and character. Her style is simple elegance - a large exotic floor rug is combined with a locally commissioned wall-hanging, off-set by a hand-picked ornament or two from an antique shop or local market.
You can take a horse-drawn sleigh ride to the stables. Garth, a fifth-generation cowboy, shows off his stock during feeding out from the back of a trailer. His love of the animals, particularly a 1090kg steer called Butters, comes through as he jokes about the pecking order and personalities of different horses, mules and two donkeys named Lucy and Flash.
People come to Devil's Thumb Ranch not only for its tranquillity. Once they've criss-crossed over its snowy trails there's serious skiing to be had 15 minutes away.
Winter Park, Colorado's first ski resort and owned by the city of Denver, encompasses big mountains and 1246ha of skiable terrain. By comparison, Whakapapa and Turoa combined make 1500ha. Its highest point, Parsenn Bowl, is at 3676m, less than 100m short of the summit of Aoraki Mt Cook.
On the drive to Winter Park Village, James the shuttle driver excitedly points, "There's a moose". He hoots with laughter pointing at a metal monument of a moose staked at the roadside. "Seriously though, last week a bull moose walked straight off State highway 40 into Winter Park town, right through the shops".
I hope for a moose sighting that won't involve cross-country skiing high in the mountains, until James gravely adds moose come and go as they please. Far from domesticated, they charge if spooked. A 500kg charging moose is one of the few, unlikely, hazards here.
From The Vintage Hotel, I take a short cabriolet ride over to Winter Park village.
It's the weekend, and children squeal as they race down chutes on tubes. A group of 5-year-old boys adds the finishing touches to a snowman before bombarding it with snowballs.
At the ice skating rink, a dad hits an ice hockey puck between his 4 and 7-year-old boys, their sticks at the ready. Pulled by mums and dads, small wheels clatter over pavers under the weight of red trolleys loaded with excited children and ski gear. They roll through the village past eateries, ski shops and gift shops capitalising on the local moose - there are moose coasters, moose tea towels and hats with fluffy antlers.
There is a buzz on the mountain from snowboarders and skiers excited by 15cm of fresh snow overnight. It's so smooth, soft and dry that initially it's like ploughing through whipped cream. Winter Park is so huge there are two free mountain orientation tours each day. I meet Jerry, a ski instructor here for 26 years. He calls me Kal and, like everyone I've met in Colorado, he's relaxed.
With plenty of space and wide trails there are no chairlift queues. Two hours of happy skiing later, clouds darken as snow flakes begin to flurry, before blowing sideways as sleet. We take refuge at the Sunspot restaurant and, instead of amazing views from their expansive windows, we watch small whirlwinds funnel across the snow's surface.
Expecting my afternoon ski to be curtailed, I learn the mountain never really shuts; when the weather folds everyone moves down the slopes to more sheltered spots. Avoiding the storm, we tree ski, bouncing over pillow-like snow between spindly trunks. It's exhilarating.
One of the mountains, Mary Jane is spotted with moguls and terrain parks. She's as daunting as her namesake, a woman of ill repute from the late-1800s who acquired the land as payment from her late-night antics with railroad men, miners and loggers. It's a relief to see she has a softer side, a green beginner's ski run from her top at 3414m to her base. The longest of Winter Park's 143 trails is a seemingly endless 7.4km.
One long, deep-throated toot blasts across the mountain from a California Zepher train passing by. It may have been Mary Jane's promises that kept those pioneering railroad workers digging hard. They excavated a 10km tunnel through the Continental Divide, The Moffat Tunnel, opening access to the mountains in 1928.
It leaves me thinking how lucky the people of Denver are to have this enormous snow playground right at their doorstep.
FURTHER INFORMATION
• Air New Zealand flies from Auckland to San Francisco 5-7 times a week with daily connections to Denver.
• Two hours from Denver, family-friendly Winter Park is suited to those without a vehicle. The slopes have plenty of powder snow for skiing, snow boarding and ski biking. For the more experienced there are terrain parks and moguls.
• The Vintage Hotel is a good choice of accommodation. Most rooms have kitchenettes. Close by they run a free cabriolet service to the slopes.
• Holders of Mt Ruapehu Season Passes, Five Season and Life Passes can ski at Winter Park for free.
• Devil's Thumb Ranch Resort & Spa, 15 minutes from Winter Park, is popular for its spas, cross-country skiing and fine dining.
• Find out more about Colorado skiing
Kelly Lynch travelled courtesy of Colorado Ski Country USA.