Nici Wickes is delighted by the amazing choice of quality eats on offer in San Francisco and by the ethical commitment to the food produced there.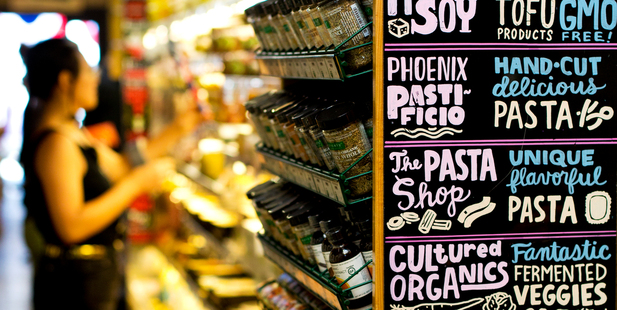 I've gone mental for San Francisco. And no, it's not Cup fever. It's for all the edible adventures to be had in this free-thinking, restaurant-loaded city that clings to the Californian coast. Without exception, when I said I was going to San Francisco, every person I told expressed envy. More than one claimed hysterically, "I want to move there."
Why the furore among the food-obsessed for this city made up of neighbourhoods perched high on hills and nestled in foggy valleys? I'd find out soon enough.
Three days into my visit, with waistline happily expanding, I began to sense a strong theme in the local eating scene; every menu was emphatically season- and produce-driven. Competition is rife for the eating dollar in San Francisco. I don't know if this is responsible for the sheer range and quality of eating-out options or whether it's the rich culinary history, derived from its geographic location and melting pot population, but I was stunned at how one city could bring so much quality nourishment to the table.
Had it all started with food icon Alice Waters, sometimes referred to as 'the mother of the local food movement', and her group of idealistic friends who opened the doors to their now-famous Berkeley restaurant, Chez Panisse, in 1971? Even then, they were convinced that the best-tasting food was organically and locally grown and harvested by people who cared about the land for future generations. From the outset Chez Panisse established a network of nearby suppliers who were striving for environmental harmony and delicious flavour, for a food economy that was fair, good and clean. Menus were created daily to reflect what was ripe, ready and fresh. It remains so to this day.
Or was it before that, in 1964, when family run grocery store Bi-Rite, in the heart of the Mission District, made the decision to source from only small-scale farmers and producers, forging personal relationships with each of them, and resisting the drift towards the larger supermarkets establishing supply chains based on bulk not beauty? Today the store continues to maintain its reputation as one of the city's best suppliers of fine food and can lay claim to leading what has become a wave of smaller, independent, neighbourhood non-super markets.
Maybe it was the free-thinkers, the anti-war protesters, the beatniks and poets who vented their frustrations at all things big and corporate, which included the food industry, thus creating the fashion for eating well and being more conscious of our impact on the planet.
Whoever initiated it, in San Francisco eating local has gone from niche to mass movement. The city boasts many farmers' markets, where chefs and the public shop side by side, where words like "sustainable", "local", "organic" are almost redundant on cafe and restaurant menus. It is assumed ingredients will be sourced and produced seasonally and responsibly.
Markets bulge with purveyors and producers with names like Free Spirit Farms, Dirty Girl Produce, Cowgirl Creamery and Bear Bottom Farms, to name a few. The restaurants and eating public seem to understand implicitly that, as well as ensuring there's flavour in their food, they have a moral imperative to take care of the land and farmers. Out of season and non-local ingredients simply don't feature. Our own chefs could take note.
The week before in Auckland, on a mid-winter day, I'd eaten a dish at one of our top restaurants where the chef claims to be "season-driven". It featured asparagus. He must have been on San Fran time where it is in season.
To find out more about the San Fran food movement, I sought out Lorenzo Scarpone, the man responsible for starting the city's Slow Food chapter. He is adamant about one thing - we must respect our farmers. A breakfast with Lorenzo is an emotional rollercoaster as he recounts his childhood growing up as the son of a farmer in Italy. He speaks about the one time his father applied chemicals to their tomato crop, how he immediatelyfell ill and how he proclaimed to his young son: "If we can't grow these profitably naturally, then we don't do it at all."
Lorenzo moved to the United States at 25 and discovered a food culture moving swiftly towards obliterating the small-scale farmer. "Let's make the farmer important again.
Without them we have nothing." He has tirelessly campaigned for diversity, for the preservation of crops and species, for education. "It's not just about saving seeds any more. We are in peril of losing the knowledge of different cooking methods and the basics of growing plants."
Lorenzo is outspoken and he used a recent speech to put the challenge to the public to start demanding information regarding GMO in food labelling, so that we can make buying and eating choices that are, at least, informed.
So how does it all translate to the plate for the diner in San Francisco?
From the first day as I wandered around the popular Ferry Building Marketplace on the waterfront I was astounded at the sheer choice of top quality food on offer; seafood suppliers and raw oyster bars overflow with fresh fish, crustaceans and shellfish, each with the name of the boat or the locale from which they were sourced. My breakfast granola is served with yoghurt from a local creamery, stonefruit from an orchard family run since 1931 and Dirty Girl Farm strawberries. Bakeries with 100 per cent gluten-free goods look as enticing as any I've seen in Paris. Fast food is made slow with burgers using beef raised ethically, hormone-free and grass-fed. Authentic Italian doughnuts are peddled from a small cart with hand-written signs telling us who had made each batch.
It was charming to have such independent suppliers occupying such prime retail space.
Restaurant dining proved even more breathtaking over the ensuing days. Rabbit was on all the best menus and turned up in cannelloni on two of what turned out to be my favourite menus, Rich Table and Cotogna. At Rich Table, the latest star of the city tucked away in a nondescript part of Gough St in Hayes Valley, they paired it with sharp-sweet plums. The intense flavour still lingers in my mind and will for a long time, I suspect.
Owner/chefs Evan and Sarah Rich take dining to a new level with combinations you'd never think of, yet on the tongue they make infinite sense: tender marinated squid with watermelon and almonds; freshly filleted sardines threaded through slices of potatoes; sea bass with pickled cherries. Their food is simply dazzling. If you decide to eat at Cotogna, which shares a kitchen with the highly regarded Quince, sit at the bar and don't bother with the menu, just order the freshly made ravioli with brown butter or garganelli pasta with braised rabbit. They were both out of this world.
Move over to the Mission District to find an intriguing mix of grunge and gentrification, where the hip and new mingle with old school favourites. It is a colourful mix of all things San Fran. The large Latino community means tiny, cheap and cheerful authentic Mexican taqueria abound (try Taqueria Cancun or El Farolita, both favourites with the locals), and more modern Mexican eateries have started to spring up. Take Tacolicious. Though their menu is anchored in tacos, it extends way beyond with dishes such as beet salad with grapefruit and pumpkin seeds, tuna tostadas, wild shrimp with wildly spicy salsa made with heirloom tomatoes. The menu reads: "We use hormone-free meats that have been humanely raised, sustainable fish... ". Of course they do.
Across town there's Nopalito, billed as a sustainable, organic Mexican kitchen. Here I ate tender tamales filled with carrot, zucchini and fresh cheese as well as pozolo rojo, a thick soup of corn kernels and braised pork shoulder, topped with fresh cabbage, chillies, lime and oregano. Mouths are cooled down with homemade popsicles made with seasonal stonefruit from orchards up the coast.
Back in the Mission District, not far from the craziness of Mission and 20th Streets, we found an enclave of Flour & Water, Central Kitchen and daytime deli Salumeria all owned by young chef Thomas McNaughton, who is deeply impressive with his commitment to sourcing locally grown ingredients. He keeps chickens on his rooftop producing some of the eggs needed for the eateries and another "rooftop farm", further downtown, flourishes with herbs and salad ingredients. He breaks down whole beasts in-house and uses the lot. When we dropped in on him, we had to lend a hand to get his pet pig, Kona, back into the apartment patio pen above the restaurant!
Thankfully carbohydrates aren't shunned in this town and bakeries and neighbourhood cafes overflow with astounding breads and baked goods. My favourites were Tartine for morning buns, Flour + Co in Nob Hill for everything, Fillmore Bakeshop for fruit pies and Miette in Hayes Valley for outrageous frou-frou. Try the just-opened 20th Century Cafe of award-winning pastry chef and baker Michelle Polzine - it brings old-world Eastern European recipes into the present day in a delightful little "grand" cafe. Or The Plow cafe, not far from an up-and-coming neighbourhood that has the best name by far - Dogpatch.
Chinatown moves over for Japantown, a different aesthetic altogether and Asian cuisine is well-served everywhere with stunning examples like the modern Vietnamese restaurants of award-winning chef Charles Phan. His Out the Door on Fillmore/Bush Streets is less touristy than Slanted Door on the waterfront. Go for a breakfast of strong Vietnamese coffee sweetened with condensed milk and a plate of delicious street-style doughnuts - or for dinner when the local fave, Dungeness crab, gets the spicy treatment with rice noodles, garlic and green onion and sesame oil. Divine. Further up the road Bun Mee is the cutest lunch spot around and the people-watching doesn't get better than from the window seats.
There's more of course - Boulevard, Garry Danko, Quince, SPQR, A16, Park Tavern, Michael Mina, Benu and more. You'll need to prioritise. Or relocate.
At the famous Monterey Music Festival in 1967 they sang, "If you're going to San Francisco, be sure to wear some flowers in your hair". You can if you want to, but I'd recommend wearing a good pair of walking shoes instead and taking a huge appetite with you as you're in for devastatingly good eating.

Nici Wickes travelled with the assistance of Gate 7, and Air New Zealand who fly direct to San Francisco. To book visit airnewzealand.co.nz.

- VIVA