Sharon Stephenson explores part of San Francisco that couldn't be further from the glamour of the America's Cup village.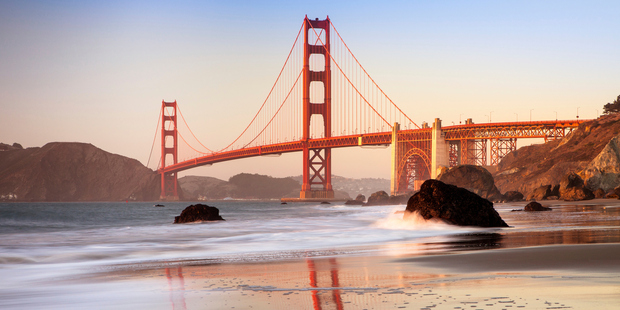 I'm being stalked by an elderly woman in a powder-blue ball dress who is convinced I need saving from eternal damnation. And that she's the one to do it.
"Come here little girl, and I will drive those demons out. For a small donation, I can give you something that will transport you far from this cesspit of humanity."
For an old girl, she's surprisingly fast and it's hard to out-walk her. But then she's probably been hustling the side-walks of San Francisco's Haight-Ashbury district for years.
Apart from it being the repository of Tony Bennett's heart, San Francisco is known for steep hills, great food and a hunk of orange metal masquerading as a bridge. Oh, and there's that rather exclusive yacht race for the America's Cup on there at the moment. But one of its most interesting features is The Haight, as it's most commonly known.
Part nostalgic, part grungy, part ridiculously expensive Victorian real-estate, this collection of streets which falls sharply away from Golden Gate Park is also a treasure-chest of history.
The birthplace of America's counter-culture, the Haight was Ground Zero during the summer of 1967, aka the Summer of Love.
Back then, the promise of free love, peace and psychedelic drugs lured thousands of young people from across the country.
And with them came music. by 1966, the Haight was home to artists such as the Grateful Dead, Jefferson Airplane and Janis Joplin. Some of the more notorious "flower children" also lived here, including People's Temple founder Jim Jones and serial killer Charles Manson, although a brochure I pick up at the famous City Lights Bookshop tells me that Manson left the 'hood when he "thought it was getting too weird".
Although the power of the flower has wilted, many reminders remain: in just one block of Haight St, for example, we see smoke shops with names such as Pipe Dreams and The Head Shop which seem to be doing a roaring trade in bongs, ugly tie-dyed T-shirts and other hippy paraphernalia. Since the passage of California's Medical Marijuana initiative, many of these shops also double as legal dispensaries for those with a valid medical marijuana card.
Many trees have also been turned into shrines to musicians such as Jimi Hendrix, Amy Winehouse and Jerry Garcia, featuring laminated photos and grubby plastic flowers tied to their trunks and burned-out candles littering their base.
Garcia, front-man for perhaps the neighbourhood's most famous band, the Grateful Dead, still has a strong presence here, despite dying from heroin withdrawal in 1995. His image stares down at us from many walls and 710 Ashbury St, the house where the Grateful Dead lived and worked for three years in the mid-60s, is still one of the neighbourhood's most photographed features (apart from, of course, the famous fish-net stockinged legs that protrude saucily above the Piedmont Boutique).
The Garcia love-in also extends to the intersection of Haight and Ashbury, once name-checked as the epicentre of the psychedelic revolution, where they're still selling cuddly Jerry Garcia dolls. We cross the road to buy a scoop of Cherry Garcia from Ben & Jerry's Ice Cream Store, where the kid behind the counter tells us without missing a beat that the delicious mash-up of cherries and dark chocolate is indeed a tribute to the Grateful Dead guitarist. He adds that even the fire trucks around here sport Grateful Dead stickers.
It's hard to argue with the guidebook when it says that few of San Francisco's neighbourhoods are as varied as the Haight. Stroll along the four or five blocks from Golden Gate Park and you'll encounter everyone from ageing hippies and skater boys to drug-addled drifters offering your spare change a home.
Like many around here, the Panhandlers are clearly feeling the effects of the GFC because a group of them outside Amoeba Music, a former bowling alley which sells one of the world's largest collections of CDs, has knocked-together a collection of placards that read "Why Lie? It's for beer" and the slightly more sinister, or amusing, depending on your perspective, "Out of work bank robber. Need money for guns".
Yet, despite its gritty edge, I don't feel the urge to clutch my handbag closer to my chest.
Some people might find the begging a little aggressive but, as a fellow diner at Kate's Kitchen, where a huge stack of pancakes takes the edge off our hunger, says: "Don't feed the Panhandlers. There are plenty of social services here that provide them with food and health care".
It's a different story a block over from the main street, where some of the city's most expensive houses are occupied by young urban professionals, the only ones who can afford to live around here. When the Summer of Love was starting, a house could be bought for a few thousand dollars. Now they cost upwards of $1.5 million.
But where the young hipsters go, so do the cool shops: the Haight is widely known as San Francisco's hub of pre-loved and vintage clothing stores, featuring the kind of prices we used to pay in New Zealand before people realised how much money there was in second-hand clothing. I snag a barely-worn Banana Republic cardigan at the excellent Buffalo Exchange for $15 that even the female security officer who later frisks me at San Francisco Airport compliments me on. It's later joined by an Abercrombie & Fitch sweatshirt ($8) and a brand new, last season J Crew sleeveless top for the princely sum of $20. I'm sorely tempted by the cool vintage leather jackets in Wasteland, a shop so big you almost need a GPS to find your way around, but I remind myself of the 20kg luggage allowance. And the fact that it's time to eat again.
Should you find yourself in the Upper Haight on a Thursday evening, dust off your appetite at Off the Grid, a mobile gourmet extravaganza that taps into the current global obsession with food trucks.
We swerve around the guy confusing the footpath for a urinal and head for the dozen or so trucks serving everything from Vietnamese-inspired tacos and Peruvian sandwiches to cupcakes and barbecue ribs. There's even a chap doing a roaring trade in edible insects.
San Franciscans love good food and this isn't a bad place to land on a sunny Thursday evening. It is, in fact, a lot like the Haight: fun, a little edgy and best enjoyed with an open attitude.
Sharon Stephenson paid her own way to San Francisco.