China is making up for lost time on the fairways with the most opulent courses you've ever seen, writes James Ihaka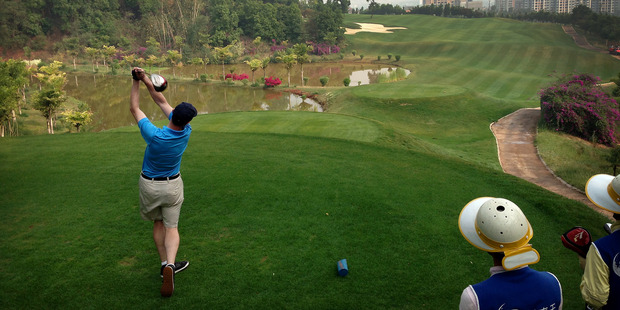 Your chances of scoring a hole in one are minuscule at best, but China is a place where getting one can be a very costly achievement.
An ace brings an instant 1000 RMB ($200) fee for every caddy in your group and each of your playing partners. Then it's a further 200 RMB - for every person playing on the course.
After that you're expected to pick up dinner before you and your new friends top it all off with several hours of drinks at a nightclub.
Our group had heard of hole-in-one bills topping $20,000 in China, so when my tee shot rolls to a few inches short on a par 3 at Spring City's Mountain course, I let out a sigh of disappointment - tinged with utter relief.
China once deemed golf too elitist and bourgeois, but given the country's surging prosperity and the sport's debut at the 2020 Olympics, the country is making up for lost time on the fairways with an astonishing vengeance.
Nine years ago there were just 150 courses in China (New Zealand has about 400). There are now 600, and 300 more will be built over the next three years.
We are enjoying a handful of the 20-odd courses in the Yunnan province, all within a two hours' drive of Kunming, which could be considered the golf capital of Asia. Golf legends Jack Nicklaus and Phil Mickelson have already staked their claim here by designing two courses.
Many of China's championship courses are near impossible to play for many of the locals, who earn on average about 52,000 RMB ($11,000) a year, but immense resorts complete with fine-dining restaurants, driving ranges and spa centres are opening their doors to overseas tourists - who can play the sport there at a reasonable cost - and the thousands of wealthy Chinese golfers who are ready to pay big dollars for the privilege.
Our first experience is the aptly named Sky Oasis course, surrounded by arid countryside and clouds - 2km above sea level.
It's an ethereal and tranquil setting with carpet-like fairways, and although the thin air means a further 30m off the tee it also catches many in our group short of breath.
The courses are a stark contrast to the crumbling brick homes in a nearby village, where elderly women are burdened by bundles of firewood and farmers dry large piles of hay on broken roads that amble through barren countryside.
Our group are next taken to the Stoneforest International Country Club, a leisure cluster including three championship courses that will stop you in your tracks.
If playing golf in an amphitheatre of million-year-old karst boulders, or on greens engulfed by cairn-like rocks that can only be reached by walking through caves is your thing, then put this course on your bucket list.
Think a Star Trek movie set in 3D, on steroids - visually this course has no equal and is one where a walk around its 54 holes would be chalked up as a special life experience.
Honghe Spring Golf Club is said to be China's most difficult golf course, if not its steepest. Bulldozed into a hill of tamed jungle, Honghe is an engineering marvel fringed by the towering skyscrapers that are so prevalent throughout this vast country.
After watching our group lose at least nine balls off an elevated first tee into an impossibly narrow fairway, bordered by snake-infested grasses on either side, we show the course due respect - but in appalling form continue to lose perhaps 60 balls between us.
The course, which has sweeping views of Lake Yang Zong Hai, is for the truly masochistic and probably best suited to scratch golfers - although the chef who cooks the Thai food in its five-star restaurant during our mid-round break makes it all a memorable experience.
We save what is purist-wise the best designed of the golf resorts we visit for last, with two rounds at Spring City Golf and Lake Resort's two championship courses where calculated risks on the fairways are rewarded handsomely - if they come off.
Its Robert Trent Jones-designed lake course, with 18 excellent holes terraced into a hill to the shoreline, is ranked in the US Golf Digest list of the best 100 courses outside the United States, while its mountain course is designed by the Golden Bear, Jack Nicklaus.
The resorts provide golf carts with GPS and polite caddies who, given the state of our golf, wear helmets and hunt patiently for lost balls, and line up putts with unerring accuracy.
Golf in China caters for all tastes - Sky Oasis has an "eagle hole", shaped in the form of, well, an eagle, and will soon have a "noodle bowl" hole, which comes complete with chopsticks.
Off the fairways the region's geography can be stunning with low-lying mountains and wonderful hot springs, but it is engulfed by rampant development and construction that is literally around-the-clock.
There are hundreds upon hundreds of empty apartment buildings waiting for the masses to fill them up - and we're assured this will happen.
But on the fairways, golf in China is varied and fascinating and, I'll admit, possibly a little overwhelming for the average New Zealand golfer who is not used to such opulence.


China Checklist
GETTING THERE: China Southern Airlines flies daily from Auckland to Guangzhou, and connects from there to Kunming.
ONLINE: golf-kunming.com