John Lee explores the only visitor attraction in Canada built to withstand a five-megatonne nuclear blast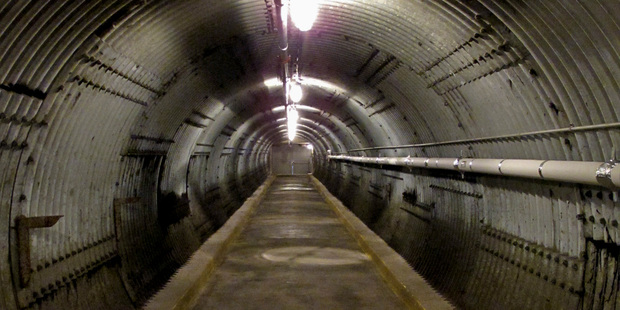 I'm deep underground, hovering behind the prime minister's chair in the desk-lined War Cabinet Room. I've already listened to a public service radio announcement about a "second wave" attack - shield your eyes from the blast, it says rather unconvincingly - and I'm about to check on the food supply in the cold storage room, which disturbingly doubles as a makeshift morgue.
A 35km drive west of Canada's capital city of Ottawa, the Diefenbunker - officially the Central Emergency Government Headquarters - looks like a doomsday movie set or a lair for a James Bond baddie. But it's actually one of the country's coolest museums, illuminating a shockingly real period in world history.
Built near the small farming town of Carp between 1959 and 1961 to house the government and 535 essential staff in the event of a nuclear attack on Canada, the 300-room secret facility was only fully operational during 1962's Cuban Missile Crisis. Eventually fading in relevance as Cold War threats waned, the vast bunker was slated for demolition in 1994 - until heritage-hugging volunteers staged a rescue.
Now a designated National Historic Site, it officially opened to the public in 1998 - the only visitor attraction in Canada built to withstand a five-megatonne nuclear blast (from 1.8km away).
On my visit, I start with a detail-packed guided tour, then wander around on my own, covering the four subterranean floors of 1960s-furnished rooms with a growing fascination.
Echoing London's popular Cabinet War Rooms museum - the bunker under Downing Street where Churchill orchestrated much of the war - I poke around the bedroom suite originally intended for Prime Minister John Diefenbaker. It's a spartan little room with a single bed plus the only en suite bathroom on the premises. Apparently, the PM never stayed here: rumour has it he refused to enter the facility once he learned his wife would not be on the list to join him.
He was lucky to be offered these private lodgings, though - most "inmates" would have been in the dormitory-style bunkrooms, segregated between men and women. Fraternisation was officially discouraged, a policy that may have broken down in the more sociable cafeteria area.
Here, soldiers and essential staff would have dined on the kitchen's seven-day fresh food supply, before moving on to canned and preserved meals. The facility was also officially a booze-free zone, so it's unlikely there would have been many parties. Perhaps to keep everyone sober, the cafeteria's huge wall mural depicts Canada's Rocky Mountains - a reminder of what everyone would have been fighting for.
But more than scenery was at stake. Although bunker residents were told to bring just a few personal effects from home, the Government was keen to use the facility for squirrelling away its own stash. Alongside the secret communications complex, a fully equipped hospital area and meeting rooms, the Bank of Canada built a fortified vault to store the country's gold reserves. The cavernous, thick-walled room, complete with the kind of gigantic steel doors usually only found in movies, would have had its own armed guards. Intriguingly, my guide tells me the gold would only have covered the floor to a level of 25cm. Which begs the question: what else were they planning to store down here?
Strolling back to the exit along the giant, floodlit blast tunnel, which is like walking along an underground Tube route that's lost its train, I emerge blinking into the sunlight. And on the drive back to the city, a couple more questions pop into my head: where is the Government's current secret bunker? And when will it also become a museum?


Diefenbunker Checklist
GETTING THERE: Canada's Cold War Museum is off Highway 417, a 30-minute drive west of Ottawa.
ONLINE: Check the website for additional events, including the recommended movie screening nights held in the cafeteria. diefenbunker.ca.