A tour of San Francisco becomes a day of history lessons and surf stories when Duncan Gillies discovers his guide, musician Chuck Prophet, is a fellow surfer.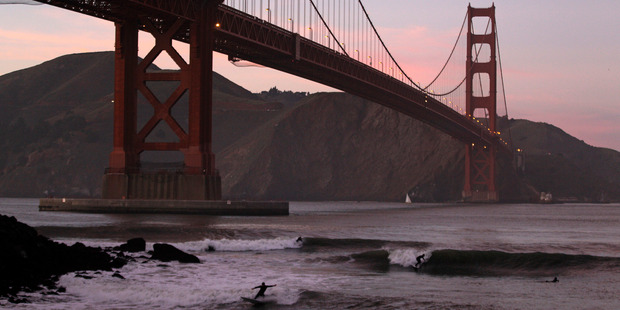 "It's not true, I was never asked to audition for the Rolling Stones. I'm here to tell you that."
And so Chuck Prophet sets me straight on one thing on a guided tour around San Francisco, where fact and fiction sometimes become hard to separate. I was spending a week in the city and, as Chuck had recently put out Temple Beautiful, a CD of songs about San Francisco, I thought I'd ask if he could show me around.
I have most of his CDs and know most of his songs. As far as I know he doesn't know any of mine, so it was a bigger occasion for me than it was for him. But like the true gentleman I'd hoped he'd be, he was more than happy to give me the insider's tour.
The idea was to use the Temple Beautiful CD as a rough guide to the city. But once he realised we were both ageing surfers, he decided a tour of the area's surf spots would be a worthwhile addition to our loosely organised itinerary.
We were halfway out to Ocean Beach, where he said he had watched former world champion Kelly Slater make a seemingly impossible tube ride and score a perfect 10 when I asked him about the Stones. Honky Tonk Woman was playing on the radio and that had dislodged from some dark corner of my brain what I thought was an interesting bit of music trivia that would show I'd done my homework.
I was happy to be set straight on the Stones gig. Some in the media have not been so easy to convince.
"I once argued with a British publicist guy who said, 'no, it's true, you did'. And I'm like, 'no it's not, I should know'. I don't know how that story started. It's amusing now but it used to really bother me."
If you check out his guitar playing on YouTube, you can see why it was an easy story to believe. Chuck is also a great storyteller, with an intimate understanding of the workings of San Francisco's multilayered society, making him a great guide.
On Play That Song Again, the opening song of Temple Beautiful, he sings, "it's a city full of animals, a city full of thieves, a city full of lovers trying hard to make-believe". When I ask him about the waves at Ocean Beach, he says, "it's a giant green wall of death", with particular emphasis on the "death". And the day we visit the surf is definitely not so inviting.
When we park up at Fort Point, though, at the foot of the Golden Gate Bridge where the waves wrap around and break into more protected waters, a lone surfer is waiting in his car for the tide to rise. He tells us that once the tide is high enough, it'll be "double over-head". By the shapeless surges of water crashing on the rocky shoreline, it's hard to imagine and for the rest of the day Chuck repeats the man's prediction in mock disbelief.
"What was he talking about? 'Half an hour from now it's going to be double overhead' - no way. Can you believe it?"
It would have been good to see. Fort Point would struggle to make any list of top surfing spots but it is one of the most picturesque. The Golden Gate Bridge stretches out behind you, dwarfing even double overhead waves, while the wooded hills of the Presidio district rise up in front of you. The buildings of San Francisco's city centre cut a jagged silhouette against the afternoon sky and Alcatraz sits like a lonely speck in the distance.
Chuck tells me it has been a while since he surfed the spot but he recorded a music video out on the water nearby for the song You Did off his Age Of Miracles CD. The video, directed by Teddi Dean Bennett, also from San Francisco, is as intriguing as the song itself and is a good example of the interesting work that comes out of the city. Because San Francisco, as well as being a city of animals, thieves, lovers, hippies, hipsters and high-flyers, is a city of artists - some struggling, others making ends meet but most of them working hard at making a living.
Chuck, who picks me up in an ageing Mercedes Benz, is on the road for much of the year and talks about the "pledge of poverty" you need to take if you want to survive as an artist.
As we tour the city he tells stories of friends and musicians and the odd jobs they do. Quite a few, it seems, either work in or have their own record shops, not surprising when he tells me San Francisco once had more record shops than book stores.
At record store Grooves Inspiralled Vinyl, indie rocker Kelley Stoltz makes us a cup of tea while music poster artist Allan Forbes, who made his name working for the likes of the Black Crowes, flicks through the records. Later as we drive down Haight St he points out Recycled Records where, he says, some of his friends were closing up one Sunday afternoon when Michael Jackson came in dressed as "the Sheik" and asked to buy some Edgar Allan Poe records.
Further down Haight St we stop at what he says is "possibly the best music store in the world", Amoeba Music. It's an assessment that pleases shop manager Tony Green, a New Zealander. The range of CDs and records is amazing and the in-house performances famous. As we pass St Peter and Paul Church in North Beach Chuck says he had thought of telling people who joined him on a guided tour of the city for the launch of Temple Beautiful that the Grateful Dead rehearsed there but decided against it.
On Broadway, now home to a string of strip bars, he explains it was once the heart of a thriving music movement.
"This was once the epicentre of punk rock and new wave, the explosion in the late 70s," he explains as we park up next to an alleyway called Dirk Dirksen Place, named after the promoter who was instrumental in making the area an important part of the music scene. "You know, Devo, Blondie, the Nuns, I saw the Dead Kennedys play here. They all played here."
As he scans the old gig posters on the window of what was the Mabuhay Gardens, black and white images like postcards from another time, he points out one, "A typical night at the Mabuhay Gardens, Jennifer Miro from the Nuns, Allen Ginsberg, and that might be Alejandro [Escovedo], I don't know."
By the time he drops me back at the Triton Hotel in Union Square where I am staying, a funky place that trades on the city's beat poet history and where you find copies of Jack Kerouac's On The Road and Allen Ginsberg's Howl rather than a Bible on your bedside table, we have been gone for more than six hours. It's more than I'd hoped for and I'd learnt more about the city and its musical history than I had expected.
And never again when I talk about Chuck Prophet will I say, "Yeah, he even tried out for the Rolling Stones once."
Some advice from Chuck Prophet during our drive around San Francisco:
The video You Did shot in the water off San Francisco:
Kelly Slater's 10-point ride at Ocean Beach:
CHECKLIST
Getting there: Air New Zealand flies daily to San Francisco
Music details: To check out Chuck Prophet's music, visit chuckprophet.com. To check out Duncan Gillies' music, check out duncangillies.bandcamp.com.
Duncan Gillies travelled as a guest of SFO San Francisco airport.