The waters of the Murray River are fun - and croc-free, finds Sarah Ivey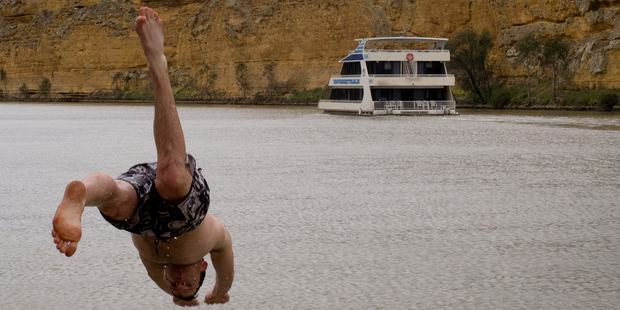 Henry Scaife dives into the river at Big Bend on the Murray River. George Ivey with a wild bob-tailed lizard at Big Bend.
The warnings had been abundant: "Oh you can't swim in the river. There are crocs the length of cars and snakes that will eat you alive."
Well, after spending a week on - and often in - the Murray River in South Australia, I can say 'come on in, the water's fine'. There are no crocodiles or bull sharks and the only thing we saw remotely resembling a snake was the languid motion of our houseboat, weaving from one side of the river to the other as we cruised the idyllic waters.
We boarded our ship, all 45 tonnes of her, at Mannum, a small township just an hour east of Adelaide. Careful consideration was given to everything we took on board. Ten crewmates, togs, jandals, gin, iPod, sunhat ... Think that's about it - oh, and the tonic. Definitely the tonic.
After we'd all had a grand tour of the boat and settled into our spacious bedrooms (there were five all up), we started to get a fair idea of just what a week we had ahead of us. The excitement from a bunch of 25-30 year olds was nothing short of ridiculous.
Mark, the owner of Unforgettable Houseboats, chaperoned us up the river to our first landing site. I think he uses these few hours to make sure you're not complete idiots - and to socialise over a beer.
There are 13 boats in the fleet and Mark knows his stuff. He had us summed up in five minutes. "You can't hurt her," he said. "This boat is basically unsinkable."
Where have I heard that before? We figured, rightly, that he knew his boat was in safe hands.
After Mark left us, we gave the spa pool on the top deck a whirl. According to the comprehensive manual it seated six, however after two or three too many shandies all 10 of us squeezed in there. Be warned: If you attempt this stunt, you'll find that when the other nine get back out you're left with barely enough water to cover your toes.
On day two, we were all up and about at sparrow's fart. Correction: pelican's fart. These giants lurk on the river catching the fish that leap in the air for their morning feed.
The boys in the group raced for the chance to drive the boat. But although Mark had shown us how to drive, how to park and how to tie up, we hadn't considered what we'd do if we got our 45 tonne beauty stuck on the bottom.
The inevitable happened. The river level had dropped overnight and we were hard on the deck. Left level back, right level forward. Both forward and then back together. All crew to the high side of the boat at the back. The comprehensive troubleshooting guide finally pulled through and we were off.
For five hours we cruised upstream to Walker Flat, our mooring for the next two nights. After a quick stop at the general store we headed for a nice spot to moor, away from the township and tucked in against the staggering cliffs of the riverbank.
With our earlier croc fears banished, we were all in the water. The murky colour caused by the limestone sediment was just enough to keep you on edge, but we figured we had safety in numbers.
From Walker Flat we had a wine tour in the Barossa planned. Collected in the morning by a pimped-out minivan, we headed off in our glad rags.
Champagne on board in the fridge meant the short trip into the valley was easily endured and it wasn't long before we arrived at Maggie Beer's Farm Shop. Maggie's Pheasant Farm Pate is to die for and I had to be dragged from the olive oil and dukkah tasting platter, but it was time to move on.
Next stop was Rockford Winery. The quaint cottages were original farm buildings, bought by the Rockford family in the 1970s. The Rockford P.S. Marion Tawny is a small contribution to the Barossa's great tradition of producing outstanding aged fortified wines. More than 15 years in an aged oak cask, it certainly had my taste buds wanting more.
Charles Melton, from Tanunda, is another "living legend" of the valley. We dined on lamb pies and duck terrine at The Verandah while sipping his 2012 Rose of Virginia. Charlie has been making the wine for 25 years I think that, like Charlie, it's probably become even more charming with age.
After a fair crack at the tasting we hit Penfolds Winery for the pinnacle of our winemaking careers - the blending of our very own wine. Dressed in white lab coats we carefully mixed together grenache, shiraz and mourvedre. You got three hits to get it right, before pouring a 400ml bottle to take home. Oh, how proud we were ... until we tasted them sober.
The next day, we explored the riverbanks on our own wee Outback excursion. Within minutes, we spotted a camouflaged reptile scurrying away under a log. There was shouting and squealing and it wasn't long before we had him up off the ground to admire him more closely. Walking back, we spotted wallabies and kangaroos grazing on the riverbank.
Big Bend boasts spectacular sunsets against staggering cliffs on the riverside.
We pulled in at Swan Reach for Melbourne Cup Day. Strappy dresses, heels and fascinators in place, we headed for the Swan Reach Hotel to see the Race that Stops a Houseboat.
It wasn't long before we had houseboats on either side of us at the mooring. On one side we had the 40-year-old bourbon drinkers from Rangiora and on the other side we had a multi-generational family holiday group.
These boats are prepared for all eventualities and the huge pot (possibly designed for cooking crayfish) doubled well as a Pimms bowl.
The pub was packed with locals and before long we were mates with ... well, not very many of them. We placed our bets and after cheering and losing most of our money we headed back down to our haven at the water bank. At this point in the day, despite what some reports may say, I did not jump into the river in my race regalia. I'm a lady.
Swan Reach was the furthest point of our journey. Heading back, we worked on our tans, did some fishing and made good use of the two kayaks.
Still snaking from side to side, new drivers took the helm, on the way into Mannum.
The not-so-careful management of food and beverages worked perfectly. We drained the last of the tonic, the beer and the spa-refilling water tank on our final night.
We packed for final disembarkation, in a quiet mood. Nobody seemed in any great hurry to leave the boat. We'd basically become institutionalised as river gypsies.
Mark snuck up behind us in his tinny and took over as captain to bring her into the marina. He was eager to hear about our adventures. What could we really say? "It was bloody unforgettable, mate."


Murray River Checklist
GETTING THERE
VISIT
• Southaustralia.co.nz for holiday information on Adelaide & South Australia
• Unforgettable Houseboats - houseboats.com.au
• Prime Mini Tours - primeminitours.com
• Floating Gourmet Houseboat Catering - floatinggourmet.com.au


• Sarah Ivey travelled with assistance from South Australia Tourism and Unforgettable Houseboats.

Getting There
Fly there with Air New Zealand Book now
Find out more at Australia.com