Lee Davis wades through the garish street offerings to find the best nightclub in Phuket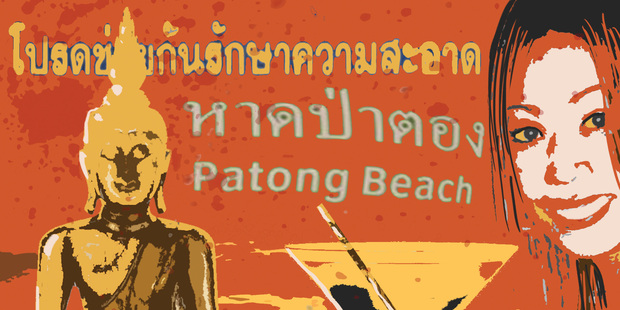 To enjoy Phuket's night life and find the best club, it is necessary to visit Patong. And to visit Patong, it is necessary to arm yourself with the very essence of Patong's objective.
It's like taking coal to Newcastle. Bangla Rd is a den of iniquity, home to one of Southeast Asia's most notorious concentrations of sleaze. It's a downright Sodom and Gomorrah. The thought of a night's entertainment along the street is atrocious to feminists and appalling to modernists. It's an abhorrent display of female (and male, and er ... lady men) exploitation at worst, but at best it's a right royal bag of fun.
Imagine Las Vegas put through a blender, then reconstructed by maniacs on happy pills. It's structureless, as if it evolved under the leadership of drunk teenage boys. It is a melee of confusion where the chaos of hawkers is matched only by the surrounding neon spectacle.
So, to find Phuket's best club it is best to visit the worst ones first. But this is not as easy as it sounds. The dangers of Thai nightclubs are numerous and well-documented.
I'm a middle-aged male on a business junket to Phuket, and thus am the target market for pole dancers, pimps, hookers, lady boys, club promoters, street hawkers and almost everyone else.
Luckily, I have armed myself with the best defence possible ... my own female companions. There are four of us - two guys, two girls - so we have strength in numbers.
Patong is not the only nightclub option in Phuket. There are a few alternatives to the bars, but they are spread across the island and require a concentrated effort to attend. The first club we checked out is off the main walking street and is called Seduction, but a quick inspection revealed something that, quite frankly, was in need of a good scrub. We promptly retraced our steps out the door, renaming the club Repulsion.
In Surin Beach there are the Catch and Diamond beach bars, which are indeed relaxed and family-friendly. But first we found Blix in Patong, which is part of a bar complex the likes of which I have never experienced. It's like a food court of tiny pubs all under one roof. Like everything in Asia, it's jammed like a mosh pit, painted with bright colours then electrified to the nth degree. It's like having a drink inside a pinball machine.
The street outside is a confusing array of bright lights connected to electrical wires hanging precariously, as if everyone has an uncle who knows how to hook up your bar. The streets are vivid and garish along with the products on sale, which range from fluorescent toys to the most outrageous-looking lady boys adorned in Gone With The Wind dresses.
The beers we order are not expensive and very welcome. This is where I put my theory of safety in numbers to the test. I temporarily excuse myself from our company and wander through the complex. I am immediately accosted by a thousand bar girls, pole dancers and touts. OK, I exaggerate - it was three times in as many minutes. But it feels like I'm under intense pressure to join almost everyone at their bar for beers and fun.
I surmise there must be some form of regulation regarding the type of accosting the bar girls can achieve, because the severity of their tugging at my arm is reduced with minimal effort. The Tourist Police are but a stone's throw away, and have far-reaching powers in this country that thrives on "the trade". Upsetting a Foreign Devil or Farang is considered taboo ... selling them your daughters, not so much.
When we returned to the hotel, Angsanga Laguna, a mere 20 minutes from Patong, I discovered the beach bar called Xana was the coolest place to be on Phuket Island.
The Ministry of Sound played here at Christmas, followed closely by Frankie Knuckles; I also spotted Paul Oakenfold and Giles Peterson on the up-coming list. These are major international DJs, and not a pole dancer in sight.
This is the kind of bar that dreams are made of. It is the polar opposite of the seedy, gauche rip-off joints that inhabit the mud of Patong.
"When I see the Thai girls doing what they do in Patong, it makes me cry tears," says one of the female managers of the Angsana Laguna. She's referring to the ping-pong shows, which I'll leave to your imagination, and the bored-looking pole dancers who swap shifts every five minutes.
Sure, Patong is a sight to see, but the Xana, with its massive swim-up bar and open, sandy dance floor is where you can truly relax and savour the kindness and beauty of Thai people.
Thailand is not called the Land of a Thousand smiles for no reason. The people here are lovely, friendly and warm. And their night life does not revolve around a chrome-plated pole.