Jeff Turnbull tackles Australia's adventure capital - Tropical North Queensland.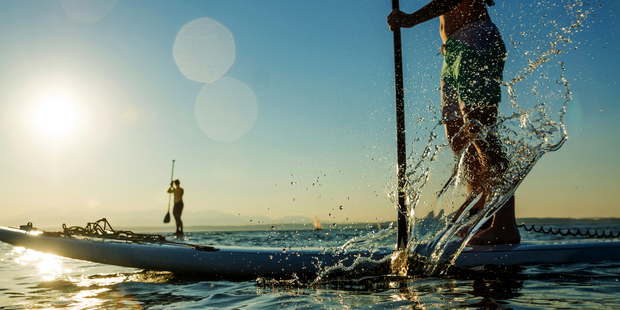 There are three things you have to worry about when you go whitewater rafting in Tropical North Queensland - the logodiles, the rockadiles and the crocodiles.
Our raft guide/master Sean, from Raging Thunder, was only half joking - there are logs, there are rocks and occasionally, after big floods, there are freshwater crocs which, apparently, are nowhere near as dangerous or as big as the salties.
And they are cleared out before tourists are allowed back on the river.
So, with that assurance, we continued on down the Barron River - 30 minutes north of Cairns - forward pedalling, back pedalling and all the while looking for the next whitewater rush as we tackled the grade two and grade three rapids.
When we cascaded over Cheese Churner, Sean got his new crew to manoeuvre the craft back under the gushing water and, with thousands of litres of it pouring over us, we all but disappeared.
We even had a water fight with a boatload of Japanese rafters as they ricocheted down the river.
After that we deserved a break and slid out of the rubber duckie into the flowing river and let it carry us down to calmer water.
To avoid the logodiles and rockadiles, the trick is to float on your back letting the current take you, and keep your toes where you can see them. As Sean said, dangle means mangle.
Queenstown is New Zealand's adventure capital and FNQ, centred on Cairns and Port Douglas, is putting in its bid to be Australia's equivalent.
Cairns has the AJ Hackett bungy jump and, for the less adventurous, the jungle swing, while Port Douglas offers, among other things, quad biking, mountain biking, windsurfing and stand-up paddle boarding. Throw in reef snorkelling if you count swimming with reef sharks as adventurous - I do.
Stand-up paddle boarding expert Brett Wright, of WindSwell has, as his office, idyllic Four Mile Beach at Port Douglas where he runs classes in the sport, better known as "supping".
To cut down on the damage newbies do to his fibreglass boards, usually from paddles banging into the side rails, he also uses blow-up boards, which can take all the knocks and bumps. At the end of the day you just roll them up and stuff them in the back of the ute.
Then there's Thor Stovell, of PD Bikeworks, an expert mountain biker, who has raced in the energy-sapping RRR (Rural, Rainforest and Reef) cross-country endurance mountain bike event. This is only for the superbly fit.
On my taste of the course, I had to bow out of the "Bump Track" leg, whose terrain would make a Sherpa think twice and which involved finding a way down a steep, rocky, clay track. After watching Thor tear down it, I concluded the slow way is the hard way.
Then, on the return journey, the course veers on to Four Mile Beach which, by then, may as well have been Forty Mile Beach.
I probably got about halfway, constantly changing gears to cope with the shifting sand but then had to admit defeat, dismount and walk the rest of the way back to Port Douglas Surf Club. My legs had turned to jelly. I've got new respect for the athletes who take on this gruelling event.
The RRR is part of a celebration of sport - the Cairns Airport Adventure Festival - which this year runs from May 27 to June 4 and attracts entries from around the world.
Its inaugural event was in 2011, when the jewel in its crown, Ironman Cairns, which includes a 180km bike leg between Cairns and Port Douglas, drew 1200 competitors. This year organisers expect more than double that number. It finishes with a 42.4km marathon along Cairns esplanade.
Last year, the economic benefit to Cairns and the region was estimated at $7.5 million and they hope to double that this year.
What looks to be less painful - but still a hard slog - is the 40km Great Barrier Reef Ocean Challenge on May 27. I had the opportunity to ride with a women's team who train three times a week for the Palm Cove to Port Douglas race.
For these middle-aged women, the oldest close to 60, the sport is more about the camaraderie and exercise than the competition. Many are refugees from the south and, working as a team on the water, they have made new friends while getting fit and losing weight. One of the crew dropped 30kg in 12 months, with the extra benefit that outrigging is a sport for which you sit down.
Just north of Port Douglas, at Mossman, cattleman Gordon Pringle has turned his family's 170ha Daintree Station homestead into a giant adventure park centred on a 600-seat amphitheatre for rodeos. But our visit wasn't to see bucking horses or to muster cattle, but to tackle the hilly terrain on a quad bike.
Daintree Station hand Liam was assigned to lead our group and, after instructions on riding these beasts, we were off.
The bikes handled anything - rivers, creeks, hills, mud tracks - great fun.
This is a pastime that needs protective shoes, a helmet, goggles and old clothes, because you are going to get wet and muddy.
If quad bikes are not your thing, there are also horses you can take out for a more relaxing experience.
CHECKLIST
Getting there: Qantas connects from Auckland to Cairns. Port Douglas is 70km north of Cairns along the Captain Cook Highway.
Accommodation: Try the Mantra Aqueous.
The writer was a guest of Tourism and Events Queensland.