China mesmerises and intrigues Leanne Rinne.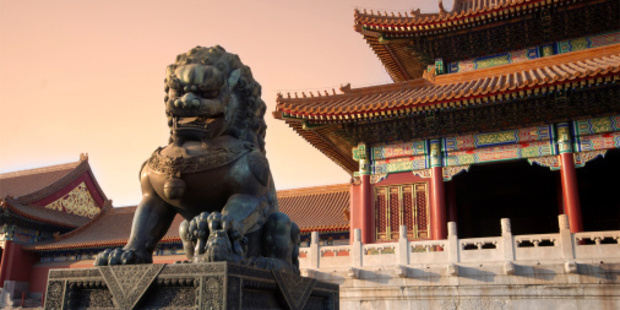 The misty sky outside is a stark contrast to fresh, polished interior of the airport, full of smartly-dressed and impressively efficient officials.
China's known as a land of contradictions, and my first impressions certainly live up to that.
When queues begin to form at passport control, extra staff hurry to open more desks, and a huge 'Welcome Friends' sign hangs on the other side. The balance of professionalism and friendliness is certainly a wonderful welcome.
Alan, our cheerful Travel Department tour guide, greets me enthusiastically, waving a Travel Department flag above his head and beaming from ear to ear.
After a good night's sleep, day two sees us taking in a string of highlights, including the famous Tiananmen Square.
Like lots of people, I'd seen it on TV and read about it in books, but I still had no real idea of what to expect seeing it for real...
Passing soldiers in smart green and black uniforms, standing tall and still like blades of grass, as we make our way into the centre, my pulse quickens. The powerful Tiananmen Gate, which separates the Square from the Forbidden City, soon towers above me.
Hundreds of cameras snap eagerly around me, but I know only living memory will ever do this incredible place justice.
Alan talks us through the Square's significance and the raw emotions that stretch from corner to corner and seep out from under every stone; it's impossible not to be moved.
We step through arching passageways, narrow corridors and majestic halls into the vast open courtyards of the Forbidden City, then walk along the old crooked cobbles, peering up at traditional statues and Chinese artwork which decorate the high walls in swirling gold patterns, emerald dragons and dark calligraphy.
The next day we travel out of the city centre through a wide, olive-coloured valley surrounded by tumbling mountains. In the distance, I spot something that resembles a huge game of snakes and ladders on the hillsides. As we get closer, the Great Wall of China comes into focus, twisting high up into the hills.
One of China's - and indeed the world's - most famous landmarks, tourists in their millions flock here to walk the wall. From afar, walkers look like tiny ants as they tackle the monumental path.
We make our way to the highest fortification in sight, where the views are breathtaking. I can imagine clearly the brave guards in their watchtowers and hear the cries from the defensive battles below.
Despite all the tourists, the Great Wall retains a power to plunge all generations and nationalities deep into the roots of Chinese history.
Next we travel northwest of central Beijing, away from the crowds, to the enchanting Ming Dynasty Tombs, where giant weeping willows sweep along the sides of the aptly-named 'sacred way' path, which is lined with striking animal statues known as 'guardians' thought to watch over you as you pass.
Also on our itinerary is a visit to the Olympic Park, where the Beijing Olympics took place in 2008.
Xi'an is a short flight from Beijing. Highlights in Xi'an include the iconic City Wall where residents exercise under bright red lanterns that hang like ripe tomatoes.
From the edge of the wall you can see the city mapped out like a giant chessboard.
We also visit the Lesser Wild Goose Pagoda, stacked high like layers on a wedding cake.
But the biggest treat comes the next day - we're off to see the Terracotta Army, nicknamed 'the eighth wonder of the world'.
At first it looks like any other museum, but when you enter, suddenly confronted by rows of 2000-year-old terracotta warriors and horses standing timelessly in a deep, earthy pit, you quickly realise this is something very special.
The craftsmanship is impossible to put into words, it's so unbelievably intricate, and I leave the tomb determined to learn more about ancient civilisations.
On our final day in Xi'an we travel to the countryside to see a different side of China, following narrow, bumpy roads, grazing goats and farmers working in golden fields until we reach Anwu Primary School, a modest, rural building flooded with laughter.
Alan tells us that in Jingyang County, locals don't often see "big noses" (Westerners) which explains why everybody seems interested in our arrival.
The countryside tour is an optional part of the itinerary, and it doesn't disappoint.
It's a great chance to see rural life in China, and on the way back we stop off at a local farmer's house where we're presented with fresh, homemade bread, and meet the village doctor who cares single-handedly for everybody in the area.
The final leg of the trip sees us boarding the world's fastest train, the Shanghai Maglev, and shooting into the city centre at over 400km/h past a swirl of skyscrapers and through a maze of creative and elaborate architecture.
In Shanghai, we climb the Oriental Pearl TV Tower for views of the cosmopolitan city smouldering under the sunset.
We also visit the famous Bund waterfront, which runs along the western bank of the Huangpu River and the majestic Yu Garden in the Old City of Shanghai, where beautiful flowers cluster on secret pathways and fish glisten in ponds under the midday heat.
By the end of the trip, I can hardly believe how much we've packed into just over a week.
There are lots of benefits to doing an organised tour. Alan was full of knowledge, divulging interesting nuggets and explaining the historical significance of everything we saw.
He also always knew where the nearest toilets were (very handy!), which spots were great for taking photos, and whether or not we were being sold souvenirs at fair prices.
I leave utterly intrigued and mesmerised by China.
- PAA