P.K. Stowers takes the scenic route to the Cape of Good Hope at the southern tip of the African continent.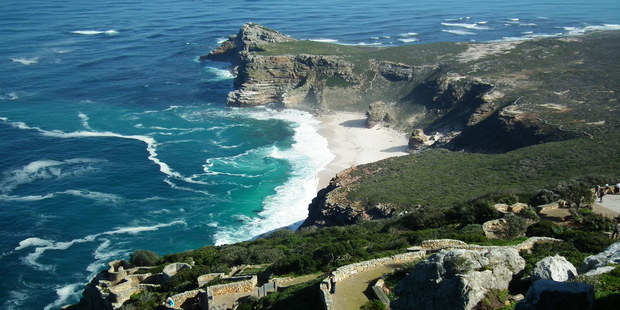 The chance to visit the Cape of Good Hope, located on the wild south western tip of the African continent, is exciting enough, but today our small tour group will be travelling in style.
Not in a car, not in a plane, nor in a luxury coach. On this bright, sunny day each of our group will be chauffeured on the back of a Harley Davidson.
As we walk out of our hotel's lobby, the bikers and their Harleys are already waiting for us - and already getting attention. A small crowd of guests has already gathered out front to admired the cycles and chat with their riders.
In our tour group of five, I am the only male, so I'm pretty certain all my companions will prove more popular passengers with our biker chauffeurs, and I say as much as we all introduce ourselves.
"Not at all," replies one, his worn leather jacket festooned metallic badges, "I'll be happy to drive for you."
The biker, whose name is Aubrey, is riding a magnificent Harley Davidson Dyna in great condition. He offers me a leather jacket (which I decline) and a helmet (which I naturally accept) and I position myself on the pillion seat.
For the trip I'm wearing a heavy army-drab woollen jacket and leather gloves to keep me warm. The helmet is more stylish than practical and offers no protection to the face, ears, or back of my head. In fact, unless I drop vertically onto something at right angles I'm probably a goner given the speeds involved - but I'm not really concerned. Then, ignoring the jibes of my travelling colleagues that my helmet and jacket ensemble makes me 'look like a Nazi', we're off.
The noise of five Harleys driving down the road is immense - and intoxicating. All heads turn and strangers wave at us encouragingly. I would wave back, but for the first fifteen minutes or so my only aim is not to fall off - so I'm holding on as tight as I possibly can to the bike.
Unlike a rollercoaster or similar theme park attraction, there are no safety harnesses here. You don't want to fall off onto the road at 80km/h? Then hold on tight! However, as we leave the roads of Cape Town's stunning Atlantic beach front, and hit the winding highway heading south, I relax my vice-like grip of the bike beneath me and loosen up, leaning into the corners with the machine and enjoying the rush of overtaking some of the slower traffic.
The road to the Cape of Good Hope takes us down the coastline, with vast rocky mountains on our left, and stunning white sand beaches to our right - with a thin strip of asphalt between the two. The weather is stunning for the whole trip, but often cold, and if you are considering the idea for yourself, a warm jacket and gloves are a necessity. Another tip is to breathe through your nose. It's easier to do given the strong winds, stops your mouth acting like a wind sock, and keeps you warmer than gulping down lungfuls of frozen air.
Forty-five minutes into the trip we stop at one of the many scenic rest areas to stretch our legs. The scenery across the bay is as dramatic as ever, even more so with the cragged and rugged landforms thrown out of the sea all along this narrow peninsula. But even with spectacular setting, it is the bikes that seem to have all the other tourists attention as we pull in.
Once we have taken our helmets off, Aubrey tells me he has been doing tour rides for about five years with HD Chauffeur Tours, and that his real day job is managing a car yard. I ask him if anyone has lost their nerve on a ride, which often reach speeds of 90-100kp/h.
"A few," he says, "but I just tell them to relax and enjoy the ride because they are in safe hands. I am an experienced rider and, if they want, I will take it slow for them."
Today's ride is just a couple of hours, but the group often cater for ones that last several days.
Back on the bikes, we continue down the windy coast road, stopping for a wine tasting at Cape Point Vineyards (passengers only, all bikers stay sober) before pushing on towards the Cape of Good Hope. I get so comfortable on the bike that I even try taking photos while on the road, with mixed success. Everyone is disappointed when we catch up with our minivan, as it means it's time to say farewell to the Harleys and their charming riders, but the Cape beckons.
Today, the landform known around the world as a treacherous maritime navigation hazard - due to its many small surrounding reefs - sparkles in the sun and the sea is calm and flat.
From the carpark, the walk to the old Cape lighthouse is just a couple of hundred metres, or for a small charge the tramcar can take you most of the way. The view from the lighthouse is amazing. The strategic position of the Cape of Good Hope between two major ocean currents, ensures a rich variety of marine life - including sharks. East of the Cape is False Bay, one of the most famous breeding grounds for Great White Sharks in the world.
It's hard to believe on such a clear day that Cape is also the watery graveyard of hundreds of sailors making their way from the Indian to the Atlantic - or vice versa.
Our stay at the Cape is all too brief however as we are late for our next for our next rendezvous - lunch at the nearby Black Marlin Restaurant, followed by a helicopter ride to the Delaire Graff Estate Winery in Stellenbosch. Now, in any normal day's touring, a trip on a helicopter would almost certainly be the trip's highlight - but this is not a normal day and as exciting as it is - it doesn't beat the thrill of a Harley.
CHECKLIST
Getting there: Qantas has regular flights from Sydney to Johannesburg. Cape Town is a two-hour flight from there.
Accommodation: Near the historic Victoria and Albert waterfront, The One and Only in Cape Town is a five-star venue with rooms from around $600 a night.
Further information: See africayourway.com and southafrica.net
P.K. Stowers travelled to Cape Town with assistance from Tourism South Africa.