Kevin Pilley visits an unusal shrine to a dead actor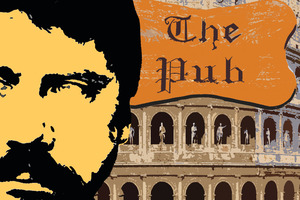 Oliver Reed is an anagram of "Revel or Die". The acclaimed actor and carouser once declared that he wanted to drink every pub dry before he died. In Malta, he met his match.
In May 1999, taking a break from filming the Hollywood epic Gladiator and having supposedly consumed three bottles of Captain Morgan rum, eight bottles of German beer and numerous shots - all while taking on sailors from HMS Cumberland in an arm-wrestling contest - Reed keeled over, dropped dead and immediately entered Maltese folklore.
Reed's last pub - "The Pub" in Archbishop St, Valletta near The Palace Armoury - has become a shrine, selling T-shirts ("Life is not full if you are not full of beer") and offering the chance to sit where Reed sat for his last few hours on Earth. The walls of the small, two-floor, two barstool-wide parlour bar are covered in photos and cuttings tracing his career. There is a poster of one of his earliest films The Trap. You can see one of his sweatshirts as well as a tie. The landlord, Graham Rogers, is British.
"Ollie's still looking over us," says Rogers. "We get a lot of fans and people who knew him personally coming to the pub. Friends, people who did work for him in his house, a director of one of his films and stuntmen. They all have stories to tell and always funny ones."
Fans visit the pub to stand on the spot where Reed collapsed, add graffiti to the wall and pay their respects to the man who had the crest of his regiment tattooed on the top of his penis. The man who owned a racehorse called C'mon My Son and who believed you met a better class of person in a pub. Oliver Reed's other claim to fame was spiking snooker player Alex Higgins' drink with aftershave.
Every round in The Pub is a tribute to his memory. Every hangover is dedicated to the man who described himself as "a tawdry character who explodes now and then". Reed famously lived the bar-room life to the fullest. He said: "I like the effect drink has on me. What's the point of staying sober?"
He would perhaps have a difficult time making sense of the airbrushed appearance of today's Hollywood stars. "I've made many serious mistakes," Reed admitted. "I just can't remember any of them."
He understood his unrefined reputation and even played to it.
"I use women as sex objects. Maybe I'm kinky. However, I like to talk to them as well."
A young man bumped into my table. "You can feel his presence, can't you?" His friend belched. "He's with us."
A man read out loud from a newspaper cutting pasted to the wall: "I want to be buried. As I would much rather end up as fertiliser under a sunflower which is eventually made into sunflower seed oil so that one day a pretty girl will rub me on her Bristols as she suns herself on a beach in the Caribbean."
A pretty woman challenged me to an arm-wrestling contest. For a beer. In memory of Ollie. In the pub where he arm wrestled for the last time. I couldn't refuse - and I was still thirsty.
We both knew the rules. As Ollie knew the rules. Both thumb knuckles must be kept in view at all time. Shoulder no less than a fist away from the hand. One foot on ground. One elbow on a beer coaster. It was over within two seconds. Never wrestle with Royal Navy personnel.
My debt paid, we toasted Ollie with a bottle of the local beer, Cisc, using the house toast: "Down the hatch and cheers to us all. If there's life ever after, we'll all have a ball."
Reed's last round
The actor's final unpaid bar tab is framed on the wall of The Pub in Malta: Eight lagers, 12 double rums and half a bottle of whisky.