Crime and corruption riddle the Cross, writes Carol Smith.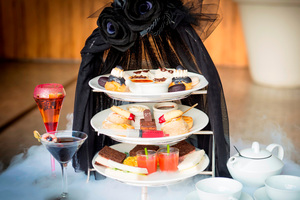 Taking a walk on the dark side of Sydney, through Kings Cross with its history of crime, sounded like fun.
But before I entered the world of drugs, prostitution and gangs, I popped in for a spooky Addams Family high tea at the Sofitel Hotel. Fortified by spider's web lemon tarts, bloodied finger biscuits and cocktail complete with a bloody eyeball (a lychee stuffed with a blueberry and strawberry jam), I was ready for the Crime and Passion walking tour.
Kings Cross is approximately 1.5sq km, includes seven suburbs and contains 30,000 people, the highest concentration of people in Australia. It also has the highest proportion of drug-users and homeless people in Sydney, the most restaurants, bars and brothels, and 50 facilities for people with significant social problems.
The scary statistics don't deter people from wanting to live here, but you'll need a couple of million to afford the classy three-storeyed terraced houses with views of Sydney harbour.
You can rent a room for 15 minutes in another part of Kings Cross for a lot less if you want to inject drugs. Or do it legally at the Medically Supervised Injecting Centre where users inject themselves with clean needles. This controversial clinic claims to have saved many lives, with only one overdose death in 11 years.
Organised crime has been thriving in the Cross for more than 100 years. Our Two Feet and a Heartbeat tour guide took us to the corner of Kellett St where in 1929 two gangs, one run by slog grog trader Kate Leigh and one by madam Tilly Devine, got into a violent stoush, fighting with razors and bottles.
Bayswater Rd seems tranquil with its Moorish-looking promenades, but this is where John Ibrahim, of Underbelly fame, still runs his "businesses", including nightclubs. Ibrahim was labelled the "lifeblood of the drugs industry of Kings Cross" during the 1995 Wood royal commission. The Australian media call him Teflon John as he has an uncanny knack of not being convicted of illegal activities. Our guide said every business owner in the Cross paid protection money if they knew what was good for them. Last year, arsonists burned Domino's pizza delivery scooters because they refused to pay protection money, he said.
After hearing about all the dodgy dealings I slid into The Roosevelt bar and diner - there's a jukebox, jazz, a collection of art deco and vintage cocktail shakers and a liquid-nitrogen fuelled cocktail trolley. I ordered a cocktail to die for.

Getting There
Fly there with Air New Zealand Book now
Find out more at Australia.com