Alexia Santamaria joins Mt Maunganui's magnificent men in their flying machines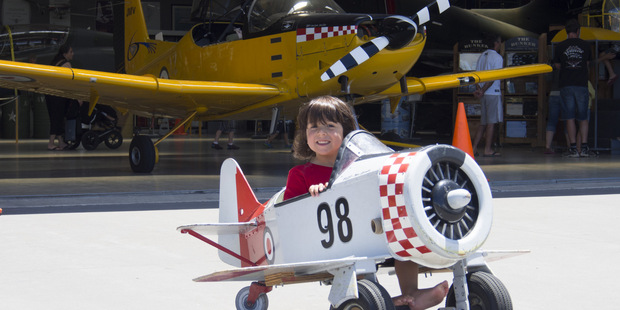 Planes are a big topic of discussion in our household, with two aircraft-mad young boys and a husband who daydreams of his other life as a pilot, had he not become a graphic designer. In general I find it all a bit of a snore, but occasionally something piques my interest and a trip to Classic Flyers in Mt Maunganui was certainly far more interesting than all the plane-spotting I have been subjected to thus far.
Started five years ago by a couple of plane owners who thought it might be nice to make their personal aircraft available for public viewing, Classic Flyers has grown organically since then. It now comprises more than 20 planes (most of which still actually fly) as other owners add to the collection.
It's a lovely space, with a cafe and three hangars full of vintage aircraft. There's even a jet fighter (F86 Sabre), a De Havilland Heron and a Hawker Hunter that visitors can sit in. Our boys - and their dad - loved pretending to be war pilots in the Hawker Hunter and even I thought it was pretty cool to get hands-on with a piece of history like that. Dad also rated sitting in the Sabre, as the view from the forward perched cockpit really gave the him the precarious feeling of early supersonic flight.
The Heron is a little passenger plane with seats all down one side. You can peek into the cockpit and my young boys enjoyed pretending they were flying off to some exotic destination. The hangars are great, with planes on the ground and dangling from the ceiling. Outside the Legacy Jet Centre are some adorable plane-shaped pedal cars for littlies and ours had a ball tootling along in them.
In one hangar there's even a vintage fire engine that had previously lived in the Tauranga Historic Village. Other planes on display include a P40 Kittyhawk, a Spitfire and an ex-RNZAF Skyhawk.
Looking at planes is thirsty work so the Avgas cafe in the complex is a lovely haven.
We were a bit spoiled for choice from its appealing array of cabinet food, and there were fuller meal options too. The boys weren't super-hungry (unusually) so we settled on coffees, fluffies and some lovely baking but I'd like to come back for lunch.
And, as every parent who dreams of a coffee in peace knows, the best cafes have kids' play areas. This one was great, with - who'd have guessed - a wooden plane to climb in. You can see the runway from there and the boys were particularly excited when a Bell Sioux (think M*A*S*H*) landed in all its air-churning glory. Classic Flyers still operates very much as a working airstrip and there are even options for "big kids" to learn to fly or take a ride in a vintage plane, if your budget stretches that far.
Just outside the gift shop is a displaced aircraft gun turret that encourages kids to jump up, get in and spin the weapon around. I conceded it was great imaginary fun for boys, despite my staunch anti-gun stance. The gift shop is great for aircraft fans looking for new paraphernalia.
We probably spent a good couple of hours at Classic Flyers and it would make part of a great day out in Mt Maunganui.
There are, of course, numerous ways to occupy the rest of your day; we chose a walk around the Mount, complete with a great view of a cruise ship departing (and a lot of whingeing from small people who didn't want to walk any further) and a lovely swim at the beach. I would highly recommend the meal stop we had at Tay St Cafe, a cut above most cafe experiences and the perfect end to a lovely day of Bay of Plenty aviation action. Perhaps I need to be less cynical about aircraft-themed excursions in future.

• Classic Flyers: 9 Jean Batten Drive, Mt Maunganui Ph: (07) 572 4000. Open seven days Museum 9am-4pm Cafe 7am-5pm. classicflyersnz.com. Adults $10, children $5, family pass $25. Glider flights with qualified instructors from $120; passenger flights in the Boeing Stearman or Grumman Ag-Cat from $355 and $415.