Award-winning travel photographer Tessa Chrisp is captivated by the Ganges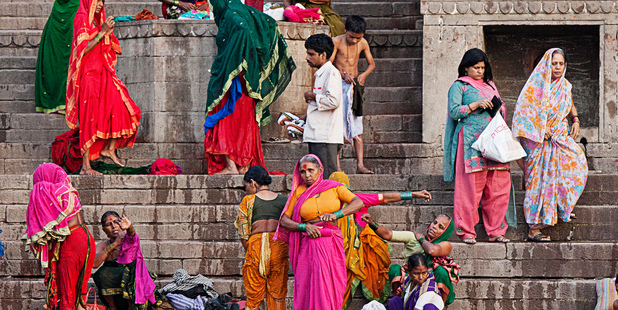 Death pervades every aspect of life in the holy city of Varanasi. The Ganges River is a spiritual thread, so beloved by its worshippers they believe it has the power to purify the living and liberate the dead.
Among myriad people, children plunge playfully in its waters. Out of the crowd Prea, a determined young girl, makes a beeline for me, focused on selling her floating candles. Sale made, she squats beside me at the water's edge and lights the marigold-wrapped candles. The tough little 9-year-old immediately wins my heart. She's doing this for survival, taking whatever money she earns back to her family.
I release the candles to float down the Ganges, murmuring prayers for family and friends back home. Later, an argument breaks out among the young candle-sellers over who saw me first. In the tussle Prea - the youngest and the only girl - defends herself, looking up at me with plausible puppy eyes whispering, "I meet you first, and so you only buy candles off me ... promise!"
So life is lived on the banks of the Ganges. Varanasi, the holy city of Shiva (also known as Benares or Kashi) is intense, even unsettling, but quite possibly the most transformative place I've ever been. Nowhere else do life and death exist side by side as they do here.
The atmospheric city initially assaults the senses. A letting go of Western logic is needed before the city can release its intoxicating beauty and vibrant rhythm. Prea quickly becomes an indelible note in that rhythm for me.
We are here pre-monsoon and the temperatures soar to 43 degrees. Late afternoon, it's just bearable to walk and we head off along the city's western bank. It's a 5km stretch of temples, mansions, shrines, gateways and endless stone steps, known as ghats, sweeping down to the water's edge. Varanasi's people claim it is one of the oldest living cities on earth, the centuries-old architecture crumbling along the ghats is majestic and antiquated. Chai wallas, boatmen and others laze around playing cards, waiting for their next clients. Young men play cricket on any surface large enough.
Before long, time is stolen and it is dusk on the main Dashashwamedh Ghat. Hundreds of devotees gather to watch a puja (ritual offering) choreographed by five Brahmin (a kind of priest). Fire and wads of incense spiral in the air as the Brahmins dedicate to Lord Shiva, River Ganges, Surya (the Sun), Agni (fire) and the whole Universe, accompanied by tabla and sita players. Below, tourists and followers crammed in boats watch from the water. We are transfixed.
Next morning, on a boat ride at sunrise we float some of Prea's candles. As we push off the shore we watch Prea darting off to captivate a prospective tourist. Gently gliding along the river the steps are lined with dazzlingly bright saris, vibrant splashes of colour as women jostle towards the water now littered with people bathing, in puja, worshipping the Ganges, its holy waters cupped in their hands.
In contrast to the calming river, behind the Main Ghat lies a maze of insanely narrow alleyways jam-packed with pedestrians and motorbikes beeping their way through at snail's pace. Sacred cows and herds of water buffalo lazily meander through the streets while a flurry of tuktuks, rickshaws, cars, motorbikes, dogs and pedestrians weave their way around them. A taxi driver explains "Rush hour in Varanasi lasts from 9am until 9pm!" It's no wonder; this city has an area of 112sq km ( a quarter of the size of urban Auckland) but with 3.6 million people, 80,000 rickshaws, 30,000 tuktuks, 300,000 vehicles and a multitude of boats.
Surya, a gentle benevolent Hindi friend, teaches us how to worship at the different temples scattered around the city. There is a lot of protocol so it is comforting having Surya with us. We visit the red Durga Temple, a living organism of worship in which rats scurry scrambling for offerings left for the gods. Bells clang as hundreds of worshippers let the gods know they are there, the sounds soaring through the thick, incense-fuelled air. Equally intoxicating are the Hanuman and Vishnu temples.
But perhaps Varanasi is best known not for what happens in life, but what happens in death. For Hindi, to be cremated on the sacred Ganges or to die here expels sins and releases a person from the cycle of rebirths while transporting the soul straight to heaven.
By the river we meet Sunu, the son of a family that runs the Harishchandra burning Ghat. He explains a little of the ceremony as we stand a few metres above four burning bodies. I am amazed, but not appalled, as I stand in wafts of smoke; the scene below serene and raw, albeit surreal.
To our left a father squats quietly watching the body of his son burn.
There are no women here, I comment to Sunu. "As you can see it is peaceful and quiet; women tend to be over-emotional and once they start crying loudly they cannot stop. They mourn at home."
At home, the body is brushed in ghee and shrouded with beautiful sari cloth, then carried on bamboo stretchers by the men in procession down to the river for final purification. After cremation the family collects the ashes to spread on the river. Some people cannot be cremated, says Sunu - pregnant women, Sadhus, children under the age of five, lepers and snakebite victims." Their bodies are sunk in the river.
As I look past the cremations to the river, I see a dead, bloated dog floating in the water. Then my gaze takes me further out into the Ganges where a shrouded body lies on the side of a boat, a rock tied to it. 'Splash', it drops into the water and sinks ... The Ganges is so sacred even dead monkeys are wrapped in red cloth and taken to be dumped in the river and acquitted of their sins.
Death is everywhere in Varanasi, but rather than shocking, the openness is beautiful and calming. The litter on the streets seems more shocking. I also try not to think about the toxic levels of the river or what the Bay of Bengal's water must be like after the monsoons.
Death and the river is why many people are here, including Baba Gee and his monkey Julie who we say goodnight to every evening. Baba Gee left his family in Kalcutta 29 years ago to die here in Varanasi.
His bed is a pile of bricks backdropped by a colourful shrine and he wears a black loincloth in the name of his god Khali. Julie fiercely defends Baba's shrine while he sleeps; she also helps him collect money from tourists by posing with him and preening herself in a mirror.
Like Prea and the other candle-sellers, Baba has found a way to make a living on the banks of the Ganges, courtesy of tourists like us, while he awaits death.
A week after meeting her, we ask Prea why when we first met her she tried to sell us candles for 150 rupees? She laughs and looks a little guilty "Cause you're tourists and it's business you see; now you are my friends."
I am in my room packing to leave Varanasi when Surya comes to find me saying Prea is looking for me. On the street I find her armed with gifts. I hold back tears as this little river girl who hardly has anything, slips a bracelet on my wrist inscribed with the word 'friend' and says, "So you never forget me".
I leave knowing that I never will.
CHECKLIST
Getting there: Cathay Pacific flies twice daily to Hong Kong with regular connections to Delhi.
Online: varanasi.nic.in
Where to stay: Palace On Ganges - Slightly tired old hotel but perfectly comfortable, clean with helpful staff. Assi Ghat is the quieter end of the ghats right on the river. It has a very cute street leading down to Assi Ghat and is a great refuge when you need to get away from the intensity of Varanasi.