Peter Malcouronne meets new arrivals at Auckland Airport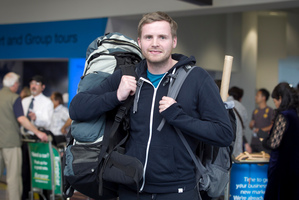 Five hundred hours is tight for an itinerary this ambitious. Here's the plan. Young Englishpersons Richard Roberts and Kate Wastling will set off from Auckland, drive to Paihia, then fly to Christchurch to see Richard's brother, James.
Richard: "We stay there a night. Get a campervan for a week then head to Nelson. Do the Abel Tasman. Then we drive back down - to Queenstown - and stop for a bit. We're doing the Routeburn Track for three days. Then we spend another week going from Queenstown to the Catlins. Via Dunedin - I've got a friend there. Then it's back to Christchurch, up to Blenheim, then back to Christchurch again."
All this in three weeks. Goodness. "You're selling this to me!" Kate says, laughing.
Richard smiles. The 27-year-old is one of those quiet, terribly nice and ever-so-slightly-awkward Englishmen (of the Colin Firth genre). He's tired and his bags have just been disembowelled by New Zealand Customs - but he's too polite to refuse further interrogation from the Herald.
He and Kate, 22, hail from Hertfordshire, birthplace of Spices Ginger and Posh, Simon Le Bon and Graham Greene. Home is Tring, a small market town 48km northwest of London. It boasts one of Britain's prettiest parks, four reservoirs and a high street too perfect for a postcard. And a restaurant, The Akeman, where Richard and Kate worked, and became a couple four years ago.
But back to this itinerary. I tell Richard I'm impressed with his Aotearovian acuity. "Well, my brother's working on the cardboard cathedral," he explains. I see. The cathedral - and the term "transitional" is preferred to "temporary" - should be finished by next month and recently made the Sydney Morning Herald's top 10 new world attractions for the year.
This is all very well but it doesn't fully explain Richard's knowledge. "I've been to New Zealand before," he admits.
"In '05. For the Lions."
He shrugs sheepishly, but he needn't - we know what happened in Twickenham last December. He went to all but three of the games on the tour including the second test where the Lions were pounded 48-19. "Yep ... Dan Carter ran the train through us."
That was a bit grim. But it was an otherwise wondrous three months. Highlight? "Wanaka. It just seemed beautiful and chilled-out."
TRAVEL TIP
Richard: "Overstuff your bag so that way you'll never forget anything. And bring a couple of Cadbury chocolate bars if you're English. Your Cadbury's is not quite the same."