Tourist pamphlets call Addo "a little town, about an hour's drive from Port Elizabeth, renowned for its citrus farms, horse breeding, roses and abundant bird life." Ewan McDonald investigates.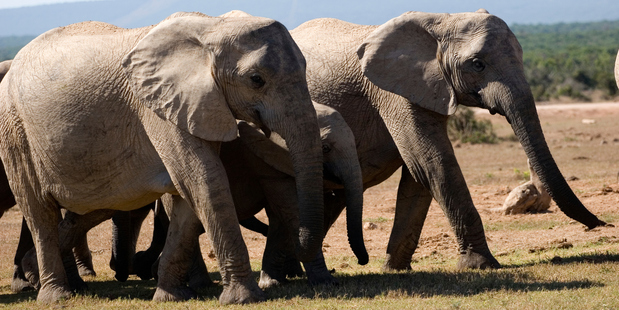 WE MET her in a park down in old Addo, where you drink Castle and it tastes just like ... well, any mass-brewed beer. She walked up to me and asked me to stroke her. I asked her name and, in a dark brown voice, her keeper said, "Ola". O. L. A. Ola. Well, I'm not the world's most physical guy but I squeezed her tight and ... hold that thought.

Most tourists come to Addo to drive the Garden Route, the fabled oceanside drive along the southern coast to Cape Town past surf beaches, whale-watching sites, riviera towns and almost if not quite primeval forest.
None of the above were why the four of us flew to Port Elizabeth, picked up a rental car and drove past miles of white-sand Indian Ocean beaches, more miles of sprawling, festering Eastern Cape townships, even more miles of - by this time - pitch-dark country roads until we arrived at less of a little town and more of a petrol station, police station, couple of stores and level crossing. We had come to see the elephants.
Foresight is a wonderful thing. We had booked beds at Conor and Molly Ward's B&B on their citrus farm just outside town. "Outside" as in, TomToms are a wonder of modern technology but when you're seeking a gracious, into Africa-like homestead on a side road on the outskirts of a very small country town, it pays to have the phone number and an even more gracious hostess to tell you to take the second left just past the polo ground.
In the morning we piled into Conor's Land Rover for the day's safari into Addo Elephant National Park, third-largest of South Africa's 20 national parks. On the short drive this raconteur-citrus farmer-hotelier-conservationist - famed throughout the Cape, and further afield, for his engaging manner, passion for animals (birds, insects) and love of a good story - told us about the park. Sometimes he interrupted himself, or we him, to greet a manor of meerkats, a grump of buffalos, or the park's tuskless elephants, debating who had should Give Way. No argument, really.
Addo was founded in 1931, when farmer-adventurer-politician-merchant and - most unusual for those times - conservationist Sydney Skaife counted the elephants left in the once-pachydermous countryside and realised he would need only one more finger to tot up the lot.
There are now 550, though it sometimes needs a local like Conor to find them: a two-storey walking townhouse with an uncanny ability to make itself invisible in bush. Skaife's successors fear they may need to cull because the region cannot support the massive herbivores' even more massive appetites, though the park has expanded in all directions. Simply, elephants require so much fuel they are denuding the bush of scores of plant species.
Its 180,000ha are likely the only place in the world to house the "Big 7" (elephant, rhinoceros, lion, buffalo, leopard, whale, great white shark) in their natural habitat, for the original park now reaches to the ocean, to a marine park. Some 400 buffalo, 50 black rhino, zebra, antelopes, lion and spotted hyena have been re-introduced. The seaside protects gannet and penguins.
Rather more unlikely to get their own series on Animal Planet, possibly more critical to preserving the ecosystem, the largest remaining population of flightless dung beetle lives here. These are certainly the only roads where they get personalised Warning: Please Give Way To the Dung Beetle signs.
Comparatively few know of Addo. It welcomes about 120,000 visitors annually (international visitors make up 54 per cent) against the millions who drive through the highways and stay in the well-ordered campsites of Kruger, to the north of Johannesburg and Durban. You may be thinking this is fortunate. We did.

NEXT MORNING, after a restrained farmhouse breakfast of juice, coffee, cereal, fruit, yoghurt, bacon, eggs, mushrooms, tomato, sausages, toast and three varieties of homemade preserves, Molly directed us to the Daniell Cheetah Breeding project, just around the corner, or in Kiwi terms about 40 minutes away.
Established in 2001 with three cats, the family trust saves cheetahs and other felines which are not always the farmers' friends, establishing pure gene lines and educating a sometimes sceptical public.
It's not a flash, fancy, tourist operation: it's attached to a working farm. We were introduced to cervil, lynx, caracal, a cat about the size of a very large possum, and held in the same regard by farmers in the district. For a visitor, it's a sight: its fur is the almond of an adult lion, until the sharply pointed ears and upright tail, striking incongruities of deepest black; and the eyes, unblinking blue. Think Johnny Depp. Or Leonard Cohen.
"Would you like to stroke a cheetah?" asked Willy, our guide. There are two answers to that question but you know you are only likely to be asked it once in your life so there is only one.
We entered a pen. Somewhere in the grass lay Ola. Orphaned young, she'd spent much of her six years sleeping on the bed of Willy and his wife, until she was thrown out for taking up too much space. Just a big, purring pussy ...
If you accept that a purr can approach the decibels of a Massey-Fergusson. Or that a pussy is the size of a well-bred heifer. Once past that, there are no words to describe the feeling of being nuzzled, of interacting, of making friends - for a moment, on her terms - with one of the jungle's great predators.
But not the greatest. We said goodbye to Ola and Willy took us up the paddock to another pen. He unlocked the gate. "Would you like to cuddle a lion?" he asked. There are two answers to that question. But when the brother and sister are only three months old and you know you are only likely to be asked that question once in your life ...
colonial-addo.co.za
addoelephant.com
daniellcheetahbreeding.co.za
portelizabeth.co.za
* A shortened version of this feature appeared in the NZ Woman's Weekly in March 2012.