A darker past lies beneath Aitutaki's tropical facade, writes Jim Eagles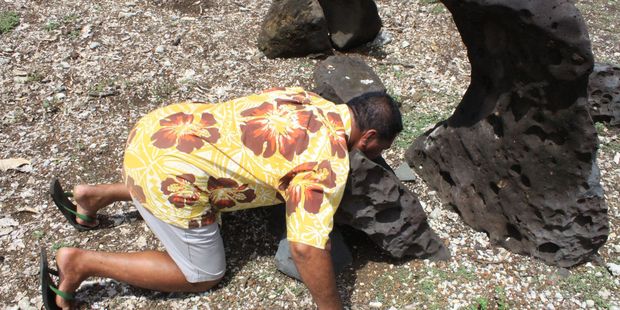 There's an air of brooding menace about the two age-blackened stones that stand in the centre of the 1000-year-old Paengaariki Marae on the island of Aitutaki.
That sinister atmosphere is hardly lightened when my Aitutaki Safari Adventures guide Rua Samuela tells me, "This was the place where enemies were executed. That is the headcutting stone."
The headcutting stone? How did that work?
To my slight horror, by way of answer, Rua promptly kneels down, puts his neck into the curved notch in the top of the stone and explains: "A captured enemy would be brought here, pulled down by his arms so his neck fitted into the hole and ..." He mimes a throat being cut.
The thought of walking casually in the sunshine across this place where dozens, maybe hundreds, of people had been executed is making me feel a bit uneasy. Then comes the cooking area. "During the excavations," he cheerfully tells me, "a skull was found in the umu."
Another cluster of stones is where boys were circumcised when they reached adulthood. Rua demonstrates again, sitting on a flat stone with a hole in it "to catch the blood", resting his back against an upright slab. Fortunately, this time he doesn't mime the action.
As all of that bloodcurdling detail indicates, stones traditionally played an important part in Cook Islands culture; however, I'm happy to report they can also have a gentler role. One special rock lies buried in the concrete pathway that takes passengers from the runway to the terminal at Aitutaki Airport.
"They probably didn't tell you this when you arrived," says Rua, "but that rock is to welcome visitors to Aitutaki."
True. When my Air Rarotonga flight landed on Aitutaki, there was no mention of a welcoming rock. I didn't even see it in the path.
But I didn't need to stand on the rock to feel a part of the island, because Rua told me that story at the original poaki manuhiri - or visitors' stone - at the port where visitors to the island landed in the old days. When, at his direction, I climbed on to its broad, flat surface he declared, "You are no longer a visitor. You are now from Aitutaki.
"You can go on to anyone's land without asking permission and pick bananas from their garden to eat for yourself."
"When you go back to Rarotonga, you can tell them you are now a local and apply for your permanent residency in the Cook Islands."
It was a nice thought - though I couldn't actually bring myself to try picking bananas - and typical of the friendly spirit of this tiny Pacific island.
Once I'd been initiated as an islander, I was ready to go on the safari trip, a tour which turned out to largely revolve around stones.
First, Rua led me a short distance to where a small flat area had been fenced off with slabs of lava and pointed to two stones in the centre, which formed a rough chair.
"This," he said, "is where our four ariki are crowned."
When a chief died, the initial ceremony appointing a replacement was in a building beside the nearby Cook Islands Christian Church.
"But the final crowning is held here."
Next, we visited the church, the oldest in the Cook Islands and built in 1821, where I had attended a service on Sunday.
Rua pointed out the impressive graves of several ariki positioned just outside the door.
Among the list of church ministers he drew my attention to the second one, Rev Royale Henry, who held office from 1826-47, the grandfather of Albert Henry, father of independence and first premier of the Cook Islands.
Then we took to the back roads to the Paengaariki Marae, once the biggest in the Cook Islands, which fell into disuse after the church became established.
Abandoned and overgrown for nearly two centuries, it is one of two local marae recently cleared by Rua's cousin, Ngaakitai Pureariki, who is also the boss of the tour company.
Among the complex pattern of standing stones and slabs of coral which make up this marae, Rua explains that carbon dating indicates it to have been built 1000 years ago, about the time Aitutaki is thought to have been discovered by the great navigator Ru, said to have come from Tubuai in what is now French Polynesia.
That historic connection has been further strengthened, he adds, with the discovery during excavations at the marae of several artefacts from Tahiti, including a stone axe.
And on the way back to my hotel, Rua stops off to draw attention to a more modern link: the boat of a Tahitian fisherman who broke down at sea and drifted for nearly six months before eventually washing ashore in Aitutaki.
"That was about 10 or 12 years ago," he says. "The fisherman stayed here for a while, then went back to Tahiti - but he left his boat."
CHECKLIST
Getting there: Air New Zealand flies from Auckland to the Cook Islands six times a week. Air Rarotonga flies between Rarotonga and Aitutaki every day.
Accommodation: Pacific Resort Aitutaki is a superb five-star boutique resort with individual bungalows built along the edge of the lagoon.
* Jim Eagles visited Aitutaki with help from Cook Islands Tourism, Air Rarotonga and Air New Zealand.