Now that Christmas is out of the way, it's time to turn our attention to Valentine's Day. And if you're smart you'll be talking about getaway ideas to your One True Love now while they're lamenting being back in the office wearing shoes and socks again.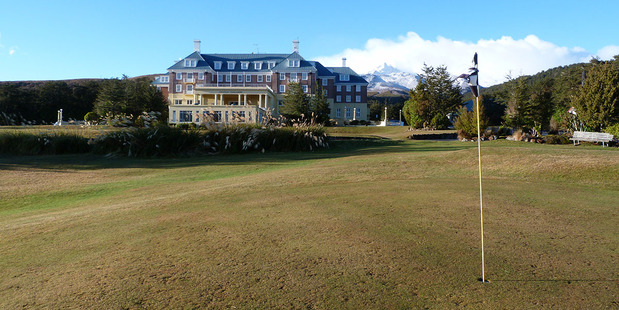 1. Waipoua Lodge - on the rugged Kauri Coast, just before you hit Waipoua Forest (home to Tane Mahuta and the Father of the Forest, Te Matua Ngahere, who is even older than Tane) is this 100-year old wooden homestead. Four chalets surround the main lodge and budding chefs can even book a fine dining cooking class.
2. Chateau Tongariro - at the foot of Mt Ruapehu in Tongariro National Park is this elegant old lady, perfect for a sumptuous getaway and for sporty types who fancy a bit of a walk. A lofty entrance, a sweeping staircase, the main lounge and library with huge windows looking onto Mt Ngauruhoe and a game of billiards under an ornate chandelier. This old girl should be on your list.
3. Cape Kidnappers Lodge - on a farm in Hawkes Bay, this is one of the grandest places in New Zealand. The main lodge is exquisitely decorated with rustic furniture and even boasts Demi Moore and Bruce Willis's leather couch! (Although that doesn't bode well for your romance).
The world class golf course is what attracts many, but I could have stayed in my chalet all weekend - only emerging to eat at the restaurant where gentlemen are required to wear a jacket.
4. The George Hotel - Christchurch is undergoing a boom in hospitality as new businesses open their doors to cater for the tourists who are coming back. This luxury hotel was unaffected overlooking Hagley Park, and with a fire place in some rooms and a spa bath, you'll have to make an effort to go see the newly rising city.
5. Sofitel Auckland Viaduct Harbour - having metamorphosed from the Westin into the Sofitel, a stay in the big smoke now has a French twist. The lobby is as beautiful as ever with views onto the water and Lava dining is a sensation. But the highlight is to open a bottle of French champagne with a sabre. Go to Sabrage Bar and do it like Napoleon did it to really impress your love.
- nzherald.co.nz