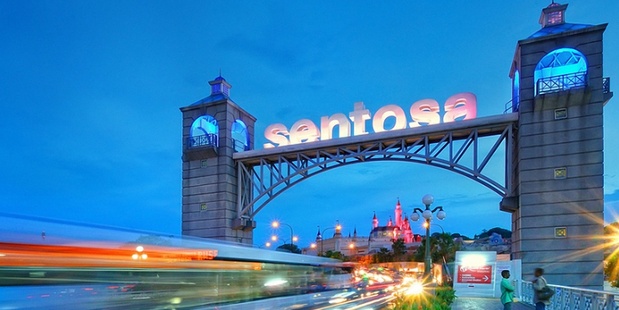 The monkey sat forlornly on the fifth floor balcony's balustrade, scratching his torso distractedly. The last truly venomous rays of the day's sun were splashed across his back, and the view stretching out behind him was one to behold; a palm-strewn white sand beach giving way to sea groaning with innumerable vast container ships headed for the the world's busiest port.
There were many worse places to spend an evening, and comparatively few better, but the Shangri-La Rasa hotel's guests were meekly heeding the instructions pasted to the windows of every room: "Do not feed the monkeys".
In Singapore it's difficult to disobey commandments, even those which seem more in the vein of helpful advice than the law of the land. Perhaps that's because the city state is as famous for disproportionate punishment for innocuous crime as for its heat and wealth. If drug dealing is punishable by death, failing to flush by caning and littering by a four figure fine, then what might feeding the monkeys be worth?
I wasn't about to find out. But after 48 hours on the islands I came to appreciate the benefits of the nation's outsize obsession with law and order to a degree I thought impossible before landing.
Growing up reading Orwell and listening to The Clash you end up with a very serious-minded attachment to personal freedoms, and a corresponding Westernised contempt for societies which lack them. And while a couple of days is hardly sufficient to judge the price of rights foregone, it's certainly enough to selfishly bask in the benefits of this futuristic economy's marriage of eye-wateringly hardline social policy and an extremely business-friendly approach to taxation.
From the moment you land it's clear Singapore is different. You breeze through the airport without a hint of the kind of routine bureaucratic delays common to the rest of the world, and a late model Mercedes chauffeured us the 30 minutes to our hotel in traffic free comfort for $30 - which is to say less than a third what a decaying Toyota people-mover from Auckland Airport to Sandringham cost last time I landed back home.
And yes, I did say 'traffic free' earlier. Despite Singapore cramming four times Auckland's population into an area around 2/3rds the size of our largest city, the roads are mostly clear, courtesy of the $100,000 fee to own a car. Thanks to this thousands more incentive-based regulations this once impoverished British colony has fine-tuned its economy to generate an average per capita income of nearly US$50,000 per annum, ranking it 13th in world by such a measure, and one spot ahead of the United States, according to IMF figures. It doesn't have any social security, or even a particularly sound democracy - but hey, you can't have everything, right?
We spent the evening eating bland Italian food on the beach, while the Eagles played an endless, ancient concert through tinny speakers. Still, we were near giddy with the promise of Sentosa - Singapore's island devoted to fun within a nation devoted to business.
The morning after our arrival we gorged ourselves on one of the world's great hotel buffet breakfasts - a grand panoply stretching for nearly 100 metres, taking in morning staples local (fried noodles), regional (Indian curries) and very familiar (baked beans in the tropics!). A chef stood patiently waiting to turn out eggs any way you wanted, and the fruit trays were dazzling in their diversity - though thankfully the only way to try the monstrously pungent durian was via a delicate though still very fragrant cheesecake at lunch.
From there we headed out into the belly of the island, to take in its less advertised attractions. Most head here for Universal Studios, or the cable car to the mainland, but a helpful chap named Abdul had hooked us up with free passes to everything but the big shows, and we were determined to make the most of them.
Unfortunately, though, they were for the most part comically ordinary. The luge, co-opted from Rotorua, never neared a worthwhile incline, and the most exciting moment was when a foot-long lizard flashed across the path. The Segway Eco Adventure was, in fact, test-driving a Segway - one of the world's least stylish transportation methods. But the most endearingly awful attractions were located atop a series of outdoor escalators in the centre of the island.
These consisted of a trio of indistinguishable little charades with names like 'CineBlast' and '4D Magix'. Each was preceded by a maniacal preamble hosted by the same wild-eyed actor, in either cowboy boots, a pirate hat or blackface (seriously), giving redundant safety advice in order to plump out a two minute ride to 15 or so. The videos were masterpieces of unintentional comedy, heartily racist and utterly redundant. I loved them.
It was time to return to the hotel for lunch, and the relatively easy decision to hole up by the pool for the remainder of the afternoon. While Sentosa celebrated its 40th birthday in 2012, and a good proportion of its attractions were showing their age, the Shangri-La Rasa was of a more recent vintage and fresh off a re-fit. Aside from the monkeys there were giant snails and peacocks wandering about the grounds, and staff a strange mix of attentive and abysmal to attend your needs, so long as you got the right one.
The attentive ones were not from around here, for the most part, while the Singaporeans seemed barely interested at all. My companion, who has been working in Singapore for over a year, puts it down to a law requiring a minimum ratio of locals to foreign employees - when combined with a 2 per cent unemployment rate that means it's madness to fire a local from a service job, as replacing them is near impossible.
Still, they're cheerfully useless, and the hard-striving Malays and Indians who work alongside them work tirelessly to smooth over their colleagues' inadequacies. That night at Casserole, an Indian restaurant within the hotel, we had to order our (excellent) food twice, but the surroundings are so outrageously pleasant it's tough to conjure anger, let alone sustain it.
The following morning we troop off to Sentosa's unquestioned star, Universal Studios. It was a Sunday, with school holidays in full swing in both Australia and New Zealand, but the grounds were basically deserted. It was a dreamlike experience - a vast, state-of-the-art theme park nearly empty, to the point where only the newly opened Transformers ride had any queue at all. Given that Michael Bay's heroically vacuous franchise has always seemed miscast as a film, a five-minute long hi-tech motion master seemed like its most perfectly-realised form.
Deeper into the park two intertwined Battlestar Galactica rollercoasters were short, but thrilling, and the Jurassic Park area a brilliantly realised encapsulation of the series' charms. The park leant heavily on rollercoasters, most of which were brief and safe, with the enjoyable exception of The Mummy's horror pyrotechnics.
We closed out with a hokey Spielberg-hosted special effects set piece that shouldn't have worked, but did, spectacularly. Thanks to some quirk of fate we'd done the whole park in around three hours, and, happier still were able to slide straight into a table at Din Tai Fung, a branch of a Michelin-starred (seriously) restaurant chain conveniently located at exit to Universal Studios. We ate til we could eat no more, dumplings and garlic greens and steamed buns for less than $20 a head - all exceptional, but still shy of the standards of Dominion Rd's humble Barilla. Let's keep things in perspective, you know?
The rest of our time in Singapore was spent wandering through Chinatown, festooned with thousands of coloured lanterns ahead of that night's moon festival, before heading across to Dempsey Hill, a collection of upmarket restaurants on a former military base. The food at a Spanish spot named (what else?) Don Quijote was fine, without getting close to the flavour or vitality of the many hawker centres throughout the city.
With hindsight it was a questionable call, but a pleasant way to while away our final hours nonetheless, while only serving to reinforce the truism that in Singapore there are immutable rules, some legal or economic and others cultural or culinary, which must be obeyed. Pick the right ones and almost any period of time on this strange, attractive archipelago will be incredibly rewarding.
- nzherald.co.nz