A starstruck Andrew Potter visits the twin space museums of Washington DC.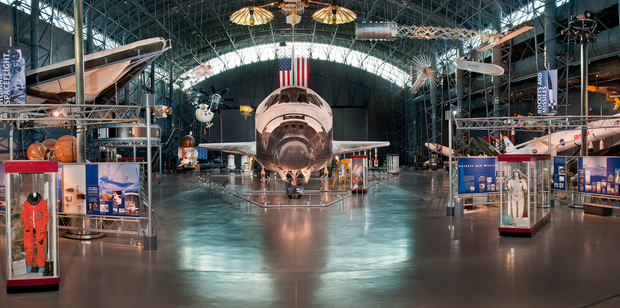 One small step in the door, and there she is.
The unmistakable shape of a Space Shuttle, the Discovery, her nose aggressively hunched down, the tail high in the air.
Discovery is the centrepiece at the Smithsonian Air and Space Museum, in a corner of Dulles Airport outside Washington DC. It opened in 2003, thanks largely to Hungarian immigrant Steven F Udvar-Hazy. He made his fortune from aircraft leasing. To repay his adopted nation he stumped up NZ$80 million for the museum.
It's a vast place, two giant hangars with hundreds of exhibits representing some of the most important milestones in space and aviation.
We visit on a weekday and it feels as if we're the only people here. A busload of World War II veterans slowly make their way around, many in full uniform, chatting to schoolchildren. Another group of disabled veterans from America's more recent wars - Iraq and Afghanistan - do the same, but they say little.
As a child, I adored my toy Space Shuttle radio; the cargo doors opened to reveal an aerial - brilliant. As an awestruck kid in 1981, I watched the first shuttle launch on television. So the recently retired Discovery was always going to be the Smithsonian's star attraction for me.
Up close, she's much bigger than I had thought, more than half a rugby field long. She looks remarkably DIY. The underside is made up of thousands of heat-resistant black tiles, many carrying dents they picked up in orbit. The shuttle's white sections are made of squares of a quilted fabric. Her name appears to have been stencilled on with a giant spray can.
The cockpit windows are deep-set, their black surrounds giving the impression this craft has a bad case of orbital panda eyes. The wings are stubby and appear two or three times as thick as those on a conventional airliner.
On its back are three giant black cones, each large enough for a person to stand in with arms outstretched. The rocket motor exhausts helped propel Discovery into orbit 39 times between 1984 and 2011, more trips than any other spacecraft.
Beneath her belly we see scorch marks, reminders of the huge heat of re-entering Earth's atmosphere.
The Space Shuttle programme was supposed to last 15 years, but was extended to 30. The idea was to have a space truck which could nip into orbit and back weekly.
The reality was a shuttle which was massively expensive and terribly dangerous - if Nasa was an airline you'd certainly not fly with . Of the five shuttles built, two were lost in accidents, making for a one-in-67 chance of death for the astronauts aboard one of the 135 flights.
Discovery's surviving siblings have been distributed for display around America. Endeavour recently suffered the indignity of being wheeled through the streets of Los Angeles on a comical four-day final voyage to the California Science Centre. The Enterprise is at New York's Intrepid Sea-Air-Space Museum, while the Atlantis rests at Kennedy Space Centre, back in Florida. Discovery returned from her last trip into space in March 2011. She flew one last time, on the back of a Nasa jumbo jet for delivery to the Smithsonian before being wheeled into the cavernous display hangar in an as-is-where-is condition. Her rocket motors were removed (they can be used again), as was internal plumbing that could have leaked toxic fuel on visitors. Otherwise, Discovery looks like she's just returned from orbit.
The Smithsonian holds other treats for planespotters. Parked in front of Discovery and almost hidden, even in daylight, is the dark, menacing SR-71 Blackbird. It's a spy plane which dealt with the threat of being shot down by flying at more than three times the speed of sound, faster than any chasing missile could manage. It was a Blackbird that set the world record for the fastest aircraft, a mean 3,529.6kp/h.
Then there's the Enola Gay, a giant, silver B-29 which dropped the fateful atomic bomb on Hiroshima, a macabre first said to have helped end World War ll.
America's first commercial jetliner, the prototype Boeing 707, sits near the wing of a dart-shaped supersonic Concorde.
Aerial walkways let you approach these and other exhibits from every angle. Aviation geeks can easily lose half a day in here.
In keeping with a country with such illustrious aerial history, the air and space museum at Dulles is one of two in Washington. Together, they house the largest collection of its type in the world.
The older, original Smithsonian is on the National Mall, around the corner from the White House and in sight of Capitol Hill and the National Monument.
This museum is home to artefacts from humanity's greatest achievement in space - setting foot on the moon.
The only part of the pioneering Apollo 11 mission to return, the command module, sits in the main foyer.
It is alarmingly basic. With less computing power than the smartphone in your pocket and no GPS, it's amazing that Neil Armstrong, Buzz Aldrin and Michael Collins found the moon at all in this machine. A spare lunar landing craft stands nearby (the one used by Armstrong and Aldrin remains on the moon). The lander looks incredibly fragile, as if made from tent poles and tinfoil.
Every exhibit here carries significance. Schoolkids munch on "space icecream" sold at the gift shop as they peer at real moon rocks and space suits still showing traces of lunar dust.
All this, of course, was fuelled by America's ferocious space race with the Soviet Union. In a corner is a most interesting exhibit, a brown and orange space suit from the Soviet moon shot. The USSR intended to send a single cosmonaut to the moon, but canned the idea when the US got there first.
The US Government spent many trillions to win that race, but won't charge you a cent to visit either of these excellent museums - both are free.
CHECKLIST
Getting there: Emirates flies daily from New Zealand to Washington DC via Dubai (hotel room provided free for northbound connection). Fares are from $3,184.58 (all taxes included) economy return.
Traveller's tip: The Smithsonian at Dulles is miles from downtown DC. If you fly in or out of Washington's Dulles Airport plan your museum visit around your flight times.
* Andrew Potter travelled at his own expense.