On an island in the Zambezi River, Ewan McDonald learns about folk medicine, DIY, and a successful marriage.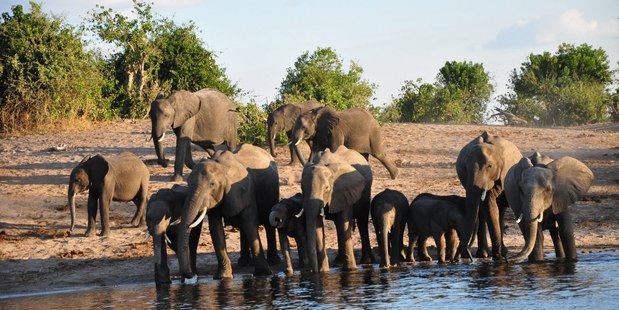 It was a morning - Monday, or Thursday, don't know which, we were that far into our holiday.
"What do you want to do today?" I asked Jude over breakfast in the lodge beside the Chobe River, which is in northern Botswana, in case you don't know, which I didn't before we got there two days earlier. Or three.
We had seen the wildlife from the back of safari vans and from the front of river boats, at dawn and dusk, and gobsmackingly astounding wildlife it was too. Lions, elephants, kudu, vultures, baboons, all rather closer than they are when we're sitting on the couch watching Animal Planet at home.
We had also seen downtown Kasane, the village that straggled past the hotel, where Elizabeth Taylor married Richard Burton for the second time. Something else that you, and I, didn't know three days ago.
We sauntered to the safari booking office. The walk into Namibia would leave from the jetty below the pool bar in 15 minutes, said Alex, the guide.
We booked and went back to the cottage for our passports. They still stamp passports in Africa, and we were amassing quite a collection of countries.
Our Namibia excursion would last three hours, which is not a lot of time to see a country four times the size of Britain, but we knew we would not be seeing a lot of it.
Five of us - two Aussies, two Kiwis, the boatman - clambered into the aluminium grandson of a mokoro, the dugout canoe that has plied this corner of the world longer than most of Europe has been civilised, and still does. The boatman fired up the outboard and we took off.
And stopped. Two minutes down the river (or up, because it changes its course according to the season) we had to "leave" Botswana at a little concrete box that is the Customs post and is very busy, full of day workers and schoolchildren and fishermen selling their catch from the Namibia side of the river, which here is about the width of the Waikato in the heart of Hamilton.
We filled out the departure cards and took our places in the queue. When we got to the windows we were sent back to fill them out again, because the officers needed two copies, and there was no carbon paper. We were now 20 minutes into our three-hour exploration of the vast expanses of Namibia.
Ten minutes later we were in a foreign country, albeit one from where we could wave to the kids going to school across the river in the one we'd just left.
Our boatman eased the tinny into Impalila Harbour, a sandbank on the riverside, and instructed us to report to the little concrete box with the much more colourful flag that was the Customs post and was not very busy. They did not have carbon paper here either, but we were wise to that now.
They stamped our passports and we met Felix, the affable, 20-something local who would be our guide for the day, or perhaps the next two and a half hours.
Felix explained that we were on Impalila Island, a unique place on Earth. The island, 12km long and 6km wide, never more than a few feet above water level, wallows like a hippo where the Zambezi and Chobe rivers meet. Its 48 villages are home to 2500 people, a fair proportion of the 2.2 million souls scattered across the mostly empty expanse of desert, dunes, coast, jungle that make up Namibia.
Empty, if you don't count zillions of animals, birds and fish. Unique, because it's the only place on earth where four nations meet: Botswana, Namibia, Zimbabwe and Zambia. There is a spot on the island where you can see all four - it is a particularly old and large baobab tree. You climb a 'ladder' of nails sticking out of the trunk.
Sadly this massive landmark was three or five kilometres away and Felix said we had no chance of getting there and back before our time, and Customs permits, ran out.
We set off on the kilometre, maybe two, stroll to the largest village on the island, the nearest to the landing place, and Felix's home. This was winter; the temperature might have nudged 20, it felt warmer. It was still. The sky was limitless, cloudless, African blue. Birds chattered. Felix chattered.
Fine red sand insinuated itself into our sneakers. We walked along a path, two tyre tracks wide, scrubby trees on either side. Felix described each one: this one is cut down for fences because predators don't want to scratch themselves on the thorns.
The bark is boiled to ease belly pains. We use this one for the house frames because it is too hard for the termites. You can chew on the leaves and it will relieve toothache. This is the amarula tree: its fruit becomes alcoholic. Elephants and baboons get drunk on it. So do humans. That was one piece of African folklore I knew already.
We approached the closest village to the landing spot. Largest on the island, home to 200, maybe 250 people, on a hillock cleared of trees to make room for a scattering of mostly one-room sleeping huts. They're made from a frame of local teak, termite-mound dirt forms a near-concrete hard cladding. Rooves used to be thickly thatched; now they're corrugated iron. When the walls crack, as happens occasionally, dung stands in for Polyfilla.
Like most activities, building a new hut is communal: men put up the frame, women sculpt the walls.
They build a new hut, Felix told us, when "a girl is old enough to start seeing boyfriends and she wants some privacy".
The new hut will go up a few yards from Mum and Dad; it'll be joined to theirs, and other family members', by a bamboo fence, forming a courtyard. That's where family life, from meals to childminding to arguments, takes place. I peeked inside one of the one-windowed huts: it contained a bed, a small cabinet, a few toys. There was no room for anything else.
The community is an extension of the family, governed by elaborate rituals, precedents and precedence.
Leader is the headman, a hereditary position, who hears and settles local disputes before a meeting of the whole village. If either party disagrees with his decision, the matter can be taken to the district chief and reheard before a meeting of the whole district. If either party is still not satisfied, they can appeal to the island chief, when the matter will be played out before a meeting of the entire island. At this stage it is probably a good idea to accept the verdict.
By now it was mid-morning and hot. The men were away, had been since 6am, fishing (the catch feeds the village and is sold on the Botswana side of the river), tending cattle or cutting firewood. They'd be back at 1pm, by when the women would have finished their chores.
Some giggling children peeked at us from behind a fallen baobab. I had the impression they were used to strangers.
"Mavuka," one said.
"He's saying 'Hi, how are you?'," said Felix.
"What do I reply?" I asked Felix.
"You say 'Handi'. It means 'I'm fine, thanks'," Felix told me.
"Handi," I told the little boy.
He giggled.
There's running water, if that means four or five taps bored into the ground around the settlement, fed by pump from one of the island's four tourist lodges. The villagers are happy about this. It's safer than sending the kids down to the riverbank with a bucket. The large crocodiles may not view this as progress.
There's no power, though. The Government has promised electricity for some time. The last firm date was last year. The next elections are due in four years.
"But I can see quite a few satellite dishes," I told Felix.
"We have TVs," he said. "And radios. We hook them up to a truck battery when we want to watch the football or have a dance or listen to the news."
We'd reached the best house in the village: bricks and mortar walls, terracotta tiled roof and glass windows with real putty. Solar panels on the roof, fruit trees and herbs in a tended garden, a high, solid fence with gates.
"This must be the headman's house," one of us said.
"No," replied Felix, "it's the witchdoctor's. He's the richest man in the village. The high fences are so people cannot see what he's putting into his spells or hear his incantations."
Why do people go to him, we wanted to know.
"All sorts of reasons," Felix said.
"He can predict the future and cure any health problem. He can help women who can't have babies and he can help them when they do have babies. He can solve marriage problems. If you had lost your camera, he could tell you who took it, and he could call them to his house and make them give it back to you."
Jude and I looked at one another. How did Felix know we had lost our camera five days and several hundred kilometres ago?
We'd walked from one side of the village to the other and back again. As we reached the baobab that marked its boundary, we met most of the women, sitting in its shade, colourful cloths laid on the ground, souvenirs laid on the cloths. They looked like many of the trinkets we'd seen at airports and in markets. They asked the same prices, would accept only US dollars or rand. We made our excuses and left.
Felix suggested we visit the nearby school and as we walked along a sandy track, told us his story. He'd gone to this school - it was bigger than we expected, 11 teachers and 200 children - then to the island's intermediate school, and off the island to high school.
Local children have a choice: quite a few cross the river to college in Kasane. Felix continued his education at a technical training college several hundred miles away; qualified as a tour guide he returned to the island as "a respected man in the village".
A respected, salaried, taxpaying man in the village has a responsibility - to marry. That time was approaching. He had his eye on a girl but "her dad doesn't like me. I'm scared to go into her courtyard," a real turnoff for a budding romance in this part of the world, for reasons mentioned earlier.
"But," he brightened, "my brother is married and he tells me there's no hurry, there's plenty of fish in the river. Besides, if I get married like him, I won't be able to go to the sports field and play soccer with my friends on Sunday, and have a beer after. My wife will be angry with me. She won't cook my dinner, she won't do the washing, she won't sweep. We will have an argument. There'll be fire in the courtyard."
The track became a broad, solid, concrete bridge, capable of carrying far heavier traffic over a near-dry riverbed than the few pickups and Land-Rovers we'd seen.
"The South Africans built it when they were here in the 1980s," Felix said.
"The river floods in the rainy season and the children couldn't get to school."
I suspected Namibia's neighbours might have had less altruistic motives during their "police action" but thought it diplomatic not to press the matter.
Felix looked at his watch.
"I'm sorry," he said, "but we've spent too much time in the village and we don't have time to get to the school and back. We have to get back to the harbour."
We walked back to the river, got another stamp in our passports, and waited at the sandbank for our ride. Our island time was over.
- nzherald.co.nz