In Chiang Mai you can grow, cook and enjoy the cuisine, finds Lauraine Jacobs.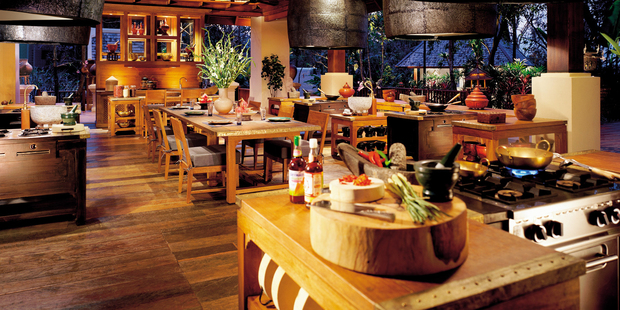 I am up to my knees in mud, plunging my beautifully manicured red nails into the murky rice paddy. Young rice plants have been nurtured in a pond, grown from seed and now, 30 days later, are ready for planting out. Taking a bundle in the left hand, I separate one plant from the bunch and push it down into the muddy water, ensuring the base is well rooted in the muddy bottom. The rows look a bit higgledy-piggledy at first but I get the hang of it and build straight rows about 10cm apart so the rice will grow strong and tall over the next 45 days.
After 20 minutes I feel my back is about to break, and dressed in denim blue garb, sticky waterproof gumboots and a straw sun hat, just like a traditional rice planter, my body is sweaty. But this is authentic culinary tourism. I've always been an advocate of getting to the source of my food, so this opportunity to take part in rice planting is heaven-sent.
Rice is central to almost every Thai meal, and the staple of the Thai diet. Latching on to the curiosity many seasoned travellers have for food, Four Seasons Resort Chiang Mai offers a half-day rice planting experience for guests.
The hotel is beautifully sited; my balcony and outdoor sitting room overlook a series of rice paddies maintained by a small army of workers dressed like me, in traditional farmers' clothes.
This is no playground. The hotel's paddy fields are a working site, growing Khaow Bow rice, a strain of jasmine rice, which thrives in the cooler atmosphere of the north. Roughly a tonne of rice is harvested each year and donated to a local orphanage, and a school for the blind.
No pesticides or chemicals are used, and the abundance of wildlife attests to the health of the place. There's a continuous chorus by cicadas, toads and birds, and we also see myriad insects, geckos and field mice darting about. Our rice planting expedition is followed by a tiffin lunch, with local author Oliver Hargrave attending to give a background to the region's food. We uncover the layers in the enamelled tiffin and feast on local Chiang Mai sausages, grilled chicken with tamarind dressing, chilli dips with vegetables and the ubiquitous pork crackling and steamed sweet sticky rice. One of the hotel's staff brings another local specialty, larb pla tub tim, which turns out to be moist, tasty, ruby fish baked with jungle curry in a bamboo tube over charcoal. For a moment there's panic as a small fire erupts beside the charcoal burner, and then more panic as my clumsy legs, not used to sitting on the ground for so long, knock the large sun umbrella from its perch into the rice paddy.
In northern Thailand, glutinous rice is preferred. When cooked it is sticky and perfect for eating with fingers. We learn more about rice later in the day at the hotel's purpose-built cooking school. I'm a cooking school junkie, having attended them all over the world, and this is the most striking I've seen. Set high in the trees on the edge of the hotel estate, it is open-sided with a soaring domed roof and well-equipped cooking stations for each student.
Our teacher, a rising star local chef, takes us through five dishes, one at a time, and we attempt our own interpretations. The resulting food is stored and at the conclusion we enjoy a surprisingly good banquet, all served with sticky rice. For my part, it's a great opportunity to hold back on some of the garlic and the intense chilli that turn up in every Thai meal.
I glean a few tips. "We don't have Maggi here," says our chef, "so make use of shrimp paste and fish sauce. Always use sea salt in your cooking, it helps to retain the colour of the vegetables."
I learn more about the culture, too. Thai utensils are the fork and spoon but it's rude to put the fork in your mouth. Never eat until all the dishes are on the table. Don't expect food to be served hot. Thai food is served room temperature or warm, the punch of the chilli makes up for that, in my opinion. I quickly note that all spicy hot dishes seem much more flavoursome at room temperature.
Chiang Mai sits on the edge of the "golden triangle", famous for its opium production. Our touring group of 10 heads high into the hills to see one of the sites of the Royal Project. This is a laudable programme under the Thai King's patronage to wean hill tribe people from opium production to edible crop growing. It has been a stellar success, with shops around the country and in airports selling products, and fresh produce featuring on hotel menus. As our little bus winds up steep roads to Mon Cham, one of the project's 36 sites, we spot trucks laden with cabbages and flowers heading down to the markets.
The hillside looks like a mosaic in the mist, with neat layers of vegetable plots descending into the valley below. It's chillier than I'd imagined Thailand could be, but this cooler atmosphere means abundant herbs, flowers, fruit and green vegetables thrive. We chat with the project's director while walking through the gardens and camping area. The rain starts to bucket down (it is the monsoon season) as we sit down to a rustic lunch of delicious vegetables, picked within the hour and carried straight to the kitchen. A garden salad tastes perky and sweet, a braised cabbage dish is strikingly fresh, and we drink herbal tisane and warm ourselves with a nip of strawberry brandy made right there.
Incongruously, we finish with scones with cream and local jam. Why, I wonder has this very English custom been adopted here?
We're accompanied by the Four Seasons' executive chef on our visit to Mae Rim and in the 125-year-old covered market we discover an array of local specialties, including vegetables we'd seen growing in the Royal Project. I am fascinated to observe local "convenience" foods. All the ingredients for the hot tom yum soup are bundled together, little packets of spices and herbs are stuffed with vegetables into plastic bags ready to cook, and several stalls sell prepared food, ready to take home and eat. It's all authentic and not a single "brand" in sight.
The aromas, colours, variety of exotic produce and the welcoming grins of the stall-holders are captivating.
We'd flown to Chiang Mai on the friendliest airline I've encountered in my travels; Bangkok Airways provides access to a lounge for pre-flight feasting for all passengers. Our overnight return journey to Bangkok is a total contrast - 17 hours in an ancient, rattling, over-air-conditioned carriage for a scheduled 12-hour journey. I post on Twitter: "Don't Ever Take That Train!"
Lauraine Jacobs travelled with Globetrotting Gourmet Tours, specialists in food and textile trails in South East Asia including Thailand, Burma and Vietnam.