After nearly 20 years, Shane Boocock returns to the Himalayas, now an adventure tourist hotspot, and knocks off his own mini Everest.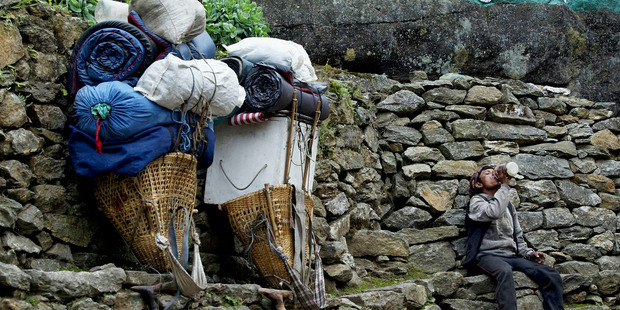 Next year marks the 60th anniversary of the day Sir Edmund Hillary reached the summit of the world. While most of us could never follow in such rarefied footsteps I found that it's still possible to make your own remarkable ascent while hiking in the Himalayas.
I had been here in 1983, trekking in the Solo Khumbu region of Nepal to Everest Base Camp, at a time when conditions were much more primitive and I was a great deal younger. On that first trip I had no porters, hiked on a glacier, washed my face under a shimmering waterfall, smelled the blossoms in forests of rhododendrons, spun prayer wheels at shrines and a monastery, surveyed majestic peaks and at times felt the rigours of the trail while achieving a personal triumph. The fragrant smell of pine is still in the thin mountain air as are the amiable cries of "namaste" from passers by.
Trekking in the Himalayas is now more popular than ever, with about 9000 people a year heading to Everest Base Camp, and many of the hikers are no longer in their backpacking youth. Some are middle-aged parents with kids, and a few, like me, are even older.
This time I was with a World Expeditions trip of eight people with the goal of reaching the summit of Gokyo Ri, located towards the end of a long valley that branches off the Everest route. It's a renowned peak from which you can ogle the finest, all-encompassing views of many of the 8000m Himalayan summits.
Our journey through Nepal began in the capital, Kathmandu, but the trek really started when our Twin Otter aircraft landed at Lukla - a seriously steep mountainside runway that sticks out like a stamp in the middle of an A4 envelope - at 2840m.
The trail into the mountains started between two villages and it all looked very familiar. Stone tablets with inscriptions were neatly placed around Buddhist stupas. Kids played in the dirt, as they had all those years ago, throwing pebbles at cows. Older dwellings were built of wood with rusty tin roofs held down at each corner by large boulders.
The path was busy with other walkers. Out of nowhere a youngster of about 12 followed in our footsteps, a bag on a pole over his shoulder, Dick Whittington-style, a daypack strapped to his back. He wore a small, braided waist jacket, had patches stitched one on top of another on his pants and strode out smiling in the sunlight.
We spent out first night in the area in one of World Expedition's new permanent campsites in Ghat. Here in a small patch of grassland surrounded by carpeted fields of vegetables and snow-capped peaks were eight bright orange permanently pitched two-man tents, four side-by-side composting toilets, as well as a cosy, kerosene lamp-lit dining cabin.
Dinner was a spicy soup, then chicken curry with vegetables and rice followed by dessert. Twenty-eight years ago I'd paid four rupees a night for a bunk bed in a cosy tea-house near the same village. Back then dinner was simply Sherpa stew (potatoes, meat and vegetables).
On the trail the next day we met lines of ponderous dzopkyo - a cross between a cow and a yak - neck bells jangling, hoofs clattering laden with all manner of goods. As is usual in this region, we gave them right of way.
The smell of charcoal and the whiff of smoke from chimneys was present in the early morning air as we arrived at Sagarmatha National Park, at 2835m, where our trekking permits were checked. I could hear the sound of prayer wheels being turned and smell the fragrant perfume of a magnolia tree by the gate which gave off much-needed shade.
We were soon foot-tramping alongside giant boulders on the banks of the river that was cascading down from great altitudes. It was about four hours before we reached the confluence of the glacial-coloured Dudh Kosi and the Bhote Kosi Rivers, numbingly cold and flowing fast towards the foothills of Nepal. Climbing almost 300m we then punch-drunkenly crossed a high-wire steel suspension bridge that swayed in the wind as hundreds of prayer flags fluttered constantly.
By lunchtime we'd reached Namche Bazaar at 3440m. Namche, the renowned headquarters of the Sherpa, was and still is a vital trading post between Tibet, mainland Nepal and India and a great place for a couple of nights rest and acclimatisation to the altitude.
Soon we were back on the trail, foot-slogging at a glacial pace, staying each night in the tented luxury of more permanent campsites. Each day as we gained altitude it turned colder.
I spotted kids listening to tunes on their mobile phones and old women chatting to friends and relatives on flip-top phones as they hauled water. Satellite dishes rested on tin roofs. In 1983, I never dreamed of such technology existing.
But all the changes in technology hadn't changed the scenery. It was a stunning landscape of russet-coloured hillsides so bright that the Himalayan monals (birds of the pheasant family) became almost invisible.
This is summer yak grazing country, a region starkly desolate breathtakingly dramatic. My knees ached as we clambered over yet more uneven stone steps, a daily encounter that cumulatively ran into the thousands. But we were closing in on our objective.
Then, at 5am one morning, we were woken to prepare for the final hike to the summit of Gokyo Ri.
In darkness we started the ascent, zigzagging back and forth over the scree. It was gruelling and arduous, but with regular rest stops we slowly made progress. For some other trekkers it was just too achingly hard and they turned back.
Breathing was difficult, the heart pumped furiously. Even after training for seven months I was feeling the effects of the altitude.
After three relentless hours we finally reached the summit and euphoria swept over us like the snow clouds that obscured many of the summits.
Abruptly, gargantuan glacial covered peaks began emerging from under sheets of cumulus clouds. As the sun came out we even got a view of the top of Everest as it peered out from behind smaller 8000m peaks - a magical moment in time.
Our summit was festooned with thousands of prayer flags, fluttering in the high altitude wind. We'd finally knocked-off our own mini Everest.
Facing north was Tibet. From this diorama perspective we saw some of the world's highest peaks, Cho Oyu (8153m) Gyangchung Kang (7922m) Lhotse (8501m) Nuptse (7861m) Makalu (8463m) and Everest at 8848m. We all hugged each other and smiled broadly. We had made it to what some consider the most sensational vista point in the Himalayas - this was the place, as Forrest Gump put it, "where heaven stopped and the earth began".
CHECKLIST
Getting there: World Expeditions 18-day trek to Everest Base Camp costs $3050. The trek uses permanent tented campsites to make travel more sustainable.
Anniversary: To mark the 60th anniversary of the ascent of Mt Everest in 1953 by Sir Edmund Hillary and Tenzing Norgay, World Expeditions will operate five treks in the Everest Region next May.
Further information: worldexpeditions.com
Shane Boocock travelled with World Expeditions using outdoor equipment and clothing from Kathmandu.