Forget the endless dust and the dead straight roads. Liz Light discovers the beauty of the Outback the fast way.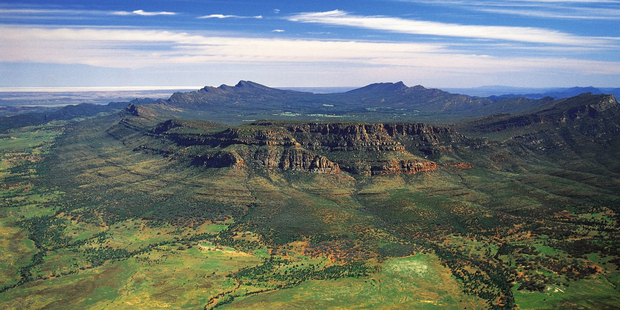 Ben, the pilot, swoops the plane low over the town of Parachilna. It doesn't look much from above: a road, a pub, half a dozen houses, a railway line and a bunch of dusty trees.
The airstrip, 15km away, belongs to Milpena Station.
Before the real approach Ben does a low buzz to scare off any kangaroos, emus, or iguanas that may cause a bumpy landing. Soon we are on the ground and I appreciate Ben's Outback-airstrip landing skills.
Air Adventure Australia specialises in small group air safaris to remote parts of Australia and, honestly, if I had to drive for days from Melbourne or hours from Adelaide I would not have made it to this unique and beautiful place.
Ross Fargher, fourth-generation station owner, farmer and, recently, tourist guide and publican meets us.
Ross looks the real rural deal with checked shirt, RM Williams boots, jeans and Akubra hat.
He's laconic, a cattle man at heart but station owners in the Flinders have had to diversify into tourism to keep their farms afloat. Ross explains that he has 200,000ha and runs 800 head of cattle.
Before the drought broke in 2007, his cattle numbers were down to 200 but subsequent good seasons are allowing stock numbers to increase.
He's not grumbling about his new career.
Ross and wife Jane have made a great job of reinvigorating Parachilna's Prairie Hotel, an exhausted old watering hole they bought in 1991 and turned into a quality boutique hotel, with gourmet feral food (yes, Jane has proved there is such a thing), while keeping its friendly Outback ambience.
The front bar stretches along the road, patrons stand around tall beer barrels and pass the time as the sun sinks low.
They watch galahs squawk in trees in front of the old, unused railway station. Though the station is closed the line isn't and every day the coal train from Leigh Creek mine to Port Augusta power station thunders by.
This is one big train. It's 2.9km long and takes five minutes to pass. Three giant locomotives pull 14,000 tonnes of coal loaded into super-size steel wagons.
The passing is surreal; it's so near, so noisy and so intense.
When it's gone the silence is hollow; patrons shake their heads and order another beer.
Dinner at the Prairie Hotel has its strange aspects, especially, conceptually, for vegetarian me. Jane has made an art form of gourmet feral and wild food. There is emu on the menu and my colleagues, who tuck in to camel sirloin, rack of goat, kangaroo stew and emu pate, say it's all superb.
A cacophony of weirdness enters my dreams. It's the early morning birdcall but, here, the sounds are of squawking, whooping, coughing, rasping and squeaking; everything but tweeting and trilling.
Flocks of galahs frolic in acacia trees, bright blue budgerigars fossick in dry grass, bobtails bob and numerous other species of bird do what they noisily do at dawn.
It's a grand time of the day for a walk and I follow a track nowhere in particular.
In the cool morning there is serenity in the flatness that goes on forever to the west and the thrill of a purple hill on the northern horizon.
The earth is ochre; parts of it are made damp and darker by a nighttime thunderstorm. Dry grass and grey green shrubs give a soft patina.
The sun is hot and high when Ross takes us east to the north Flinders Range. We follow Parachilna Creek into a crack in the wall of rock. Cliffs of rock, hundreds of shades of red and brown, are pushed up, broken, twisted and folded.
This is a geologist's paradise; the laying down, bending, bucking and wearing away of the Earth's crust is beautifully displayed on either side of the gorge.
On the valley floor red river gums grow.
These trees have shapely silver trunks and branches and, in patches, the soft white bark peels off to reveal a rich and intricately patterned underlay of red, pink and apricot.
Their grey-green leaves shine in the sun, there is a fuzz of blond grass below them and the air smells of eucalyptus.
We stop in a rocky valley. Walking quietly, it's easy to see the devil in the detail though, in this case, it's not the devil but a Flinders Range dragon sitting on a rock; head high and tail long, this stripy lizard looks at us, unblinking and fearless.
We also find a 20cm stumpy-tailed lizard; its name describes how it looks.
There is a yellow-footed rock wallaby just where it should be, sitting in the middle of a tumble of fallen rocks, and a daddy emu takes care of six chicks, pecking seeds and grasses, ambling along in a slow family group.
These animals are not frightened of us; they seem to know they live in a national park and won't turn up on a wild food menu.
The last treat on the journey is an airborne one. Ben takes the plane in a long looping turn over Wilpena Pound, an enormous natural amphitheatre in the middle of the Flinders Range.
This strange geographical formation is best viewed from above; it's an ovoid hollow of 80sq km and is entirely surrounded by steep protective cliffs, one of which, St Mary's Peak, is the highest point in South Australia.
Geologists have a long, logical explanation for this geographical phenomenon that does not include the crashing of a massive meteorite and other outer-space interventions.
Paranormal yarns about the formation of the Pound abound and given its visual, hollow-circle oddness it's tempting to believe them.
By mid-afternoon Wilpena Pound is behind us and we are winging it back to Melbourne a few million propeller turns and a couple of hours away.
I appreciate, yet again, how flying tourism eliminates the tyranny of distance and enables easy access to remarkable and remote places in the vast Outback.
CHECKLIST
Getting there: Qantas has three daily services to Melbourne from Auckland and a daily service from Wellington.
Air Adventure Australia offers small group-escorted air safaris to remote parts of Australia.

Where to stay: The Prairie Hotel at Parachilna is an iconic Outback boutique hotel famous for its feral food platters.
Liz Light travelled to Australia with the assistance of Tourism Australia.