P.K. Stowers has a close encounter with some of the famed inhabitants of South Africa's Kruger National Park.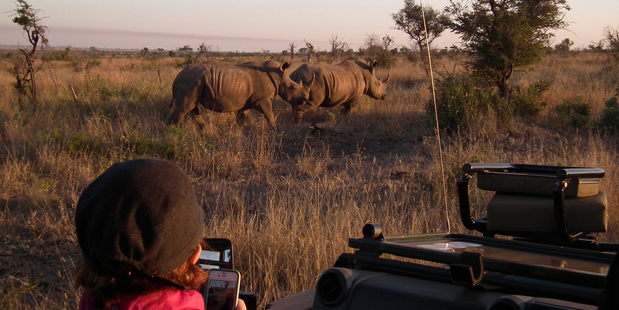 The question put to our guide is a simple one, but we are all surprised by his answer.
"Yes, I do have a favourite animal actually," he replies. "The vulture."
Those ugly birds with the stooped neck and a fondness for leftovers? It seems a strange choice given the abundance of more charismatic wildlife in South Africa's breathtaking Kruger National Park - a 20,000 sq km slice of protected wilderness located near the border with Mozambique.
"The vulture cannot make a kill of its own, so it has to watch and wait for the other animals as they hunt. So only by watching and being patient can the vulture get food to feed its family back home."
The answer may be unexpected, but the parallels with his own career are obvious. "Yes," he laughs, "Just like a safari ranger."
Juluka Chauke - our guide for the next three days - is a tall, engaging man of Shangaan descent with excellent language skills (he speaks eight) and a philosophical nature.
It should be a fun three days.
DAY ONE
Kruger National Park - established in 1926 - currently receives over one million visitors a year, but due to its massive size and the widespread location of the different lodges, it does not seem congested with tourists. Today our relatively small tour group of five is being driven in a purpose-built dark green V6 Toyota Landcruiser that could easily accommodate twice that many. It is also - aside from the windscreen - totally windowless.
Each of the safari vehicles is fitted with a CB radio and reports soon come in of lion sightings near the Mpanamana Dam - about 30 minutes drive away. Our initial excursions in the park had been peppered with stops as we insisted on photographing every impala and common duiker that crossed our path. But now we are searching for bigger game and we do not even have time to stop for a giraffe herd we pass.
Shortly after 5pm, we reach the large waterhole, and slowly make our way to the far side. Earlier the temperature was close to 30C, but as the sun sets the temperature falls rapidly and everyone in the open-air vehicle reaches for jackets.
"Now sit down and don't make any sudden noises," says Juluka quite calmly. "The two lions are over there."
And there they are - a male and a female lying next to each, eyeing our Landcruiser lazily as it approaches to within 10m. This is the thrill of being on safari - the idea that you have no idea what will be around the next corner.
Suddenly there's movement behind me and the male lion's head rises to shoot a look in our direction. One of our number has tried to stand up to get a better view - and Leo doesn't like it. Juluka slowly puts his arm out and gestures for everyone to sit down.
"When we sit still, the lions only see us as one large object, but when we move around individually, then they become anxious."
The pair have separated from their pride and have been in the area to mate. Then, almost on cue, the male casually rises and they begin. Clearly they are not camera shy - and neither, it seems, do they lack stamina. Juluka explains that during ovulation, a lion pair will mate roughly 96 times a day for three days - or roughly every 15 minutes.
True to form, we watch for 25 minutes, during which time they copulate twice - each time lasting for about 45 seconds.
Clearly it is all about quantity rather than quality in this lion's kingdom. (The opposite is apparently true for warthogs - whose encounters go for 45 minutes to an hour. When you are that ugly you probably have to take every opportunity you can get.)
The lions aren't the only ones using the waterhole tonight. As we drive back, we discover two white rhinos walking into the bush, and a stroppy adolescent elephant who tries to stare us down as we attempt to navigate around him. The focused gaze of the elephant and the narrowness of the passage we are currently on concerns our guide, and we take the long way around instead.
"Just being careful," he explains.
DAY TWO
Our base of operations is the well-appointed Shishangeni Lodge, located between the Crocodile River and the Lebombo Mountains in the south eastern corner of the park. Our morning and evening safaris do not stray more than an hour's drive away in any direction, but this still leaves a large area to explore.
The lodge consists of a main administration building which houses the reception, a gift shop, conference centre, kitchen, gym, dining area and a small library. There is also an outdoor swimming pool and barbecue area. Guest rooms are individual units linked by a series of raised wooden walkways no more than 75m from the main building.
We're up at 5.30am this morning and ready to leave at six. Shishangeni runs two safaris a day, one in the early morning and one in the evening - when the animals are usually more active. Of course, this isn't always the case, and though we spot plenty of indigenous birdlife (including the wonderfully coloured lilac breasted roller), sightings of the so-called "big five" animals (namely lions, leopards, elephants, rhinos and the Cape buffalo) remain elusive.
But shortly after Juluka has explained the territorial nature of the white rhino - including its individually located dung piles called "medden" - a two-tonne male, roughly 30-40 years of age, calmly walks out of the bush and crosses the gravel road ahead of us. He's a real brute - far bigger than the two we spotted the previous evening. At first he barely casts a glance our way (they have notoriously poor eyesight) but once he has marked his territory (which they will do up to 10 times an hour) he stops to stare.
It's another sudden reminder to all of us that this isn't a zoo, it's the African wilderness, where creatures can amble up at any moment - and once this one gets going, he can reach speeds of up to 40km/h.
Later in the afternoon, Juluka spots the skull of a rhino killed by poachers earlier in the year, pointing out the marks around the area where its horn used to be before it was hacked off. He asks us to guess how many rhinos have been poached in the Kruger National Park so far this year (January to May). None of us guess even close to the actual figure of 198. Not so surprising given a single horn can fetch up to $650,000.
DAY THREE
We ended the previous evening on a high after Juluka somehow managed to spot in the dark a group of lions deep in the bush. A closer examination uncovered two mothers and five cubs. Photography wasn't really possible, but the joy of the 10 minutes we spent watching them - before the mothers grew suspicious and led the group off into the scrub - will be with us forever.
Forty years ago there was an estimated 450,000 lions in Africa. Today that figure is estimated at 20,000 - and we were lucky to come across such a large group of cubs as they are at their most vulnerable while still being weaned.
For our final day on safari it's another early start, but this time we are more successful in locating animals. Before long we have spotted a small giraffe herd, two young rhinos, a very large kudu (a type of large antelope with massive twirling horns), a pair of exceeding ugly Cape buffalo and a stroppy, camera-shy hippo. However, the find of the day has to be what started out as just three elephants making their way towards us. Then we thought it was five, before realising there were in fact seven.
Despite the amazing subject matter, taking great photos in the Kruger can be challenging as the animals rarely do what you want them to, and you don't often get a chance to leave the vehicle. But on this clear morning these seven elephants were doing everything right, including walking right by us.
One of the older males was paying us quite a bit of attention - at one stage he was making directly for our Landcruiser and picking up speed. Juluka, however, remained perfectly calm, and assured us we were safe.
"When the elephant is flapping its ears and making noise, then he means business," he explains. "Why? Because he's irritated, his body temperature will go up, so he needs to cool down very quickly."
The ears of the elephant operate in a similar way to the radiator of a car. Every 20 minutes, up to 80 litres of blood will be pumped through veins in an elephant's ears and cooled as it flaps them. As predicted, our large male gets within 10 metres of the vehicle before veering off to rejoin his friends.
"You have to judge each and every situation on its own merits," says Juluka. "Basically, you follow the protocol and procedure when you are out on safaris. But sometimes I have to remember that everyone is here to relax."
That "protocol and procedure" is tested shortly before the end of our time in the Kruger, when two large birds atop a dead tree are pointed out about 70m away.
"Vultures," says Juluka, smiling.
"But they're your favourite," says one of our group. "Can't we get closer?" Juluka shakes his head. "There's no track and we only really go cross country when we are searching for one of the big five," he admits. "Vultures don't really merit us driving through the bush to reach."
"But we wouldn't tell anyone."
"Maybe not," he laughs, restarting the engine, "but we want to try and leave the park in one piece."
CHECKLIST
Where to stay: The Shishangeni Private Lodge is located within Kruger National Park, about 70 mins drive from Nelspruit. In peak season a single room, meals and two safari excursions a day will cost R4,3000 ($670) although this reduces to R3220 ($500) from May to August. For two people it is R3300 ($515) per person in peak season or R2480 ($385) in the off-season. For more information visit threecities.co.za
More information: To learn more about travelling to South Africa visit southafrica.net
P.K. Stowers travelled to South Africa with assistance from South African Tourism.