Charlotte Holmes heads deep into the mines of Potosi - once the richest city in all of Latin America.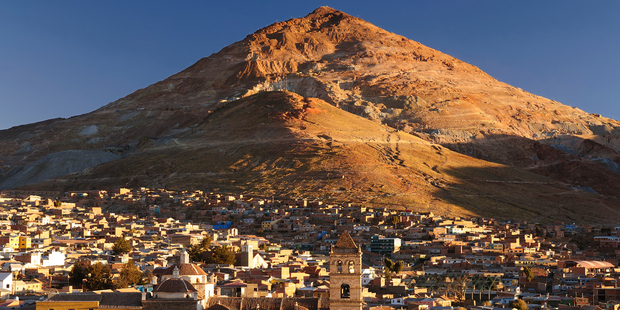 During its heydey, the Bolivian city of Potosi was one of immense wealth - the largest and richest in all of Latin America built on the mineral deposits found in the veins of the Cerro Rico (rich mountain). It was said the streets were paved with her treasure - precious silver.
These days the people of Potosi scratch a living from the leftover deposits of both silver and zinc in the pyramid-shaped mound that casts an imposing shadow over their city. It's been dubbed 'the mountain that eats men', due to the estimated eight million deaths that have occurred since the discovery of ore deposits in the area in 1545.
At 4030 metres above sea level, Potosi has a claim on being the highest city in the world. Between gasps for air, we admired the colonial-style cathedrals found on every corner of the city's cobblestone street - relics of its former grandeur.
A number have been converted into museums, including the Casa de la Moneda, the site of colonial mint production for the Spanish empire until Bolivia's independence in 1825.
Keen to see the mines which created all the wealth, we began our tour by swapping our clothes for plastic jumpsuits, gumboots, hard hats and headlamps. Our group's first stop on the tour was the miners' market. Here, we were given a demonstration on practices popular with the miners. The first: chewing coca leaves.
Throughout Bolivia it is not uncommon to see men and women, teeth stained a shade of green, barely able to speak from the 200-300 coca leaves forming a ball inside their mouths. The idea of coca is not to replicate a high, rather it is said to assist with altitude sickness and to prevent hunger - something the miners rely on during their eight- nine-hour working days without meal breaks.
There was the option of purchasing dynamite for a demonstration explosion at this point, but it was not recommended by our tour operator due to its detrimental environmental effects.
We were, however, given the option of taking a swig of ciebo - a drink popular with the miners that contains 96 per cent alcohol and not a whole lot of flavour. This provided the Dutch courage we needed to proceed through one of the 500 entrances - representing the number of mines in operation in Potosi.
While conditions have improved since the 16th and 17th centuries, when African slaves and indigenous people were trapped underground for six-month stints at a time, we were soon to discover today's practices could hardly be described as modern.
Temperatures were chilly inside the mine at first and we were guided by our breath. But as we descended into the second level of the five-tiered mine, the mercury rose to a sweat-inducing 40 degrees.
With each step deeper towards the blistering heart of the mine and with no ventilation in sight, feelings of claustraphobia closed in on us.
Three hours of the five-hour tour were spent underground and we witnessed men shovelling ore, pushing trolleys and carrying sacks, while others prepared for an explosion.
We trudged through a muddy grey silt, many times ducking our heads to avoid hitting the crude wooden beams strengthening the tunnels. We scrambled up make-shift ladders to have a closer look at how trolleys were lifted up high using a basic system of pulleys, all the while passing miners at work to whom we offered our bags of coca leaves and bottles of juice - a small gift of thanks for the interruption caused to their day.
When asked why the they submitted to this type of work (six days a week, up to 12 hours per day, without meal breaks or holiday time), one miner replied that there were no other options for work in Potosi.
Miners attempt to improve their chances by praying to their devil, Tio. In each mine a shrine to Tio has been erected. We were shown one such effigy which had existed since the 17th century and was adorned with decorations and offerings - including the skeleton of a baby llama from the recent carnival.
These days each mine is run as a cooperative, with the miners selling their discoveries to a smelter - but that is not to say they are wealthy men. Most are lucky to take home $100 a month, which may include a small percentage of tour fees.
After crawling on our hands and knees back through the tunnel leading to the shrine, it was time to return to the outer world.
We emerged, weary, dishevelled and grateful that we didn't have to go back in for another shift like the thousands of miners still on the clock.
Back in Potosi we treated ourselves to a saltena, a Bolivian pastie filled with meat and potato in a mild sauce, remembering with guilt that the miners still had hours to wait before their second meal of the day.
Our mine experience had been eye-opening, though not one we were keen to repeat any time soon.
It was hard not to be deeply affected by the sacrifices these men - and the millions before them - had taken to provide a steady income for their families.
CHECKLIST
Getting there: LAN Airlines flies from Auckland to La Paz, Bolivia via Santiago, Chile with a stopover in Peru, Lima. From La Paz, flights to Sucre are available with BOA and TAM, though it may be easier to book tickets through a travel agent once you're in Bolivia, rather than online. From Sucre, buses and taxis connect to Potosi.
What to do: There is an abundance of agencies in Potosi offering guided mine tours. We went with Andes Salt Expeditions.
Where to stay: Accommodation is available at La Casona hostel, a restored colonial mansion.
Further information: Check out the award-winning documentary, The Devil's Miner (2005), which tells the story of 14-year old mine-worker and his family.
Charlotte Holmes paid her own way in Bolivia.