Nicola Lamb dives into the spirit of the Spanish capital.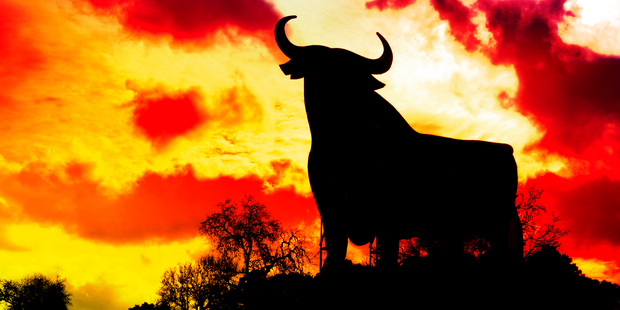 In the land of the black bull, meat is still king.
And it's not just copious amounts of beef, pork and lamb that are consumed over lengthy lunches and light dinners. Fish and shellfish often dominate tapas menus. Despite being an inland city, Madrid's fish market is the world's second largest after Tokyo, turning over about 220,000 tonnes annually.
There's also the unique sight of city street stores devoted entirely to ham - the Museo del Jamon - and racks of the delicacy hanging in markets. Once you've become used to spearing a shaving of salty jamon from Iberian acorn-fed pigs you won't want to return to supermarket lunch-sliced or even prosciutto in a hurry.
Fresh cooked produce, preferably downed in dark-lit tapas bars late at night as crowds swarm the streets, is a huge part of the Madrid way of life. It's central to the hot energy of the place.
The city has quite a different vibe to the cool grace of Barcelona with its wide Passeig de Gracia, shopping boutiques, unique architecture and Catalonian cuisine.
Madrid has a number of grand buildings, a trio of impressive museums, and plenty of parkland. But it's the intensity of the nightlife that's most striking. It just feels like a creative place.
So given Madrid's dining-fuelled city buzz it's appropriate that an old abattoir is now an arts space stimulating multi-format creativity over a sprawling 12 hectares at Plaza de Legazpi.
The old matadero ("slaughterhouse") and livestock market in Madrid closed in 1996 after nearly 70 years.
The Madrid City Council, looking to preserve industrial buildings and promote culture, began renovating the 48 buildings on site with a mixture of public and private funding.
Where once cattle clattered, now dance, music, painting, photography, sculpture and design workshops, performances and exhibits are held at Matadero Madrid.
The abattoir complex features large, impressive pavilions of red brick and white stone. Promising designers have been let loose on the interiors.
It's the combination and contradiction of the old outer style and new inner flash that makes it so striking.
Blackened and ripped ceilings and walls give the entrance an industrial, alternative atmosphere. A cinema, the headquarters of the Documenta Madrid film festival, is superbly and simply refurbished with black hose pipe on the walls.
A theatre and cafe features lush red, black and yellow padded seating and drapes against harsh industrial beams and walls. Chairs and ceilings are a riot of colour in the music lecture room. The reworked refrigeration room is an arts resource while the former water tank is a plant archive. About a million people visited the site last year.
A spokesman says the aim was to use cheap, industrial and renewable materials.
The Spanish appear to be more creative with development projects where New Zealanders would be more practical and functional.
For instance, in a nearby land recovery development called Madrid Rio which involved diverting the old M-30 motorway underground through 17km of tunnels, considerable flair has been shown in bringing the Manzanares River area on both sides into use.
There's a 6km track for walkers, cyclists and joggers, a park with a skating area, a playground and two pedestrian bridges artistically shaped like over-turned boats. Recycled glass mosaics are painted on the inside. Another bridge is made of dynamic spiral shapes.
It links parks, gardens, old monuments and new landmarks together while opening up areas for leisure and sport.
The mixing of old and new is also occurring in Madrid's dining scene.
At Mercado de San Anton, a traditional food market full of specialised shops for fish, meat, cheese and fruit sits beneath the fine dining La Cocina De San Anton restaurant.
Along the Paseo del Prado, the Estado Puro bar - a sidelight of Michelin-starred chef Paco Roncero of La Terraza del Casino - is part of a nouveau tapas trend. The setting and presentation are upmarket and traditional dishes are given a radical twist - like asparagus in tempura with romesco sauce and a Russian salad served with reganas (toasted bread). There's an oddball sign on the wall here on "Tapas language" that reads: The Bill, La Dolorosa, "The Painful"
Small beer, Cana, "Fishing pole"
The waiter, El Jefe, "The Chief"
Eat for free, Comer por la Patilla, "Eat because of your sideburn."
Joanna Wivell of Insider's Madrid, a transplanted Yorkshire native who has been in Spain for 12 years, takes tourists through Madrid neighbourhoods on tapas crawls, among other guiding tours.
The firm's usual tapas tour (€85 per person) is from 8-11pm and involves four bars in the historic centre of Madrid, selected for their regional specialities and ambience.
She says the central idea of tapas dining is about enjoying and sharing the same dishes of food with other people while socialising and eating with alcohol, rather than going out to get drunk. There's a "very alive" energy as people get out to find what's going on. The city's people tend to "live in the present".
At El Pez Gordo on Calle del Pez, a bar with photos of jazz and blues musicians on the walls, locals go for good food and beer. There's carpaccio de buey (oxmeat carpaccio); salmorejo (gazpacho dip); pavo en escabeche (turkey in escabeche sauce) all washed down with beer.
People gravitate to certain tapas bars for specialties. At Cerveceria La Ardosa, on Calle de Colon, they flip out a great Spanish omelette - tortilla de patatas. In suitably dim light, with rows of old bottles, bags of hanging onions, ham and salami nearby, we also tried the empanada de atun (tuna pie) with vermouth served from the bar tap.
Posters of bullfighters decorate La Trucha at Manuel Fernandez and Gonzalez and curing ham hangs from the walls. On offer here: adobo - chunks of swordfish coated in paprika, cumin, vinegar and garlic; pimientos de padron (little green peppers); boquerones (fried sardines); and jamon. The wine: Vizconde de Ayala, rioja and crianza.
Finally, at Mercado San Miguel, there's desserts: caracas de pistachio (pistachio biscuits); coconut cream truffles; marzipan from Toledo; and chocolate rocas (dark chocolate "rocks" with biscuit and almond) washed down with a rosé cava, Vilarnau.
In the gourmet paradise of Madrid, the only way to make a statement of subversion and indifference is to draw on the soulless shallowness of the mall multiplex. One ultra-cool urban bar with seats only zero-sized bums could perch on, served a big carton of popcorn with drinks. How very post-post-post-modern.
Likewise, no-one could really explain the sudden hipness in Spain of stuffy old gin and tonics. Ricardo, of Javier de las Muelas's Dry cocktail bar, said there was a gin and tonic "fever" in Madrid that had "snowballed". I sipped a delicious coconut martini instead.
The crowds in the central district made it feel like the departing spill from a test match or a concert.
At a tapas lunch in the garden of the Ritz, the hotel sales and marketing director Marcelo Moscheni outlines the typically prolonged but broken up day of office workers.
Moscheni, who lived for years in Auckland and has a house in St Heliers, says people start late, about 10am, but take a short cafe break at about 11am. Lunch is later than Kiwis are used to, about 2.30pm. By 4.45pm people are back at work and don't leave until about 8.30pm, when they go out. Wivell says work is seen as part of life rather than the dominating force.
Some would suspect that approach is part of Spain's economic woes, but the country was caught out by a burst housing bubble, the 2008 credit meltdown and subsequent recession after a boom period in which people and institutions over-extended and became indebted. House prices have fallen by 25 per cent since 2008. The banking system has struggled to swallow toxic real estate.
Europe has offered Spain a bailout package of up to €100 billion ($154 billion) to help rescue the country's banks. Bankia, Spain's fourth largest bank, had to ask for a €19 billion bailout.
Although Spain is mired in a nightmare of joblessness - 24.3 per cent unemployed and 51.5 per cent of youth unemployed - just a few years ago in 2006 the figure was 8.5 per cent, about the European Union average.
The country's major cities look wealthy, as befits the eurozone's fourth largest economy. Its transport infrastructure is impressive. No doubt a lot of money has been ploughed into construction.
All who enjoy Spain's creative spirit will hope the country can bounce back quickly.
CHECKLIST
Getting there: Singapore Airlines operates 12 times a week from Auckland and daily from Christchurch to Singapore, and then beyond to Barcelona direct with four flights a week departing on Monday, Tuesday, Thursday and Saturday; and an additional three flights a week via Milan on Monday, Thursday and Saturday. For more information visit .
Where to stay: The Hotel Ritz Madrid is a special destination, full of history.
Further information: spain.info
Nicola Lamb travelled to and in Spain courtesy of Singapore Airlines, Spain Tourism and Rail Europe.