Six centuries after her death, the image of Joan of Arc is inescapable, discovers Jim Eagles.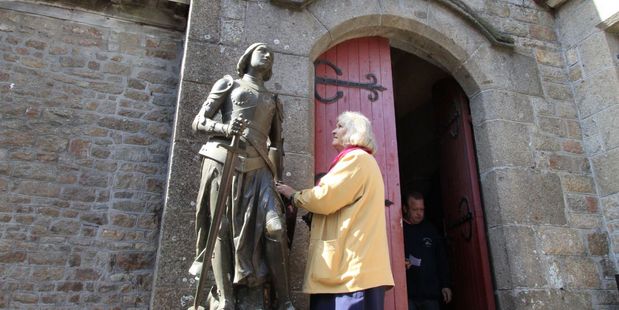 Just down the steep, narrow, cobbled street leading from the magnificent island abbey of Mont St Michel we came upon a lovely little church with a statue of Joan of Arc guarding the entrance.
While we were admiring the church's 15th-century elegance, an elderly woman with a shopping trolley climbed up the steps to the door, put her hand out and touched the statue's arm.
Then she stood there for several minutes, almost hand-in-hand, smiling at the statue's face and talking quietly.
It was like seeing two old friends chatting together. And it also provided a good illustration of how many French feel about the teenage warrior-saint centuries after she saved France from the invading English.
In fact, Joan of Arc seemed to follow us on our Treasures of France bus tour, popping up just about everywhere we went, her image in almost every church and many a market square.
Indeed, the first place we visited, the gleaming white basilica of Sacre Coeur, looming above Paris on the hill of Montmartre, there she was riding on horseback above the entrance, alongside King St Louis.
Pointing to the figures, our local guide observed cynically, "It took them 600 years to make Joan a saint. The king they made a saint only 20 years after he died."
Intrigued by his comment I looked up the two saints. Sure enough, King Louis IX died in 1270 and was declared a saint in 1297. Joan died in 1431 and became a saint in 1940. Interesting.
Although she remained a legendary figure in the centuries after her death, it was apparently during World War I that Joan really came to symbolise France at war, presumably adding weight to the campaign for her canonisation.
Now she is not only among the five patron saints of France but one of the Catholic Church's most popular saints.
We didn't go to the tiny village of Domremy-la-Pucelle in Lorraine where Joan was born in about 1412, or to Orleans where she first came to fame by inspiring the dispirited French army to raise an English siege.
But we did visit the ancient town of Blois where, on the wall of the great chateau, I found a plaque commemorating the arrival of Joan on April 25, 1429, when she attended church at St Sauveur and left with the army on April 27 "pour deliverer Orleans".
I searched for St Sauveur, only to discover that it was destroyed in 1793, but I did find a small link in the form of the altar, before which Joan presumably took communion, which is now in the spectacular church attached to the Abbey of St Laumer on the banks of the River Loire.
More importantly, we also spent some time at Rouen where, after being captured by the English and their allies, Joan was tried for heresy and burned at the stake, and found her image everywhere.
In the market square, with its beautiful half-timbered Normandy houses, a wooden cutout of Joan in armour promotes a souvenir shop. Cafes, shops and hotels all bear her magic name.
The massive stone keep, all that remains of the 13th century Rouen Castle, is now called the Joan of Arc Tower, though she may never have been imprisoned there.
The spot where she was actually burned is now marked by a lofty steel and concrete cross surrounded by a small park and watched over by a statue of Joan with her hands clasped and her eyes turned to heaven.
In a piece of symbolism which completely eluded me, the statue is built into the wall of the modern St Joan of Arc Church, which is designed in the shape of a dragon. What does that mean?
Still, the park was nice and it had plenty of seats, so we bought a baguette filled with delicious camembert and two petite four cakes - I gave the staff great amusement with my ill-remembered schoolboy French by asking for "deux petit pois" or "two peas" - and joined the locals sitting in the sun for lunch.
Afterwards we wandered around the city centre, which is full of architectural delights, including lots more wonderful old half-timbered houses and hotels, the spectacular Big Clock Tower built in 1390, the ornate Palace of Justice and the Notre Dame Cathedral with its unique 151m cast-iron spire, which for a while was the tallest building in the world.
The cathedral, dating from the 4th century, has numerous historical links, including a tomb said to hold the heart of the King Richard the Lionheart, who saw himself as Norman rather than English ... and of course, Joan.
John Plantagenet, Duke of Bedford, who is generally regarded as her chief murderer, is buried there. And Bishop Pierre Cauchon, who presided over her trial, later sought to become Archbishop of Rouen with his seat at the cathedral.
But Joan triumphed over both. The duke's tomb was destroyed by Calvinists in the 16th century and is now marked only by a plaque. And the bishop's candidacy failed.
These days, a shrine to Joan takes pride of place at the head of the cathedral with several St Jeanne d'Arc candles shining before a statue showing her being burned at the stake, and much of the nave taken up by a display telling her story.
CHECKLIST
Getting there: Cathay Pacific flies every day from Auckland to Paris via Hong Kong. For travel from Wellington, Christchurch and Queenstown, connections are available via Auckland or Sydney.
Getting around: Trafalgar's eight-day Treasures of France guided holiday starts and finishes in Paris and is priced from $2550 a person, twin share, with departure dates available between April and October.
Jim Eagles visited France with help from Cathay Pacific Airways and Trafalgar.