This once war-torn city is back on the tourist trail, observes Stephan Scheuer.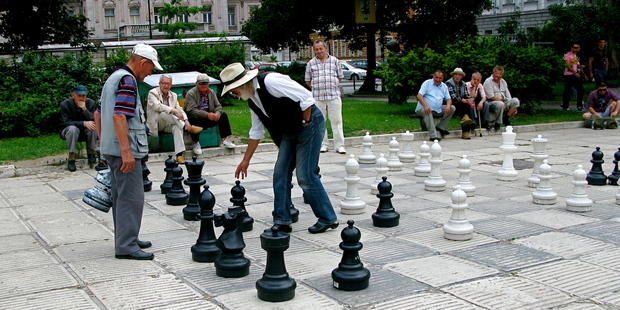 A young woman wearing a headscarf bites into a fatty cevapcici as throngs of young people make their way through the narrow streets of Sarajevo looking to savour some of the city's hectic nightlife.
The streets of the capital of Bosnia-Herzegovina are also full of street performers and vendors, while in one square old men play chess and a muezzin calls Muslims to prayer.
The atmosphere is peaceful and, although the bullet holes in the facades of many houses are a stark reminder of the Bosnian war of the 1990s, Sarajevo is once again firmly back on the tourist trail.
Numerous hotels, shopping centres and offices have been built since the three-year war ended in 1995 but the pain and suffering endured by Sarajevo's citizens during that time is never far away.
In the city's history museum, Sarajevans have written their war memories on a cardboard wall. Photos of some of the conflict's victims are displayed, while letters beside a blood-stained children's pullover express the sadness experienced by survivors.
Traces of the Siege of Sarajevo are now tourist attractions, with guides offering tours of the main battlegrounds, including the city's main boulevard, Ulica Zmaja od Bosne, that became known as "Sniper Alley".
Tourists can also visit a tunnel which was used to smuggle food into the city during the siege.
Bosnia-Herzegovina's declaration of independence in 1992 was quickly followed by fighting between forces of the new state and those of the self-proclaimed Bosnian Serb and Bosnian Croat entities within Bosnia and Herzegovina, Republika Srpska and Herzeg-Bosnia.
The conflict soon developed into a war of ethnic cleansing as the Serbs encircled Sarajevo and assaulted the city.
It is estimated that nearly 10,000 people lost their lives during the siege and, unsurprisingly, nearly everyone in Sarajevo has a story to tell about this period even if they are often reluctant to recount it.
One old Muslim woman tells of how during the siege she was able to leave the cellar of her house for only a short period each day.
"Once, when I was outside, a grenade narrowly missed my head. My hair was completely burnt afterwards," says the woman.
Today, Sarajevo is looking to regain its name as the "Jerusalem of Europe".
A Catholic church is being renovated, an Orthodox Christian church has been restored and colourful mosques brighten the city's skyline.
There has also been a big increase in the number of Balkan restaurants and Sarajevo now has some eco-lifestyle restaurants.
- AAP