Denise Montgomery heads out on a pub crawl aboard the Queen Elizabeth.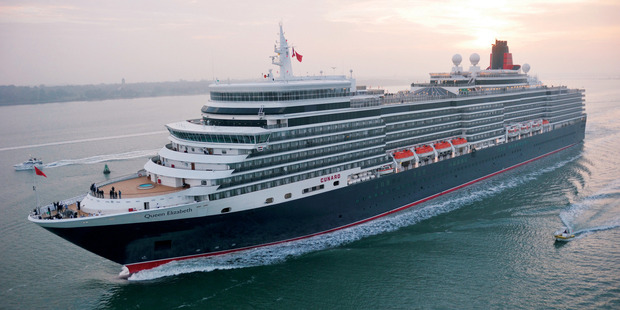 So ... 12 days at sea on the magnificent Queen Elizabeth, which we'd joined in Auckland as part of her world cruise. I'll drink to that.
We have a mission - to be treated like royalty, relax like cats, eat like kings and drink like Vikings. It was a tough assignment, but someone had to do it - we're tasked with checking out the QE's 11 bars.
I didn't know people went on cruises to drink, but apparently the quality of the bar life is all part of the cruise experience, right up there with eating for a famine. Who am I to argue?
Certainly sun and sea air will cause you to exercise a thirst. While all food is paid for as part of your fare, your drinks are not, but prices are reasonable. Our daily pint of cider - Aspall Suffolk - and half pint of Boddington's, was US$9.89 (NZ$12) at the British pub, the Golden Lion (deck two).
Although there are 11 bars in the ship's brochure, seven are most frequented.
There are a couple of exclusive bars for high-paying guests, and one or two bars that are more like nooks.
The Golden Lion would be the most popular bar and was packed at lunchtime as Brits - and lots of Germans - tucked into the likes of traditional beer-battered fish and chips with mushy peas or cottage pie topped with cheesy mashed potatoes.
In the evening, it was mostly quiet, leading to singer/pianist Robin Rose posing a question to the quiz master preparing for the nightly Late Night Trivia at 11.30pm: "I've got a couple of months of this?" he half-jokes.
You can understand it; he likes an audience to share his Piano Man, with lines like "I'm sure I could be a movie star, if I could get out of this place..."
The numbers grew slightly after the nightly show ended (10.30pm) at the Royal Court Theatre (seats 800, two shows a night). But most people headed to the Lido (open until 4am) for a cuppa and a cake. After all, the bulk of the passengers on this round-world trip from Southampton were 60-plus.
We're not, so slung back a Singapore Sling (US$7.50) and a Fiery Fuego Manzana (US$6.75) and endeavoured to knock the reigning quiz team off their perch.
All the Queen Elizabeth bars have great cocktails - their staff are trained to perfect them.
Welsh-born food and beverage manager, Jeffrey Morgan recommends the Commodore Club's "molecular" cocktails and it feels only right we should experiment. (I stress this is not all on one night.)
"They are cocktails that are deconstructed and reconstructed at the table," he explains.
"It was developed a few years back in London and we adopted it on the ships about two years ago."
The elegant Commodore Club (deck 10) has spectacular 270-degree views. By day it's a lounge bar, by evening it's perfect for watching the sun set. You could sample vodka and caviar while you're there, or sink into a couch reading a book, with something on the rocks. A drink, that is.
A maxim by Queen Victoria graces the Commodore Club's drinks menu: "Total abstinence is an impossibility, and it will not do to insist on it as a general practice".
This becomes my newly discovered mantra.
I try the Feline Passion (US$9.95, snow leopard vodka shaken with lychee liqueur, passionfruit puree and Grand Marnier) and the Mr tries a molecular mojito (US$8.75: Havana Club, fresh lime, with a creme de menthe-infused foam).
I don't know about all that deconstruction/reconstruction business but if we'd wanted to there was also a "Martini mixology" class.
The dress code in bars and restaurants is relaxed during the day, but at least "elegant casual" after 6pm.
There's no dress code at all by the pool. Even large and half-naked is okay.
There is a pool (with two spas) at either end of the ship: the Pavilion Pool Bar services forward and the Lido Pool Bar the aft. Here, Mr lived a dream - to drink pina colada by the pool. We got to know the area well.
Next to the pool is the conservatory-style Garden Lounge and bar. It's a gorgeous space, airy and light, and people often met there for a pre-dinner drink, but it didn't appear to have a lot of life beyond that. It was a great spot for an afternoon read, and for champagne high-tea - a must do.
The Yacht Club (deck 10), where I tried pomegranate ginger cooler, (US$8.75) has a compass-shaped dance floor and kicks into life about 9pm with a DJ and a band who play all over the ship at different times. They slip as easily from swing to pop as I did from lager to cocktails.
There are just over 40 staff who rotate about the bars "so they don't get complacent".
They serve between 1000 and 2000 beers a day, with gin and vodka the biggest moving spirits. There are around 300 bottles of wine consumed each day in bars and dining rooms, and 40-plus bottles of champagne. It's not as much as I thought.
"People probably don't drink as much as they used to on these cruises, times have changed a bit," Morgan explains.
"In a lot of the bars, although they look busy it's just people sitting around reading."
Also, on a world cruise, people are a lot more relaxed. There's plenty of time to do everything. People on the shorter legs tend to party up a bit more.
However Morgan recommends not going overboard, so to speak.
"In this day and age we have to be very careful," he says.
"We do have a zero tolerance [for drunkenness]. Everybody likes a drink which is fine but if they step out of line then we will take it seriously."
Drunks will be breath-tested!
"Obviously we have a care of duty to the staff and other passengers... they need to know when enough is enough. That would be how you would decide."
I did not test this practice.
(Something else to be aware of is that when you are in British waters, the drinking age is 18, but in US waters it's 21.)
Onwards to the uber-refined Midships, on deck three - it's a good place for watching the world go by, whiskey on the rocks in hand. The sea appears to pass by the window at eye level and there's a harpist or pianist nearby. You can grab a book from the well-stocked library, or have a drink then head for a bit of fun in the nearby games room.
We explored the main bars several times - but there are others worth a mention like the Alcove bar, the Empire Casino, and Churchill's cigar lounge (not on my list).
The classy Veranda restaurant (food and service out of this world) also has a bar and you don't have to eat there to drink. Then there's room service at any hour. A bottle of Canadian Club, for example, will set you back US$45 (+15 per cent).
Although there is a duty-free store, you can't actually buy alcohol to drink onboard, you can only collect it when you disembark. (Occasionally it's opened up for a day so keep an eye on the daily information notices delivered to your room.)
As for wine, there's an excellent range and sommeliers with expert wine-food matching knowledge.
A Jane Hunter sauvignon blanc was US$38, but generally wine ranges from US$29-$50 a bottle. Veuve Clicquot was US$76.
If you're dining at the silver-service Britannia restaurant and don't finish your bottle at dinner they'll hold it for you until the next night.
It's actually very easy to slip into this life. If you do exercise a thirst for it, there are ways in which you can counteract the effects of overindulgence, should you be that disciplined.
The Queen Elizabeth has an impressive hi-tech gym with a view you'd pay for. Personal trainer Kevin tells us the average passenger on a world cruise (104 days) puts on around five kilos.
One man says he'd put on nine kilos in a month so plainly he was enjoying the trips to the buffet a little too often. (Midnight snacks are all too easy.) The gym is free for passengers, but some classes, like Pilates and spin, have a surcharge.
There are seminars on nutrition and relaxation, but the thought of them stresses me out. On deck three, walkers high-tail it in the sea air - you can walk two laps (1.3km) around the outside. There are also plenty of stairs.
From the fine-dining Britannia restaurant on the second deck to our stateroom balcony suite on the 7th, it was five flights. (Or the lift!)
I'm just saying, you could get plenty of exercise if you wanted but there was abundant evidence that plenty don't bother.
From a beer and chips at the Golden Lion to the finest champagne in the Veranda bar, it's all about choice on the Queen Elizabeth.
There are 1000 crew to a 2000 guests, so personal attention is a given. I guess that's why so many people take one cruise then catch the bug.
Worryingly, I may be one of those, but I don't know if my waistline, or liver, would stand it.
CHECKLIST
Further information: Next year, Queen Elizabeth's Exotic Discoveries voyage runs from January 6 - April 7 and goes from Southampton via the United States to New Zealand and back.
A balcony stateroom for the whole voyage will cost $29,699 per person (inside rooms are cheaper). For other cabins and individual legs, see cunardline.com.au or call 0800 543 431.
Denise Montgomery cruised as guest of Cunard.