Belinda Henley checks out the latest development for adrenaline junkies at Queenstown's Shotover Canyon Swing.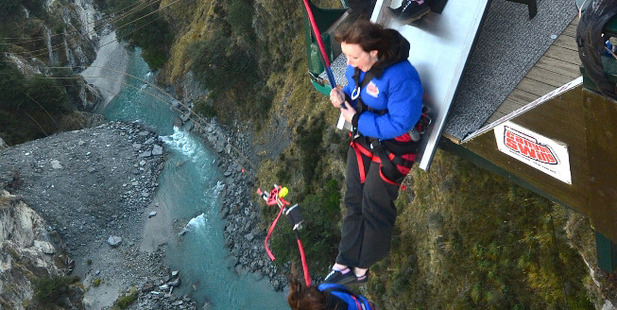 Last year I did my first bungy jump, something I had managed to avoid on numerous trips to Queenstown.
It wasn't that I didn't want to do it, it's just I was too damn chicken. But put in a situation where no was not an option, I jumped. I don't know if I could say I actually enjoyed it, but I was certainly pleased I had done it and crossed that off my bucket list.
So when I was asked if I wanted to try the Shotover Canyon Swing's newest initiative, a slide which gives you increased speed as you shoot off into a 60 metre freefall and a 100 metre drop... well, I figured I might as well just get it over and done with.
The Shotover Canyon Swing was established by two Queenstown locals, both adrenaline junkies themselves with a passion for climbing and "free falling". They had a vision of providing a unique, enjoyable and laid back environment for thrill seekers to safely defy gravity. That vision became a reality in December 2002 with the opening of the Shotover Canyon Swing and since then close to 100,000 people have launched themselves into the canyon.
Along for the ride on the day I take up the challenge is a group of young British backpackers all a bit worse for wear after a big night out on the town. They have been told this will be the perfect hangover cure.
My jumpmaster is 'Crispy' who manages to instil enough fear in you to get the adrenaline pumping, without terrifying you so much you don't make the jump. There are more than 70 jump "styles" to choose from, with names such as 'Flips' or 'Elvis Cutaway'.
I am told I will be making a backwards jump first on the "chair of death" and then trying out the new slide, which gives you extra propulsion and speed as you launch yourself into the canyon below.
At $200 a go, a real effort is made to make a complete 'experience' for the jumpers. The round trip takes over two hours and everyone is treated with the same degree of kiwi humour and gentle ribbing.
As I am strapped into the chair I go very quiet. I think Crispy detects that I am having major second thoughts about this.
He attempts to distract me with talk of pies! I'm not that much of a pushover.
"Ok, lets get this over and done with, just push me off," I say.
But no, the whole point of the "chair of death" is that you have to rock yourself backwards and off the edge, probably the most unnatural feeling in the world, especially given what you know is behind you.
I know the longer I put this off the worse it will get, so off I go.
The 60-metre free-fall feels like a lifetime, but once you feel the rope take and experience the "thank God I'm still alive euphoria" it is a truly amazing experience.
Being upright (in this case strapped into a chair) you get to have a good look around the stunning Shotover Canyon as you spend a few minutes in the "swing" part of the jump.
I am pulled straight back up for my next jump.
The "slide" is the newest jump style and has only been operating for a few weeks.
The slide is a short, metal ramp which they belt you into. I think I'm going to have to push myself off again, but no, this time Crispy has a real treat for me - after telling me to hold on, I'm given a pretty hefty whack from behind and off I go, shooting down the slide and out into the canyon below.
This is for me by far the most exciting of the two jumps. Maybe it's because I survived the first one and so am confident lady luck will be on my side again, or maybe it's the feeling of going feet forwards and straight out into the swing that is more enjoyable.
The adrenaline rush after two back-to-back jumps is palpable. I can't stop my legs from shaking and I'm grinning from ear to ear.
After an enthusiastic bear hug from Crispy, it's back into the van, where they show you some almost disturbing footage of past "jumpers" who have screamed, cried and sworn their way off the platform.
What babies, I think. It's a piece of cake.
Further information: See canyonswing.co.nz.